Jan 12, 2011 — by Eric Brown — from the LinuxDevices Archive — views
Between 51 and 75 tablets appeared at CES, depending on different reports, with most running Android, but few offering the tablet-optimized Android 3.0. Here, we sum up our tablet coverage and survey CES tablet analysis from the blogosphere, which tends to agree on two points: the Motorola Xoom stole the show, and most of the other Android tablets were DOA.
Last week LinuxDevices covered most of the major Android tablet announcements at the Consumer Electronics Show in Las Vegas, with the help of our on-the-scene colleagues at eWEEK. Many other tablets were announced or previewed at the event, however, and have so far received less press coverage.
Of these, many are unlikely to reach market, and others will disappear soon after they do. Yet cumulatively, they all add to Android's slow ascent against the mighty Apple iPad — that is if they don't utterly stain Android's reputation as a tablet OS and ensure a long dominion for the iPad.
According to The Mac Observer, which ran a series of "Count the Tablets" reports, the total number of tablets reached 51. Some of the devices ran Windows 7 and Linux, and there was also RIM's competitive, Sprint-destined PlayBook, based on a TI OMAP4 processor, which runs a proprietary BlackBerry derived OS.
The vast majority of the tablets, however, use the Linux-based Android. At BetaNews, Joe Wilcox quotes a Caris & Co estimate at the start of the show stating that some 69 tablets were expected to be shown or announced. CNET, meanwhile, says the number was more like 75.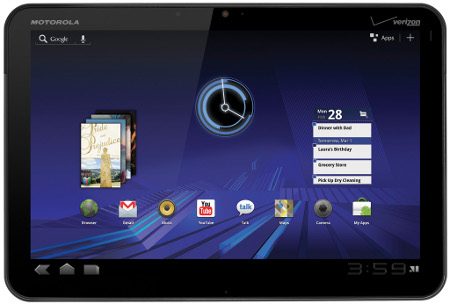 Motorola Xoom with Android 3.0

In Wilcox's view the most important tablet that did not appear, aside from the Apple iPad 2, was a Google-branded tablet that could have been used as a state-of-the-art reference design a la the Nexus S smartphone. Yet, the general consensus was that a tablet reference design of sorts did appear at CES — it just didn't offer the Google brand.
Just about all observers agreed, it seems, that the 10.1-inch, Verizon destined Motorola Xoom was the leading — if not only — true iPad competitor among the pack of Android contenders.
CNET echoed this consensus when it gave the Xoom its Best of Show award. Other tablets of note, says the awards story, were RIM's PlayBook, Toshiba's 10-inch Android Tablet (see below), and the Windows 7-based Samsung Sliding PC, a convertible, "slide-up" tablet a la the Asus Eee Pad Slider (see below).
The Xoom stands out with its 4G LTE support, dual-core 1GHz Nvidia Tegra 2 processor, 10.1-inch, 1280 x 800 screen, and especially, its use of the upcoming, tablet-optimized Android 3.0 "Honeycomb" — partially revealed in several demo videos during the show, including one from Google itself. CNET noted that it almost gave Honeycomb the Best of Show award instead of the Xoom, which will be the first tablet to offer the OS upgrade.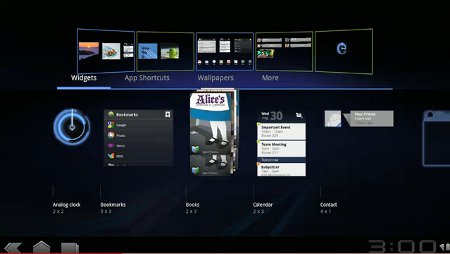 Multiple windows and drag and drop widgets in Android 3.0
Honeycomb enhancements include a revamped, "virtual and holographic user interface," improved multitasking, drag and drop widgets, video chat with Google Talk, Google eBooks integration, and tablet-oriented overhauls for the browser, Gmail, and YouTube. A closer dissection of Android 3.0 may be found in this
indepth Engadget overview
.
The Honeycomb videos instantly made Android 2.2 on a tablet

look like pretty thin gruel indeed. Yet, only a handful of Android 3.0 tablets appeared at CES. These included three Asus tablets due to ship this spring: a Snapdragon-based, 7.1-inch "Eee Pad MeMo" tablet, and two 10.1-inch keyboard convertible tablets running on dual-core Nvidia Tegra 2 processors. The Eee Pad Slider offers a slide-up keyboard, and an Eee Pad Transformer (pictured at right) has a fold-up, detachable keyboard.

The aforementioned Toshiba Tablet (pictured at left) will also run Honeycomb on a Tegra 2. Although Toshiba faltered with its earlier Folio Android tablet, the Toshiba Tablet has the looks of a winner, with features that mostly match those of the Xoom, including a 10.1-inch, 1280 x 800 display.
The only other tablet we know of to promise Honeycomb was a G-Slate tablet from LG Electronics. However, the tablet was only briefly shown, and there was no other solid information on the tablet except that it will ship sometime this year, supporting T-Mobile's HSPA+ "4G" service.
Few of the other tablets we covered last week appeared to offer anything substantially superior to the current Android market leader — the seven-inch Samsung Galaxy Tab — unless you count the 4G LTE version of the Galaxy Tab that was announced by Samsung and Verizon Wireless. The 4G model boosts its Snapdragon clock rate to 1.2GHz, but sticks with Android 2.2. Meanwhile, Samsung also announced a presumably lower-cost Wi-Fi-only Galaxy Tab.
According to a report posted this week at our sister publication eWEEK, Samsung will announce several more 4G tablets at next month's Mobile World Congress in Barcelona. Most likely at least one of these will run Honeycomb.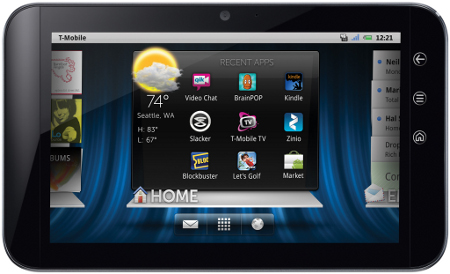 Dell Streak 7
Dell had one of the more prominent tablet announcements with its seven-inch
Streak 7
(pictured above). The Streak 7 is built around the dual-core Nvidia Tegra 2, and also features dual cameras, and compatibility with T-Mobile's 4G-like HSPA+ network. Yet, Dell is saddling this high-end hardware with ye old Android 2.2, which some found something of a head scratcher, since Android 3.0 is said to be optimized for the Tegra 2.
Onkyo also announced a Tegra 2-based tablet with its TA117. Like the Streak 7, however, the 10.1-inch slate will only run Android 2.2.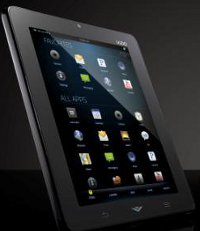 One trend apparent at CES is the arrival of eight-inch tablets, blurring the difference between the typical seven-inch devices aimed at mobile use and 10.1-inch offerings, typically presented as stay-at-homes.
For example, TV-maker Vizio announced an eight-inch Via Tablet (pictured at right). The tablet is otherwise fairly typical of mid-range Android tablets seen at the show, including the presence of a 1GHz processor, 802.11n, Bluetooth, GPS, HDMI output, and a front-facing video cam.
Will most Android tablets be DOA?
According to many observers, most of the tablets shown at CES looked cheap, and as Steve Jobs might say, "dead on arrival." Skattertech's Sahas Katta presents the extreme view when he writes that aside from a few tablets like the Streak 7, the Galaxy Tab 4G, and the Xoom, the rest of the Android tablets were "an utter disaster."
Cited problems include not only the lack of Android 3.0, but the lack of Android Market access, he writes. In addition, touchscreens were consistently unresponsive, and show-floor crashes were typical, while build quality was surprisingly bad, he added.
"Most of these tablets had cheap brittle plastic frames," writes Katta. "Even an Etch-A-Sketch seems more durable in comparison to a few of these."
This theme reappears in many other reports including a "CES 2011: Picks and Pans" story in PCWorld which lauds the Xoom, but disdains most of the competition.
Writes PCWorld's Melissa Perenson, "I'm seeing an awful lot of plastic slabs out there trying to pass themselves off as viable iPad rivals. Both unknown and known companies are guilty of this rush to production. But many of the devices I'm seeing have no business being brought to market, even as low-cost tablet options."
Poor quality is just one challenge that new Android tablets present to IT support staffs, writes Wayne Rash in eWEEK. The sheer number of different models with different Android versions also poses a problem, he adds.
Android tablet gets an "F" on GPL Compliance
Finally, a study on Codon.org.uk states that the vast majority of Android tablets rate poorly at GPL compliance. As Matthew Garrett, who compiled the Codon.org.uk analysis, writes in a separate LiveJournal blog entry, "The vast majority of Android tablets I've been able to find are shipping without any source being made available, and that includes devices from well-known vendors."
TechNewsWorld's Katherine Noyes ("Linux Girl") sums up the open source response to the analysis, and finds plenty of outrage at the open flouting of GPL laws which apply to the open source, Linux-based Android. Others suggest that since most of the Android tablet manufacturers are based outside the U.S. and other countries that tend to enforce GPL compliance, there is little chance of fixing the problem.
There is also anger at Google for not doing more to encourage GPL compliance. Yet, to this, Garrett replies in his blog, "There's no real reason why Google should be the ones taking the lead role here, and there's fairly sound business reasons why it's not in their interest to do so."
One blogger, Barbara Hudson, however, finds a silver lining. "GPL compliance seems to be a quick and dirty way to weed out the tablets that aren't worth looking at from a quality standpoint," Hudson told Linux Girl. "I would have to say that the GPL, like the Internet, routes around damage."
---
This article was originally published on LinuxDevices.com and has been donated to the open source community by QuinStreet Inc. Please visit LinuxToday.com for up-to-date news and articles about Linux and open source.