Jan 18, 2011 — by Eric Brown — from the LinuxDevices Archive — 1 views
Acer is expected to release two to three Android-based tablets running Intel's "Sandy Bridge" Core processors, and will start to back out of the netbook business, says an industry report. At CES, Acer announced ARM Cortex-A9 based Iconia Tab A500 Android tablet for Verizon's 4G LTE network.
According to an IDG News Service story, Acer will launch two or three Intel-based Android tablets in the first half of the year, including a seven-inch and a 10-inch model. At CES, Acer also announced a Tegra 2-based Iconia Tab A500 Android tablet (see farther below).
Somewhat surprisingly, the three Intel-based tablets will be based on its new "Sandy Bridge" processors rather than an Intel Atom, according to the story. The tip was said to have come from an Acer sales manager in Taiwan named Lu Bing-hsian.
No specific processor model was mentioned, but Bing-hsian was quoted as saying the tablets will use a "four-core processor," suggesting one of the high-end quad-core "Sandy Bridge" mobile models, which range in clock rate up to 3.5GHz. If so, it could be the fastest tablet PC ever made, although battery life would still trail ARM-based processors.
Intel's next-generation Core processors, code-named "Sandy Bridge", which launched earlier this month, comprise over 30 processor models, including variants for desktop PCs, mobile products, and embedded devices. Since the processors' launch, we've covered a variety of the latter, such as COM Express modules.
Acer phasing out netbooks?
According to IDG News Service, the tablet launches will begin a gradual replacement of Acer's netbook computers. "They are aimed at phasing out netbooks," Bing-hsian was quoted as saying. "That's the direction of the market."
Acer, which once dominated the netbook market with its Linux-ready, Atom-powered Aspire One, will keep making netbooks, Bing-hsian was said to have added. However, "it will stick to simple models and manufacture fewer than in years past as tablets gain popularity," says the story.
There have been growing indications that tablets — in particular the Apple iPad — are cutting into sales of netbooks.
Tablet computers based on Android, meanwhile, will comprise 15 percent of the worldwide market in 2011, nibbling at Apple's iPad share similar to the way Android smartphones gained on the iPhone, says a recent IMS Research study. By 2015, Android tablets will have garnered 28 percent of the market, says the study.
Acer Iconia Tab A500
At CES earlier this month, Acer announced its long-expected Android tablet, the Acer Iconia Tab A500. No photo was supplied, and details were fairly minimal, but the company said the 10.1-inch, capacitive tablet will launch on Verizon Wireless' 4G LTE network.

When it pre-announced the device in November as an unnamed 10.1-inch Android tablet prototype, Acer released the image at right, and Gizmodo snapped the live shot farther below. Acer also said a seven-inch version was on the way, but nothing more about that was mentioned in the company's CES announcement.
Acer did not say whether the tablet would run Android 3.0, but the Iconia is based on a processor that could handle it: the dual-core 1Ghz Nvidia Tegra 2.
Acer does say, however, that the Iconia Tab will offer "the latest highly intuitive Android OS and Acer UI 4.5," as well as Flash 10.1 support. The Iconia Tab A500 will also feature the previously announced "Clear-Fi" media-streaming service, says Acer.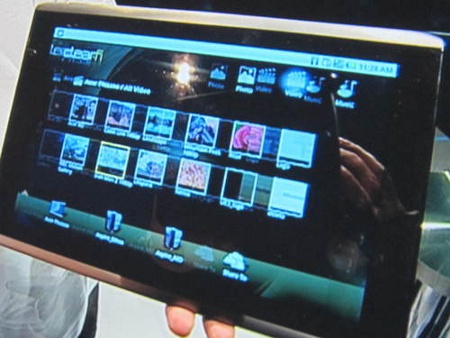 Acer 10.1-inch tablet prototype shown in November


Source: Gizmodo
The Iconia Tab A500 lets users play 1080p video, as well as output HD video via an HDMI port, says Acer. In addition the tablet can play "HD arcade games and complex online 3D games," with the help of a "10-point multitouch and gyro meter control," says the company.
Touted for its aluminum casing and high-gloss finish with engraving pattern, the tablet will measure just 13.3mm thick. Other features are said to include a SkyCross antenna and ZTE LTE wireless module. No pricing or availability information was provided.
Stated Campbell Kan, vice president of Acer's Smart Handheld BU, "With the Iconia Tab A500 supporting 4G LTE, users will be able to wirelessly navigate, download or stream as seamlessly as they do with a wired connection."
How real were the 100 tablets shown at CES?
In a PC World retrospective on the recent CES Tabletpalooza, Melissa Perenson writes that of the 75 to 125 tablets that were said to have been shown or announced at CES, most were very early prototypes developed to gauge interest. Relatively few of these will reach the market, and even fewer will reach the U.S., she adds.
Of the few high-profile Android 3.0 tablets, only the Motorola Xoom was actually seen running Android 3.0, she noted, and only in a preliminary version in a canned presentation.
So depending on when Acer's Iconia Tab and the "Sandy Bridge" tablets actually ship, maybe Acer won't be that late to the Android tablet market after all.
---
This article was originally published on LinuxDevices.com and has been donated to the open source community by QuinStreet Inc. Please visit LinuxToday.com for up-to-date news and articles about Linux and open source.