Oct 15, 2010 — by LinuxDevices Staff — from the LinuxDevices Archive — 11 views
Alcatel-Lucent has switched from VxWorks to Linux for a new "intelligent" 10-gigabit Ethernet enterprise switch. The OmniSwitch 10K Modular LAN Chassis supports 5Tbps (terabit per second) performance over 256 10G Ethernet ports, and offers intelligent management features, such as flow-based quality of service with variable flow control, as well as virtual output queuing, says the company.
Alcatel-Lucent moved into enterprise data switching with a new 10 Gigabit Ethernet (10GbE or 10G) switch and an Application Fluent Networks strategy, the company announced earlier this week.
The OmniSwitch 10K is Alcatel-Lucent's first major OmniSwitch announcement since it unveiled the OmniSwitch 9000E two years ago, and its first switching platform based on the company's Linux-based AOS 7 network operating system. AOS was previously based on Wind River's VxWorks embedded operating system, but Alcatel-Lucent decided to shift it to Linux in 2009.
A 5Tbps (terabit per second) system that can scale up to 256 wire-speed 10G Ethernet ports, the OmniSwitch 10K Modular LAN Chassis is globally available and will face off against Cisco's Nexus and switches from Juniper Networks. The base price for the chassis is $60,000, with 10G ports priced from $1,875 to $2,200.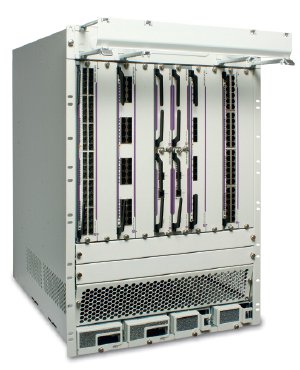 Alcatel-Lucent's OmniSwitch 10K Modular LAN Chassis
"Enterprises today are facing an explosion of end-user devices, as well as extremely challenging delivery requirements for real-time sensitive communication applications, such as video conferencing," said Nicolas De Kouchkovsky, Alcatel-Lucent CMO for its Enterprise business, in a statement.
Alcatel-Lucent's Application Fluent Network is optimized to deliver high-quality, real-time applications that result in streamlined operations and lower IT management costs, the company said.
In a nod to its carrier roots, Alcatel-Lucent introduced virtual queuing technology to the OmniSwitch to enable fine-tuned application delivery control that can prioritize traffic. Traffic is queued on the input side and sent across when it is ready, eliminating dropped packets.
"It is no longer enough to just throw bandwidth at the problem. Our OmniSwitch 10K meets the challenge with intelligent management of available resources and applications through simplified network architecture and dynamic policy management," said De Kouchkovsky.
At 16U, the newest member of the OmniSwitch family is a hefty one. The chassis features 12 slots, with eight set aside for line cards.
Supported line cards include 32-port 10G SFP+, 48-port gigabit Ethernet RJ-45 copper and 48-port gigabit Ethernet SFP. Other line cards, including a 16-port 10G SFP+ module with large MPLS forwarding tables, a six- to eight-port 40G Ethernet QSFP+ board, and a two- to four-port 100G Ethernet CFP, are expected in a year, according to Alcatel-Lucent.
Alcatel-Lucent claimed a performance increase of "up to four times" in non-blocking switch capacity, port density and power efficiency.
The new OmniSwitch supports redundant chassis management, switching fabric, and AC and DC power supplies, as well as front to back cooling. Energy consumption is a mere 1.5 Watts per non-blocking gigabit per second bandwidth, the company said.
The switch also supports flow-based quality of service with variable flow control and virtual output queuing and traffic management based on 5GB per blade of packet buffering. Profile-based policies for user, device, location, and application, including those for virtual machines, are available. In other words, IT managers can apply specific policies based on individual users, devices and applications.
The switch also supports dynamic provisioning and tracking of virtual machines and policy-based enforcement of network access control, as well as Ethernet ring protection to improve bandwidth efficiency and utilization. The Application Fluent Network strategy will also feature automatic controls for adjusting application delivery based upon profiles, policies and context.
Recently, Alcatel-Lucent and Wind River announced a collaboration partnership with Wind River to use Wind River Linux as part of a common Linux development platform for Alcatel-Lucent's wireless network base stations, optimized for the Freescale QorIQ P4080 multicore processor.
Availability
The OmniSwitch 10K Modular LAN Chassis is available now for $60,000, plus $1,875 to $2,200 per 10G port, says Alcatel-Lucent. More general information on the OmniSwitch 10K may be found here, and a datasheet should be here.
Fahmida Y. Rashid is a regular contributor to our sister publication eWEEK.
---
This article was originally published on LinuxDevices.com and has been donated to the open source community by QuinStreet Inc. Please visit LinuxToday.com for up-to-date news and articles about Linux and open source.