Oct 3, 2011 — by Eric Brown — from the LinuxDevices Archive — 1 views
Amazon is rumored to be negotiating with HP to buy its Palm division, including its WebOS assets — either to create an update to the Kindle Fire tablet, or just to gain patents. Meanwhile, an IHD iSuppli analysis suggests Amazon is selling each Quanta-manufactured Fire for $10 less than it costs to build.
Amazon is in "serious negotiations" to acquire what's left of HP's Palm/WebOS division, according to VentureBeat. Following up on an earlier rumor that Amazon had interest in WebOS, the publication says HP is "looking to rid itself of Palm as soon as possible, and that Amazon is the closest to finalizing the deal, among a handful of contenders."
HP declined to comment on the report, and Amazon had not yet returned a request for a response, said VentureBeat.

The story speculates that Amazon, which just released a $200 Kindle Fire Amazon tablet (pictured), is concerned that Google might cut it off from Android code development in an effort to go proprietary based on its upcoming Motorola acquisition. The Linux-based WebOS would offer it a fairly mature alternative, could neatly slide in under Amazon's highly customized user interface in place of Android, and would provide better multitasking, VentureBeat claims.
The story also notes that former Palm CEO Jon Rubinstein, now working at HP's Personal Services Group, joined Amazon's board late last year. In addition, it cites a July interview with Rubinstein on ThisIsMyNext, in which he is quoted as saying, "I would say Amazon would certainly make a great partner, because they have a lot of characteristics that would help them expand the webOS ecosystem. As to whether there's been discussions or not… that's obviously not something I'm going to comment about."

Amazon is not likely to be interested in HP's WebOS-related hardware, including the discontinued TouchPad tablet and Pre phones, says the story. Currently out of stock, the TouchPad (pictured at left) will get one last production run sold at the steeply discounted price at $99, leading some analysts to predict that the tablet will flame out in style, garnering 4.7 percent of global tablet market share. After the discount, the initial supply of TouchPad tablets were snapped up quickly, especially as Android ports to the device appeared on the horizon.
Following up on the VentureBeat report, the New York Times' DealBook blog speculates that Amazon may desire Palm/WebOS more for the patents that would likely be part of the deal. The package could include up to 2,000 mobile patents — some dating back to early Palm days. The patents could net as much as $1.48 billion, according to analyst Robert Scoble last month.
HP's Palm-related patents could help Amazon ward off potential lawsuits or imposed patent agreements from Microsoft and Apple, according to DealBook. In Feb. 2010, Amazon agreed to pay royalties to Microsoft for Amazon's Linux-based Kindle ereader. Microsoft no doubt would like a piece of the Kindle Fire as well.
HTC revealed early last month that it was looking into a possible acquisition of WebOS assets. Samsung, however, squelched rumors that it would buy WebOS as a hedge against a potential proprietary turn for Android. Instead, it will continue to sell Android devices — and pay Microsoft for the privilege — while pushing its own Bada operating system. Samsung is also joining Intel to co-sponsor an upcoming MeeGo- and LiMo-based operating system called Tizen.
Kindle Fire costs $209.63 to build, says iSuppli
Amazon's $200 Kindle Fire tablet costs $209.63 to build, according to an analysis by IHS iSuppli's Teardown Analysis Service. That figure includes $191.65 in materials in addition to manufacturing expenses, as reported by our sister publication eWEEK. The iSuppli study confirms the widely held notion that Amazon is taking a loss on the tablet, and will instead make money selling Amazon content via the seven-inch device.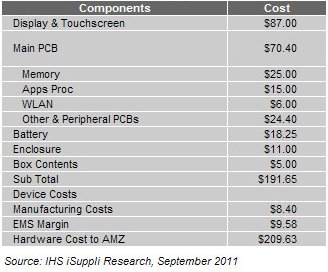 Amazon Kindle Fire preliminary hardware cost estimates
Source: IHS iSuppli
While iSuppli has yet to finish a full teardown on the device, its early examination suggests that the tablet shares a number of components with the seven-inch RIM PlayBook. Both tablets are built by Quanta. The most expensive item was the $87 touchscreen, according to the report.
Can Quanta keep up with Fire demand?
In other eWEEK coverage on the Kindle Fire, Clint Boulton looks at allegations that Quanta will not be able to keep up with the popularity of the device, which won't ship until Nov. 15. Boulton quotes Piper Jaffray analyst Gene Munster as saying Amazon will likely only be able to sell 2.5 million units for the year due to production shortages whereas the demand could reach four million units.
Forrester Research analyst Sarah Rotman Epps, however, believes Quanta will be able to keep up with demand, which she pegs at three million units for the year, according to eWEEK.

In another eWEEK story, Wayne Rash opines that the closest and most formidable competitor for the tablet is the newly announced Samsung Galaxy Tab 7.0 Plus (pictured), an update to the original seven-inch tablet that adds a dual-core processor. No pricing has been listed for the Samsung tablet as of yet, but the relative lack of advanced features suggests it could be aimed fairly low.
Finally, eWEEK pursues the Kindle Fire/iPad 2 comparison in a feature-by-feature slide show.
---
This article was originally published on LinuxDevices.com and has been donated to the open source community by QuinStreet Inc. Please visit LinuxToday.com for up-to-date news and articles about Linux and open source.