Jan 21, 2010 — by Eric Brown — from the LinuxDevices Archive — 3 views
Amazon announced a software development kit (SDK) for its Linux-based Kindle e-book readers, offering a 70-30 revenue split for "active content" to be sold in the Kindle Store. The Kindle Development Kit will enter limited beta next month, offering programming interfaces, tools, and documentation to build Kindle apps, says Amazon.
Starting n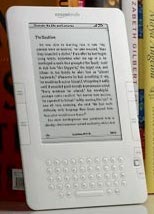 ext month, participants in the limited beta will be able to download the (presumably free) Kindle Development Kit, which will let them access support, test content on the Kindle e-reader, and then submit finished content, says Amazon. The Kindle Development Kit will include a variety of sample code, documentation, interfaces, and tools. The SDK will also offer the Kindle Simulator, which helps developers build and test their content by simulating the 6-inch Kindle (pictured at left) and 9.7-inch Kindle DX on Mac, PC, and Linux desktops, says Amazon.
The SDK is designed for developing "active content," a term that Amazon does not clearly define, but which seems to bridge the gap between text content and mobile apps, with likely availability of multimedia and external web-site integration.
Amazon has previously invited U.S.-based authors and publishers to directly upload and sell content in the Kindle Store through its self-service Kindle Digital Text Platform publishing platform. It recently expanded the publishing platform worldwide, enabling authors and publishers around the world to upload and sell books in English, German, and French in the Kindle Store.
No other technical details are currently available on the SDK. However, with the Kindle's ARM Linux platform, it is likely to provide trappings that are familiar to embedded Linux developers. It is unclear, however, how deeply the SDK will permit access to the inner workings of the device.
Kindle Store terms
For active content sold on the Kindle Store later this year, developers will receive 70 percent of revenue, while Amazon will receive 30 percent plus "delivery fees of $0.15 / MB," says the company. Amazon explains its terms by noting that unlike with smartphone app stores, Kindle users pay no wireless fees and do not enter into contracts.
Active content sold in the Kindle Store later this year will be priced three ways:
Free — Applications that are smaller than 1MB and use less than 100KB of wireless data per user per month may be offered at no charge, and Amazon will pay the wireless costs associated with delivery and maintenance.
One-time purchase — One-time fees are only available for applications with less than 100KB of wireless data per user per month, says the company.
Monthly subscription — Customers are charged once per month for subscription-based apps.
According to Amazon, active content apps can be no larger than 100MB, and applications over 10MB will not be delivered over the Kindle's AT&T-based 3G WhisperNet service. Instead, these larger apps must be downloaded from the Kindle Store to a computer and transferred to the user's Kindle via USB, says the company.
In addition, active content apps may not include VoIP functionality, advertising, offensive materials, usage of the Amazon or Kindle brands, or collection of customer information without express customer knowledge and consent, says the company. Active content must also "meet all Amazon technical requirements, not be a generic reader, and not contain malicious code," says Amazon.
It appears that Amazon may have already released alpha versions of the SDK to key developers, two of which are game developers. Handmark is already building an active Zagat guide featuring ratings and reviews for restaurants around the world, and Sonic Boom is building word games and puzzles, says Amazon. Meanwhile, judging from the below testimonial, EA Mobile has also made a commitment to the platform.
Kindle background
The second-generation Kindle released last March runs Linux on an ARM11-based Freescale i.MX31 system-on-chip (SoC) clocked to 532MHz, with 32MB of RAM and 2GB of internal storage. User-available storage is listed as 1.4GB — enough for about 1,500 books, Amazon claims, but there is no SD slot for expansion. The 6-inch E Ink VizPlex display offers 800 x 600 resolution. Other features include a mini-USB 2.0 connector, 3.5mm stereo audio jack, and stereo speakers.
The Kindle DX offers a 9.7-inch, 1200 x 824 VizPlex display plus 1.4GB to 4GB of memory, of which 3.3GB is available for user storage. Amazon did not list the processor used by the DX version.
Features offered by both devices include text-to-speech, a New Oxford American Dictionary, an MP3 player, and a web browser. A firmware update for the 6-inch Kindle announced in November adds a native PDF reader and offers a touted 85 percent longer battery life. Amazon recently announced that a somewhat similar update is coming to the Kindle DX, adding the PDF reader and offering the ability to download e-books and other content in over 100 countries.
According to a recent eWEEK story, Amazon announced that the Kindle was its most gifted item over the holiday season, and the most gifted item in the history of the company. Meanwhile, on Dec. 25, the company sold more e-books than it did print books, said the story. Analysts were said to have estimated that 2009 sales of all the Kindle devices totaled a half million units.

Despite the Kindle's success, new e-readers are appearing all the time, with significant competition expected from the Sony Reader, as well as several dual-screen Android e-readers led by the Barnes & Noble Nook (pictured at right), due to ship next month. Also promising is a Linux-based Skiff Reader from Hearst-backed Skiff LLC due later this year.
Meanwhile, smartbook and tablet designs such as Freescale's new tablet are incorporating e-reader functionality on smartbooks, tablets, and other mobile devices. Freescale is gambling that users will not demand the print-like, but expensive, E Ink grayscale displays of today's e-readers, especially if the devices offer additional multimedia and web-access functions.
Stated Adam Sussman, VP of Worldwide Publishing, EA Mobile, "Working with Amazon, we look forward to bringing some of the world's most popular and fun games to Kindle and their users."
Stated Ian Freed, VP, Amazon Kindle, "We've heard from lots of developers over the past two years who are excited to build on top of Kindle. The Kindle Development Kit opens many possibilities — we look forward to being surprised by what developers invent."
Availability
The Kindle Development Kit will enter limited beta next month, says Amazon. Participants in the limited beta will be able to download the SDK, access developer support, test content on Kindle, and submit finished content, says the company. Those wait-listed will be invited to participate at a later date.
More information, including a sign-up for beta release notification, may be found here.
---
This article was originally published on LinuxDevices.com and has been donated to the open source community by QuinStreet Inc. Please visit LinuxToday.com for up-to-date news and articles about Linux and open source.