Nov 14, 2011 — by LinuxDevices Staff — from the LinuxDevices Archive — views
Amazon began shipping its Kindle Fire tablet device Nov. 14, a day early. The $200, seven-inch Android tablet will compete against the Nook Tablet and Apple iPad, among others, for holiday dollars.
Amazon began shipping its Kindle Fire Nov. 14, one day earlier than expected. That gives the Android-based tablet a bit more separation from Barnes & Noble's Nook Tablet, which is slated to arrive later this week selling for $249.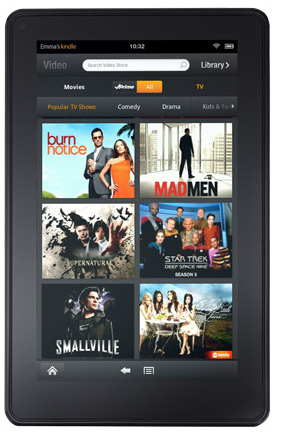 The $200 Kindle Fire (pictured) faces not only Android tablets like the Nook Tablet, but also Apple's iPad, in the competition for shoppers' holiday dollars. Amazon is betting big that users (and developers) will gravitate toward the Fire's seven-inch, 1024 x 600 pixel IPS (in-plane switching), its dual-core processor, and easy access to Amazon's online storefront for digital content.
"What we really built is a fully integrated media service," Amazon CEO Jeff Bezos told Wired Nov. 13. "Hardware is a crucial ingredient in the service, but it's only a piece of it."
Indeed, much of Amazon's recent activity has built to this moment. Over the past several quarters, the company has released an online music player, a branded Android app store, and streaming video via its Amazon Prime service. That array of offerings could give Amazon the footing needed to push back against the iPad, which offers music, video, ebooks, and apps via Apple's iTunes and App Store.
In any case, the Fire could prove a significant bestseller. Shopping and reviews website Retrevo.com recently sampled some 1,000 online individuals about their opinion of the Fire. Of those surveyed, some 44 percent said they'd consider purchasing "a seven-inch tablet made by Amazon" over Apple's iPad 2. Another 44 percent said they "didn't know enough about the Amazon tablet" to make that decision and 12 percent said "they'd still buy an iPad."
Amazon may need to work, however, to establish the Fire as separate from its popular line of Kindle e-reader devices.
"The Amazon Kindle is a strong brand and a popular e-reader," Andrew Eisner, Retrevo.com's director of community and content, wrote in a Nov. 9 research note. "However, it looks like Amazon may have to spend some marketing dollars if it wants consumers to perceive Kindle as a tablet, too. In this study, which was conducted after Amazon announced the Fire, the majority of respondents (35 percent) thought the Kindle Fire was an e-reader."
Sometime around Nov. 19, Amazon rival Barnes & Noble plans to release the Nook Tablet, a seven-inch device with a dual-core processor, 16GB of storage, and 1GB of RAM. Unlike Amazon, the bookseller won't offer any streaming services of its own, instead relying on applications from Netflix, Pandora, and other partners to port content onto the device.
During a Nov. 7 event in New York City, Barnes & Noble executives claimed that the Nook Tablet's storage capacity and IPS-laminated screen made it superior to Amazon's offering. As with all such commercial endeavors, though, sales numbers will prove the ultimate arbiter of which device triumphs in the long run. And Amazon, by releasing the Kindle Fire a day early, decided to give itself a slight head start.
Recent eWEEK analysis in anticipation of the Kindle Fire launch includes:
Nicholas Kolakowski is a writer for eWEEK.
---
This article was originally published on LinuxDevices.com and has been donated to the open source community by QuinStreet Inc. Please visit LinuxToday.com for up-to-date news and articles about Linux and open source.