Sep 7, 2011 — by LinuxDevices Staff — from the LinuxDevices Archive — views
AMD says it has begun shipping a "Interlagos" Opteron 6200 server chip, offering up to sixteen cores. This 32nm-fabbed processor is the first to be based on the chipmaker's long-promised "Bulldozer" architecture, expected to trickle down to desktops and other devices in the future.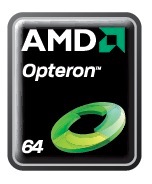 AMD officials announced Sept. 7 that initial production of Interlagos — known now as the Opteron 6200 Series — began in August. Compatible with the same sockets as the previous "Magny-Cours" Opteron 6100s, the new chip will start appearing in servers in the fourth quarter, the company says.
The 32nm-fabbed Opteron 6200 "Interlagos" chips will offer up to 16 cores, compared to the Opteron 6100, which features eight or twelve cores. Without releasing figures, AMD also promised greater energy efficiency — the current 45nm Opterons have TDPs from 65 to 105 Watts.
Rick Bergman, senior vice president and general manager of AMD's product group, stated, "This is a monumental moment for the industry as this first Bulldozer core represents the beginning of unprecedented performance scaling for x86 CPUs. The flexible new Bulldozer architecture will give Web and data center customers the scalability they need to handle emerging cloud and virtualization workloads."
The shipping of Interlagos continues what has been a busy year for AMD, which in January launched its first Fusion accelerated processing units (APUs), which offer integrated graphics and CPUs on a single piece of silicon. The new Bulldozer chips continue AMD's drumbeat of greater performance and energy efficiency.
The Interlagos chip family will offer from 12 to 16 cores and will target servers with two to four sockets. Meanwhile, the upcoming Bulldozer-based "Valencia" Opteron chips will hold six to eight cores and will be aimed at one- to two-socket servers. In addition, AMD officials also are prepping "Zambezi," a quad-core Bulldozer-based chip for high-end desktop systems.
Advances in speed and power management
AMD officials have touted new capabilities in the Bulldozer-based Opterons that will enable them to offer as much as 50 percent more throughput than the current 12-core Opterons, while remaining within the same power envelope. In addition, a redesigned memory controller will offer 30 percent more memory performance and a flexible 256-bit floating-point unit, according to the company.
AMD engineers also have created a number of capabilities designed to increase the energy efficiency of the chips. Among those is a feature called TDP Power Cap, which will enable users to set the TDP (thermal design power) of their chips. That capability will allow enterprises to customize their processors to meet power and workload demands, the chipmaker claims.
Another capability, called Application Power Management, will manage the power budget and resources of the chip, including pushing power to specific cores when needed to keep them below the TDP setting, according to company officials.
AMD officials, touting the performance and energy-efficiency gains, have said that the Bulldozer chips will be the most significant advancement in server technology in more than a decade. They also have said they expect the technology to help keep the momentum AMD has generated this year since the release of the first Fusion chips.
In an interview with eWEEK in June, Nathan Brookwood, principal analyst at Insight 64, said businesses are continuing to look for ways to squeeze more performance out of their systems without driving up power consumption and costs. Given that, an enterprise's decision between AMD's Opterons and rival Intel's Xeon chips will come down to a key metric.
"Ultimately it will depend on the performance-per-watt in the Bulldozer versus the performance-per-watt in [Intel's] 'Westmere' and 'Sandy Bridge' [Xeons]," Brookwood said. "Performance-per-watt is what people are always going to look at."
AMD's Opteron road map is calling for "Sepang," a successor to Valencia that will offer up to 10 Bulldozer cores that is due out in 2012. Interlagos will be followed next year by "Terramar," which AMD officials have said will have as many as 20 Bulldozer cores.
Jeffrey Burt is a writer for eWEEK.
---
This article was originally published on LinuxDevices.com and has been donated to the open source community by QuinStreet Inc. Please visit LinuxToday.com for up-to-date news and articles about Linux and open source.