Jun 14, 2011 — by LinuxDevices Staff — from the LinuxDevices Archive — 41 views
[Updated, 8:30 p.m.] — AMD has formally launched the first seven entries in its A-Series "Llano" processor line. The A4, A6, and A8 devices target notebook computers — 11 of them already announced by HP, including two SUSE Linux-ready models — with dual or quad cores, and TDPs of either 35 or 45 Watts.
AMD's first "Fusion" APUs (accelerated processing units) — devices that integrate CPUs with "discrete-level" GPUs on one chip — were announced in January, with single- or dual- Bobcat cores on board. These initial E-Series and C-Series products — already successful in a variety of mini-notebooks — were followed up by a passel of G-Series versions for embedded devices.
The E-Series, C-Series, and G-Series are all manufactured for AMD by TSMC (Taiwan Semiconductor Manufacturing Company) using a 40nm process. But the new Llano processors are produced by Globalfoundries on 32nm wafers, and incorporate a shrink of AMD's previously used "Stars" CPU core as well as a variety of GPU enhancements.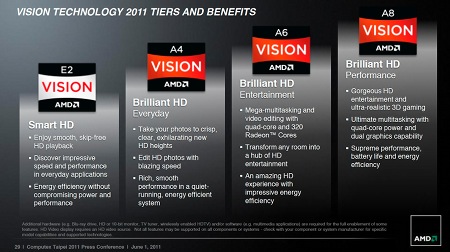 AMD's A-Series processors (including unannounced E2-3250)
(Click to enlarge)
These A-Series processors have been anticipated for months. In April, AMD announced that it had begun shipping the chips to vendors; a June 1 Computex press conference, meanwhile, brought confirmation of the A4, A6, and A8 product tiers (above) — but no official model numbers or power consumption figures.
Now, we have data for the first seven A-Series processors, which are notebook-focused. (AMD has said desktop versions will follow.) As the chart below shows, the devices range from the A4-3300M (with dual CPU cores and 240 GPU cores) to the A8-3530MX (with quad cores and 400 GPU cores).
Model
CPU cores
L2 cache (MB)
Clock speed
(GHz base/max)
GPU cores
GPU clock
(MHz)
TDP
(Watts)
A4-3300M
2
2
1.9/2.5
240
444
35
A4-3310MX
2
2
2.1/2/5
240
444
45
A6-3400M
4
4
1.4/2.3
320
400
35
A6-3410MX
4
4
1.6/2.3
320
400
45
A8-3500M
4
4
1.5/2.4
400
444
35
A8-3510MX
4
4
1.8/2.5
400
444
45
A8-3530MX
4
4
1.9/2.6
400
444
45

AMD's seven new mobile A-series offerings
TDPs are either 35 or 45 Watts, which seems uninspiring on the face of it. However, according to a detailed AnandTech analysis, idle and low-load power consumption will be far lower. We therefore expect these A-Series processors to start showing up in higher-end embedded devices, just as Intel's "Sandy Bridge" Core processors have.
AnandTech notes that AMD will pair the Llano APUs with two different Fusion Controller Hubs (FCHs): the A70M and A60M. The only difference between the two — which both support USB 2.0, 6 Gbit/sec. SATA, PCI, and PCI Express, among other interfaces — is that the A70M has four USB 3.0 ports.
Among the features promoted on the new chips is AMD's AllDay Power, claimed to enable devices to have more than 10.5 hours of resting battery life. AMD also cites dynamic switchable graphics, which further optimizes battery life by managing power states both for the APU itself and any discrete Radeon GPUs that have been added to a system.
On the performance side, Llano offers up to 400 gigaflops of performance for notebooks, and 500 gigaflops for desktops, according to AMD. The company's Turbo Core technology is claimed to boost the performance of the CPU and GPU based on workload, helping improve performance and energy efficiency.
Rick Bergman, senior vice president and general manager of AMD's products group, stated (rather hyperbolically, we'd say), "The AMD A-Series APU represents an inflection point for AMD and is perhaps the industry's biggest architectural change since the invention of the microprocessor. It heralds the arrival of brilliant all-new computing experiences, and enables unprecedented graphics and video performance in notebooks and PCs. Beginning today we are bringing discrete-class graphics to the mainstream."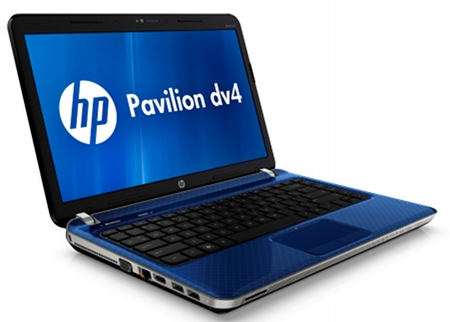 HP's Pavilion dv4 offers AMD's new A-Series processor
(Click to enlarge)
To coincide with the Llano launch, Hewlett-Packard — an early supporter of AMD's E-Series — rolled out 11 new consumer and business notebooks based on the new AMD platform. The offerings include:
three systems within the Pavilion dv-series "entertainment notebooks" (the Pavilion dv4, above, and the Pavilion dv6 and Pavilion dv7)
three notebooks in the Pavilion g-series "for everyday performance" (the Pavilion g4, Pavilion g6, and Pavilion g7)
two systems in the commercial ProBook b-series (ProBook 6465b and ProBook 6565b)
and three in the ProBook s-series (ProBook 4535s, ProBook 4435s, and ProBook 4436s)
According to HP, prices will begin at approximately $450 for the Pavilion g4, while the ProBook b-series starts at $680. The latter will be offered with operating systems including SUSE Linux Enterprise Desktop 11, Windows 7 Professional, Windows 7 Home Premium, Windows 7 Home Basic, Windows 7 Starter, and FreeDOS, the company adds.
HP says the ProBook models will be available June 27, while the Pavilion models are expected to be available in July.
A demonstration of the A-Series processors
Source: HP via Engadget
(click to play)
Further information
Images of the A-Series processors can be seen in Engadget's coverage.
Jonathan Angel can be reached at [email protected] and followed at www.twitter.com/gadgetsense.
---
This article was originally published on LinuxDevices.com and has been donated to the open source community by QuinStreet Inc. Please visit LinuxToday.com for up-to-date news and articles about Linux and open source.