Mar 31, 2011 — by LinuxDevices Staff — from the LinuxDevices Archive — views
AMD will continue to take a measured approach to the tablet market, focusing in the short term on the release of powerful new server chips, according to a company executive. These offerings will target the burgeoning cloud computing and virtualization markets, Vlad Rozanovich, director of North America commercial business for AMD told our sister publication eWEEK.
In a recent interview, Rozanovich noted the various trends — mobile computing and social networking, increasing amounts of data, the consumerization of IT, and enterprises' need to get more done with fewer resources — that are playing to the demand for cloud computing and virtualization, which promise lower costs, higher utilization and better management.
There's also that issue that while half of the world's population currently has no access to Internet-connected devices, the gap is being bridged, which will only add to the data being generated out there.
All this data will need to be handled — moved, stored, backed up — by fast, efficient and powerful servers, Rozanovich said. "All that content still needs to be created and distributed," he said.
And it's in this environment that AMD — with its Fusion initiative and straight-through computing strategy, as well as its mix of GPUs (graphics processing units) and CPUs — expects to flourish, both in servers and enterprise PCs, Rozanovich said.
AMD's Fusion APUs (accelerated processing units) feature the CPU and GPU on the same piece of silicon. As we review later in this story, the company introduced its initial Fusion chips, aimed at desktop and notebook PCs, during the Consumer Electronics Show in January.
With the growing amount of online video content being produced via such technology as video conferencing and video downloads, having chips with compute and discrete-level graphics improves the overall user experience, said Rozanovich. He added that AMD's DirectX 11 support is a key difference between AMD's "Brazos" chips and rival Intel's "Sandy Bridge" offerings, which also include the CPU and GPU on the same die but don't offer DX 11 support.
Going slow on tablets
When talking about notebooks these days, it's impossible to avoid the issue of tablets. Intel executives say the company will be aggressive in the burgeoning tablet market through its Atom platform, with Intel-powered tablets hitting the market later this year.
AMD is taking a more measured approach, particularly in the commercial space. Rozanovich, pointing to numbers from market research firm Gartner, noted that by 2015, fewer than 10 percent of commercial PCs will be using a touch interface, such as those found on tablets.
"It's a market that's taken off in the last year, but when you look at commercial and enterprise customers, will they really use it?" he said. Users in an enterprise setting "are still going to need the notebook type of form factor."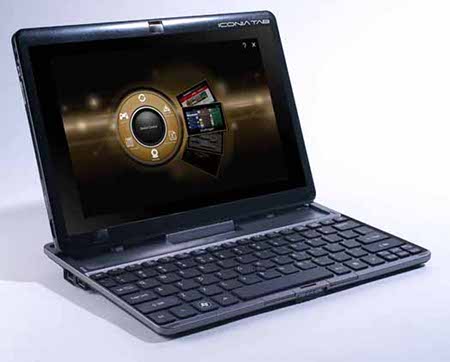 Acer's Iconia Tab W500 tablet uses an AMD C-50 "Brazos" processor
(Click to enlarge)
Still, AMD isn't ignoring the tablet space. Brazos, Rozanovich said, "no doubt can be used in tablets." In addition, the company is working on an APU based on the "Bobcat" core, code-named "Krishna," which will span across desktops, notebooks and tablets. Krishna is due out in 2012.
Gartner analysts are expecting tablets to have a growing impact in the commercial space. The research firm announced on March 30 that it is adding Apple's iPad and other tablets into its global IT spending forecasts, and that for 2011, the move increased the projected spending growth from 5.1 percent to 5.6 percent.
Later this year, AMD is expected to roll out its next generation of Opteron chips based on its "Bulldozer" core, including one code-named "Interlagos," which will offer up to 16 cores and will target two- and four-socket systems. The increased core count combined with the high energy efficiency will give businesses greater performance in hyperscale, virtual and cloud computing environments, Rozanovich said.
"Virtualization loves cores, databases love cores, [and] cloud computing loves cores," he said.
Charles King, principal analyst with Pund-IT, said the new Opterons could give AMD a boost in its struggle against Intel in the enterprise. Over the past few years, as Intel was releasing highly successful Xeon processors, AMD was having difficulty getting businesses interested in its Opteron 4100 and 6100 families, King said in an email to eWEEK.
"On the plus side, the company has new Opteron products slated for introduction later this year," King added. "There also seems to be growing interest among businesses for enhanced desktop graphics to enable communication/collaboration video conferencing solutions, which could play well to AMD's integrated ATI technologies. Problem is that Intel is already heading that way with robust products of its own so AMD is likely to find the going pretty tough."
The challenge for AMD now will be how the company positions itself to OEMs, King added. "What are the advantages of dealing with AMD at a time when Intel seems, for all intents and purposes, to be surging further and further ahead in both mindshare and market share?" he said.
Rozanovich told eWEEK AMD's straight-through computing strategy will be a differentiator. Straight-through computing is enabled by the Bulldozer core, which enables programs to share resources more efficiently by offering dedicated resources for each integer thread.
The Bulldozer design is more efficient than Intel's Hyper Threading technology, Rozanovich said. In addition, he noted that while Intel offers a lot of Xeon chips with disparate configurations, AMD's processors all come with the same features.
Background
AMD announced updated x86 microarchitectures code-named "Bobcat" and "Bulldozer" last fall, promising that chips based on them would be released during 2011. Bulldozer is aimed at servers and other high-end devices, whereas Bobcat is intended for portable devices and other relatively low-power devices.
AMD's first "Fusion" APUs — which incorporate x86 CPUs and HD video-ready graphics processing units (GPUs) on a single die — were announced in January with single- or dual- Bobcat cores on board. The 2011 low power platform," formerly codenamed "Brazos," combines an E-Series (formerly "Zacate") or C-Series (formerly "Ontario") processor with the A50M "Hudson" controller hub, a southbridge based on the previously released SB800.
Both the C-Series and E-Series have been showing up in a plethora of portable computers and tablets. Devices adopting them already include Acer's Aspire One 522. Asus' Eee PC 1015B and 1215B. HP's Pavilion dm1z, Lenovo's ThinkPad X120e, MSI's U270, and Toshiba's Satellite C655D. (We reviewed the Pavilion dm1z favorably last month, noting laudable battery life, decent performance, and even the ability to run Ubuntu Linux and Windows XP Professional in virtual machines.)
AMD quickly built on its initial success by releasing G-Series variants — the 1.6GHz T56N, 1.4GHz T48N, 1.0GHz T40N, 1.5GHz T52R, and 1.2GHz T44R — for embedded devices, touting TDPs of either 9 Watts or 18 Watts. And at this month's Embedded World conference in Germany, the chipmaker announced un-named "headless" versions that omit the other Fusion chips' ATI-derived GPUs, cutting power claimed consumption to as little as 5 Watts.
Now, Xbitlabs writer Anton Shilov reported earlier this month, AMD is responding to demand by preparing two new E-Series offerings for release in the third quarter. Shown in context in the table below, they're both dual core: the 1.3GHz E-300 and the 1.6GHz E-450, he claims.
| | | | | | |
| --- | --- | --- | --- | --- | --- |
| Model | CPU Cores | CPU Clock Speed | Radeon brand | GPU clock Speed | TDP |
| E450 | 2 | 1.65GHz | HD 6320 | 508/600MHz | 18W |
| E-350 | 2 | 1.6GHz | HD 6310 | 492MHz | 18W |
| E-300 | 2 | 1.3GHz | HD 6310 | 488MHz | 18W |
| E-240 | 1 | 1.5GHz | HD 6310 | 500MHz | 18W |
| C-50 | 2 | 1.0GHz | HD 6310 | 280MHz | 9W |
| C-30 | 1 | 1.2GHz | HD 6250 | 280MHz | 9W |
AMD's E-Series and C-Series APUs
(Xbitlabs additions highlighted in red)
Shilov says the E-300 and E450 will both sport AMD's Turbo Core, a clock speed boosting technology that also features in Bulldozer (see later) and is similar to Intel's Turbo Boost. His March 8 report adds that both APUs will have 18-Watt TDPs, as does the existing E-350.
In a March 7 report, meanwhile, Shilov claims AMD will start shipping its high-end "Bulldozer"-based chips in the second half of June. They'll include four eight-core AMD FX8000-series chips, two six-core AMD FX6000-series microprocessors, and two quad-core AMD FX4000-series CPUs, he writes.
Xbitlabs adds that A-Series ("Llano") processors, intended for mid-range desktops and mobile devices, will begin shipping in early July. If AMD sticks to its plans, a total of 11 dual- and quad-core A-Series APUs will be released this year, according to Shilov.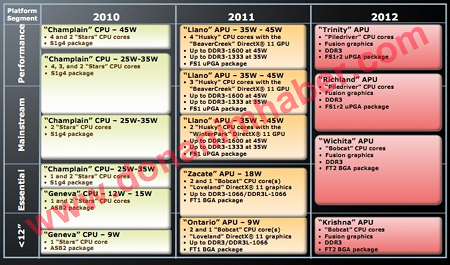 This slide is said to come from a leaked AMD presentation
Source: Donanim Haber
(Click to enlarge)
Some previous reports have suggested the A-Series would use the same Bobcat cores that the E-Series, C-Series, and G-series. But, a slide (above) purportedly leaked from an AMD presentation (posted by the Turkish Donanim Haber website) refers instead to "Husky" cores. AMD hasn't released much information on the latter, but they'll presumably be more sophisticated than Bobcat but less so than Bulldozer.
Jeffrey Burt is a writer for eWEEK. Jonathan Angel added background to this story.
---
This article was originally published on LinuxDevices.com and has been donated to the open source community by QuinStreet Inc. Please visit LinuxToday.com for up-to-date news and articles about Linux and open source.