Apr 4, 2011 — by LinuxDevices Staff — from the LinuxDevices Archive — 2 views
AMD says it has begun shipping its first 32nm "Llano" chips for mainstream notebooks and desktops. The A-Series APUs (accelerated processing units), with on-chip graphics, are expected to appear in PCs by June or July.

AMD interim CEO Thomas Seifert (right) made the announcement during a conference call with analysts and journalists April 4 to discuss new conditions of its wafer supply agreement with semiconductor manufacturer Globalfoundries, which builds AMD's computer chips.
Seifert pointed to the revenue shipment of the 32-nanometer Llano APUs (accelerated processing units) as a proof point that the wafer yields coming from Globalfoundries are meeting AMD's demands. Llano, which reportedly will be called AMD's A-Series of APUs, is the latest offering in the chip maker's Fusion initiative.
With Fusion, AMD is putting its x86 CPU and discrete-level graphics technology onto the same piece of silicon. Executives have said that integrating the CPU and GPU (graphics processing unit) on the same die will help drive up performance and energy efficiency of computer systems while cutting power costs. Llano will offer either two or four processing cores.
AMD released the first of its Fusion APUs at the 2011 Consumer Electronics Show in January, and currently offers C-Series "Ontario" and E-Series "Zacate" APUs for such smaller systems as ultra-thin notebooks and netbooks. AMD also has the G-Series Fusion chips for embedded systems.
AMD gets its CPUs from Globalfoundries, and its DirectX 11-capable GPUs from Taiwan Semiconductor Manufacturing Co. Globalfoundries was created in 2009 when AMD spun off its manufacturing business. The reconfigured agreement with Globalfoundries gives AMD some measure of guarantee on its supply of 32nm processors, and gives Globalfoundries some financial incentives to meet AMD demands.
Essentially, at least for 2011, AMD will only pay for those 32nm wafers that meet AMD's standards. The negotiations with Globalfoundries began last year, when the manufacturer was having difficulty making commercial-grade 32nm wafers. However, those problems have been resolved, Seifert said.
"The progress on yield is good," he said. "It's on target for [AMD's] expectations."
Seifert said AMD will continue ramping up its partnership with Globalfoundries. Last year, AMD paid Globalfoundries $1.2 billion; this year, Seifert expects to pay between $1.1 billion and $1.5 billion. That will climb to between $1.5 billion and $1.9 billion, including as much as $400 million in incentives, he said.
Releasing its first 32nm processor is an important step for AMD in its competition with larger rival Intel, which unveiled its first 32nm chips in 2010. Intel currently holds more than 80 percent of the world's processor market, while AMD is in distant second with just under 19 percent.
Like AMD, Intel at the CES event also came out with "Sandy Bridge" processors that integrate the CPU and GPU on the same die. However, according to FBR Capital Markets analyst Craig Berger, sales of the Sandy Bridge chips in a tough PC market to this point have been disappointing, due in part to a flaw in the design of a support chipset dubbed "Cougar Point."
The flaw caused a delay in the release of the latest Sandy Bridge chips, and should give AMD a bump in its first-quarter numbers, Berger said in a March 31 report. However, that bump could be a temporary one, he added.
"So, if AMD does achieve the high end of revenue guidance, or potentially better, the upside is likely short term in nature and due to customers turning to AMD for product when Intel's Sandy Bridge was less available due to the chipset bug recall," Berger said in the note. "For 2Q, we think AMD's revenues will fall [quarter over quarter] given its 14th week in 1Q, Intel chipset goodness unwinding, and sluggish desktop builds, still rather unexciting."
Background
At last month's Embedded World conference in Germany, AMD said it would expand its range of G-Series processors for embedded devices with "headless" versions that omit the other Fusion chips' ATI-derived GPUs. Ironically, this takes away one of the Fusion platform's selling points, but was apparently necessary to cut claimed power consumption to as little as five Watts.
Xbitlabs writer Anton Shilov subsequently reported that AMD is preparing two additional E-Series offerings for release in the third quarter. They're the dual-core, 1.3GHz E-300 and 1.6GHz E-450, both with 18-Watt TDPs and both with an on-demand clock speed boosting technology known as Turbo Core, he added.
In a March 7 report, Shilov added that the A-Series ("Llano") processors would begin shipping in July. That report appears to have been overly conservative, as the AMD announcement reviewed earlier in this story makes clear.
According to various sources, however, AMD may not disclose full Llano details — including model numbers and TDPs — until June's Computex show in Taipei. It's said complete PCs incorporating the A-Series chips will then become available in July.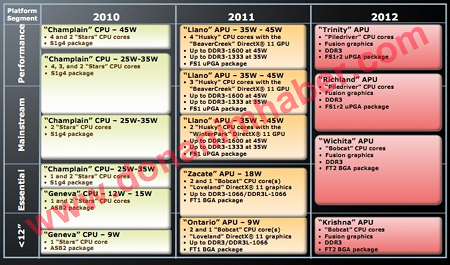 This slide is said to come from a leaked AMD presentation
Source: Donanim Haber
(Click to enlarge)
Some previous reports suggested the A-Series would use the same Bobcat cores that the E-Series, C-Series, and G-series. But, a slide (above) purportedly leaked from an AMD presentation (posted last month by the Turkish Donanim Haber website) refers instead to "Husky" cores. AMD hasn't released any information on the latter, but they'll presumably be more sophisticated than Bobcat.
Meanwhille, Shilov's March report claimed AMD would start shipping its higher-end "Bulldozer"-based chips in the second half of June. They'll include four eight-core AMD FX8000-series chips, two six-core AMD FX6000-series microprocessors, and two quad-core AMD FX4000-series CPUs, he wrote.
Jeffrey Burt is a writer for eWEEK. Jonathan Angel contributed additional background to this report.
---
This article was originally published on LinuxDevices.com and has been donated to the open source community by QuinStreet Inc. Please visit LinuxToday.com for up-to-date news and articles about Linux and open source.