May 13, 2010 — by Eric Brown — from the LinuxDevices Archive — 2 views
AndroidPolice claims to have tested a pre-release version of Android 2.2 ("Froyo"), and says it's up to 450 percent faster than Android 2.1, thanks largely to the addition of a JIT (just in time) compiler. The operating system upgrade will also offer USB tethering and WiFi hotspot support, says TechCrunch.
Most of the news about the upcoming Froyo, which is expected to be unveiled on May 19 at Google I/O, has focused on its support for Adobe Flash. In late April, in an interview with Google's VP of engineering Andy Rubin in The New York Times, the Android project leader revealed that the full desktop version of Adobe Flash 10.1 will be available on Android 2.2 later this year. Then last week a Google tablet prototype was demo'd at Web 2.0 running Flash on what appeared to be Android 2.2.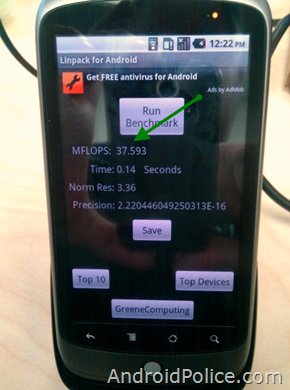 Linpack benchmark on Nexus One running Android 2.2


(Source: AndroidPolice)
Judging from benchmarks published by
AndroidPolice,
faster performance may be even a bigger Froyo story than the Flash 10.1 inclusion. Running the Linpack test suite, which is specifically designed to test the performance of the Dalvik VM (virtual machine), which drives Android atop a specialized Linux kernel, the site tested a
Nexus One
running both Android 2.1 and then 2.2.
The benchmarks found that the Android 2.2 configuration generated 37.593 MFLOPS, compared to about 6.5 to 7 MFLOPs for the Nexus One running Android 2.1, says the story (see image above).
AndroidPolice allowed that such 450 percent increases are not likely to be seen in most real-world benchmarks, and some apps may see a considerably smaller boost. This is because the speed increase is primarily due to the introduction of JIT (just in time) compilation into Android 2.2's Linux kernel, says the story.
JIT compilation, which improves runtime performance using a variety of methods, only boosts performance on programs that are not compiled to native code, says the story. This means that Adobe's Flash, as well as some video codecs and drivers will not see a direct boost from JIT compilation. Such programs, however, should benefit indirectly, because JIT will make programs more efficient, thereby leaving more processing power free during multitasking, says the story.
As if to prove this point, AndroidPolice reports that Android 2.2 runs Flash 10.1, and "runs it very well."
The story did not say how the site had come upon the latest Android upgrade, but says it has been testing Android 2.2 for about a week. AndroidPolice has apparently opted not to divulge other new features until Froyo is unleashed next week.
Other rumored Froyo enhancements: USB tethering and WiFi hotspots
The JIT compiler is the only Froyo enhancement aside from Flash that has been confirmed by Google. Today, however, TechCrunch ran a story showing a screenshot that purports to indicate the addition of USB tethering and WiFi hotspot support in Android 2.2 (see below).
The USB tethering will enable users to share a data connection with a laptop, "something Apple and AT&T still haven't managed to allow in the U.S.," writes Michael Arrington in TechCrunch.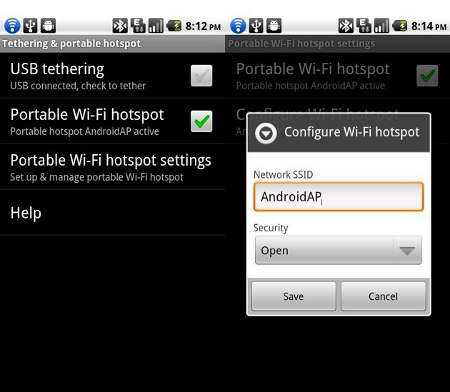 Android 2.2 screen showing USB tethering and WiFi hotspot support
(Source: TechCrunch)
Arrington says the news was confirmed from an unnamed source. He noted, however, that it was unclear whether carriers could either turn the feature off or charge for it without breaking away from the standard Android build.
A story by AndroidandMe last month said that other rumored improvements in Froyo primarily focus on performance. These were said to include more free RAM, as well as OpenGL ES enhancements.
Additional rumored improvements include built-in FM radio support and activation of multi-color trackball notifications, said AndroidandMe. In addition, there is said to be a fix for a "crazy screen" issue related to problems with HTC multi-touch input when using complex two-finger movements.
The site noted, however, that while most of the enhancements seemed quite likely, they were merely rumors, and that major feature surprises are likely to emerge next week at the launch.
Availability
The AndroidPolice story on Android 2.2 should be here. The TechCrunch story on Froyo's USB tethering and WiFi hotspot features should be here. Last month's AndroidandMe story may be found here.
---
This article was originally published on LinuxDevices.com and has been donated to the open source community by QuinStreet Inc. Please visit LinuxToday.com for up-to-date news and articles about Linux and open source.