Apr 28, 2010 — by Eric Brown — from the LinuxDevices Archive — views
Mozilla has released a pre-alpha version of its Mobile Firefox (code-named "Fennec") web browser for Android 2.1. Meanwhile, Google's VP of engineering Andy Rubin told The New York Times that Adobe Flash will be available on Android 2.2 ("Froyo") later this year, and that Android will inevitably surpass the BlackBerry and the iPhone.
The pre-alpha version of Fennec has so far been tested only on the Motorola Droid and the Nexus One, according to Fennec project lead Vladimir Vukicevic in a blog announcement yesterday. The build is said to require Android 2.0 or above, and will likely require an OpenGL ES 2.0 capable device.
Vukicevic also notes that the release is still buggy, and could require phone reboots. Among other issues, startups are flaky, memory optimization has yet to be performed, automatic updates are not yet ready, and users cannot yet open links from other apps using Fennec, he adds.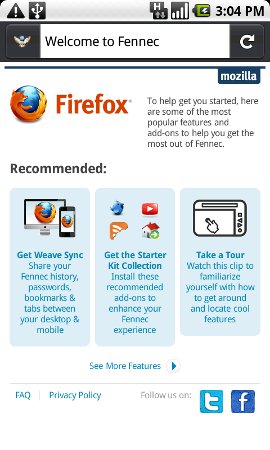 Mobile Firefox ("Fennec") pre-alpha for Android
(Click to enlarge)
The release includes an experimental version of the Weave synchronization technology, which was released in final form in conjunction with Firefox for Mobile 1.0 on other platforms. Weave Sync is said to synchronize Firefox tabs, passwords, history, and bookmarks between desktop and mobile versions of Firefox. Other new features that were previously touted for the final release candidate include an "Awesome Bar" search function that minimizes keystrokes, as well as new UI features including multi-touch support, double-tap for zoom, and tabbed thumbnail browsing.
Mozilla announced its fifth beta for the Linux version of "Fennec" mobile web browser in April 2009. In early January of this year, the open source group released the final release candidate for the Maemo Linux version, which was made available in final form at the end of January (see image above). Presumably, this version will also soon be available for the Maemo- and Moblin-based MeeGo OS.
Adobe Flash to be offered by Android 2.2
In an interview with Google's VP of engineering Andy Rubin in The New York Times, the Android project leader revealed that the full desktop version of Adobe Flash will be available on Android 2.2 ("Froyo") later this year. The software will be offered with full support, Rubin told the Times.
Typically, Android phones offer Adobe's scaled-down Flash Lite version, but Adobe's Flash Player 10.1 would bring to Android a full browser-based runtime that leverages the power of GPUs (graphics processing units) when present. The software provides accelerated video and graphics while conserving battery life and minimizing resource utilization, according to Adobe. New mobile-ready features are said to include support for multi-touch, mobile input models, accelerometers, and multiple screen orientations.
Adobe announced Flash 10.1 last November, promising betas for Windows Mobile and Palm's WebOS by the end of the year, alongside revisions targeting Windows, Macintosh, and Linux desktop computers. Flash Player 10.1 betas for Android and Symbian would follow in "early 2010," it was also announced. Yet Apple's Steve Jobs has stated that Apple has no interest in providing the media player technology with its iPhone.
In late February, Adobe revealed that its first Android releases of Flash would likely bypass Android versions older than Android 2.0. Adobe also said that Android phones would likely require an ARM Cortex-A8 processor, such as the Motorola Droid's OMAP3430 or the Nexus One's Qualcomm Snapdragon.
Just say no to North Korea
In an apparent dig at Apple regarding its refusal to adopt Flash, Rubin told the Times that sometimes being open "means not being militant about the things consumers are actually enjoying."
As a story in our sister publication eWEEK notes today, the debate over whether Linux distributions should support the proprietary Flash has been raging for years. Lately, as Adobe has shown signs of opening up to the open source community, the reticence to embrace Flash appears to be fading. Meanwhile, the continuing war of words between Apple and Adobe may bring Adobe and Google together as partners, suggest some analysts.
In the wide-ranging interview, Rubin also said that Android's open nature means that it will be "just a matter of time" before sales of Android phones exceed those of proprietary Apple and Research in Motion (RIM) phones. According to Rubin, unlike Apple, Google "has no private APIs," says the story.
Responding to one question, Rubin said that consumers are increasingly aware of the benefits of open source. In another apparent dig at Apple, he was quoted as saying "I just don't want to live in North Korea."
Finally, when asked whether Android or Google's Chrome OS would appear on tablets, Rubin seemed to hedge his bets, suggesting that tablets may well be available with either OS. Earlier this month, it was rumored that Google might bypass its plans for a Chrome OS tablet to instead focus on Android-based tablets.
Take my Android phone prototype — please
After Times writer Brad Jones joked with Rubin about what he would do if an Android prototype phone had been left behind in a bar, Rubin replied, "I'd be happy if that happened and someone wrote about it. With openness comes less secrets."
Jones and Rubin were referring to a widely publicized incident earlier this week when California police raided the home of Gizmodo editor Jason Chen at the behest of Apple. Chen had apparently paid $5,000 for the iPhone 4G prototype, which was found left behind in a beer garden in Redwood City.
Chen then wrote up a story on the prototype, revealing new videoconferencing and social networking features. Under California state law, Chen may face felony theft charges for purchasing the phone, says eWEEK.

Availability
The announcement of the pre-alpha release of Fennec for Android may be found here, and includes links to downloads. A feedback page for pre-alpha testers may be found here.
The interview with Google's Andy Rubin in The New York Times, which includes Rubin's comments on Flash support for Android, may be found here. The eWEEK story on the interview may be found here.
---
This article was originally published on LinuxDevices.com and has been donated to the open source community by QuinStreet Inc. Please visit LinuxToday.com for up-to-date news and articles about Linux and open source.