Apr 7, 2011 — by Eric Brown — from the LinuxDevices Archive — views
Gartner says global smartphone sales will rise 57.7 percent in 2011 year-over-year, with the boom continuing through 2015 — bolstered, more than harmed, by tablet sales. This year, Android will take the lead in smartphone sales with 38.5 percent, and represent 48.8 percent in 2015, followed by second-place Microsoft Windows Phone, which will soar to 19.5 percent, projects the research firm.
As in several other recent smartphone studies, Gartner projects that Android will top worldwide sales this year and continue on toward an even more dominant position in the years to come (see farther below). Of the 468 million units expected to be sold this year, up 57.7 percent from 2010, Android will represent 38.5 percent, followed by Apple iOS and Symbian, with 19.4 percent and 19.2 percent respectively.
As the figures below indicate, however, Android will top out sometime in the 2012-2014 period, with a 49.2 percent share projected in 2012, before dipping to 48.8 percent in 2015.
The beginning of the end of the Android era will be caused not so much from competition from Apple or Research In Motion's BlackBerry — both of which will see declining share by that point — but from Microsoft's Windows Phone, which is projected to soar from 5.6 percent this year and 10.8 percent in 2012 to 19.5 percent in 2015, taking second place.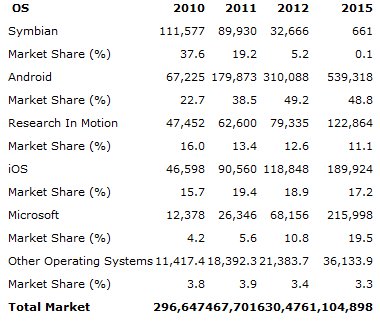 Worldwide open OS mobile communications device (smartphone) sales to end users by OS (thousands of units)
Source: Gartner

Here, Microsoft is said to be benefiting from the expected migration of Symbian users to Windows Phone, based on the recent deal with Nokia, which will begin to bear fruit in 2012. Conversely, Symbian will plunge to 5.2 percent in 2012 and practically disappear in 2015 as Nokia phases out the platform, says Gartner.
A recent IDC study, which projected that Android would climb to a leading 39.5 percent share of the global smartphone market this year, had similar projections for Windows Phone, pointing to a 20.9 percent share in 2015.
Other recent smartphones studies include one from ABI Research which projects Android will represent 45 percent of global smartphone sales by 2016. According to ComScore, meanwhile, at the end of February, Android was pacing the U.S. smartphone market with 33 percent share.
Smartphone democratization
Gartner also projects that sales of "open OS" phones, which it defines broadly enough to include all the smartphone players shown in the above table, will account for 26 percent of all mobile handset device sales in 2011. These "open" smartphones are expected to reach 1,104,898 unit sales by 2015, when they will account for 47 percent of the total mobile device market.
The research firm defines open OS as any platform that offers a software developer kit (SDK) with native application programming interfaces (APIs) — in other words, a smartphone.
"By 2015, 67 percent of all open OS devices will have an average selling price of $300 or below, proving that smartphones have been finally truly democratized," stated Roberta Cozza, principal analyst at Gartner.

While Android will continue to do well in high-end devices, which this year will include models such as LG's upcoming, four-inch Optimus Black (pictured), the platform's biggest growth will be in low-cost smartphones, says Gartner.
"As vendors delivering Android-based devices continue to fight for market share, price will decrease to further benefit consumers," stated Cozza. "Android's position at the high end of the market will remain strong, but its greatest volume opportunity in the longer term will be in the mid- to low-cost smartphones, above all in emerging markets."
Gartner: tablets may help smartphone sales
According to Gartner, the growth in tablet computers may actually help improve smartphone sales. Tablets should "function more as a driver than an inhibitor for sales of open OS devices," stated Carolina Milanesi, research vice president at Gartner.
"Consumers who already own an open OS communications device will be drawn to media tablets and, more often than not, to media tablets that share the same OS as their smartphone," continued Milanesi. "This allows consumers to be able to share the same experience across devices as well as apps, settings, or game scores. At the same time, tablet users who don't own a smartphone could be prompted to adopt one to be able to share the experience they have on their tablets."
Gartner's tablet study, which was covered by our sister publication eWEEK earlier this week, also suggested that enterprises were better off finding a way to support tablets and leverage their perks rather than fight them, as many did with smartphones.
"Consumerization is here to stay, and moving very fast," stated Gartner vice president David Willis. "If you can think of an application for tablets, your competition may well be thinking in the same way — and acting on it. It is time to explore the use of media tablets in business."
Gartner expects global media tablet shipments to reach 69 million by year's end, compared with 2010's 16 million. In February, Morgan Stanley raised its 2012 tablet estimate to 100 million units.
Availability
Gartner's smartphone forecast announcement should be here.
---
This article was originally published on LinuxDevices.com and has been donated to the open source community by QuinStreet Inc. Please visit LinuxToday.com for up-to-date news and articles about Linux and open source.