Feb 19, 2010 — by Eric Brown — from the LinuxDevices Archive — 2 views
OpenPeak announced an Intel Moorestown-based tablet device, which may well end up running the new Nokia/Intel MeeGo operating system. The OpenTablet 7 features a 7-inch multi-touch display, 802.11n WiFi, Bluetooth 2.1, cellular, HDMI output and dual cameras, says the company.
When we heard that Intel CEO Paul Otellini had demonstrated a detachable tablet reference design from OpenPeak at January's Consumer Electronics Show (CES), we speculated that it might have been a Moorestown-equipped version of the previous, Intel Atom-based OpenTablet 7 design. Indeed, this is precisely what OpenPeak has now formally announced.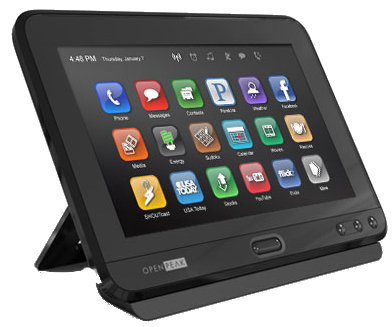 OpenTablet 7
The OpenTablet 7 runs Intel's next generation Moorestown handheld and tablet version of the Intel Atom, which appears to be close to launch. (Other announced Moorestown products include two smartphones: the LG GW990 and Aava Mobile's
Aava
smartphone reference design.)
The Moorestown-ready MeeGo operating system, combining the Intel-backed Moblin and Nokia-backed Maemo mobile Linux operating systems, was announced earlier this week. OpenPeak did not mention operating system support, but the OpenFrame 7 and other OpenPeak tablets and IP phone devices have run Moblin on Atom processors, so MeeGo is probably on the roadmap for the OpenTablet 7 as well.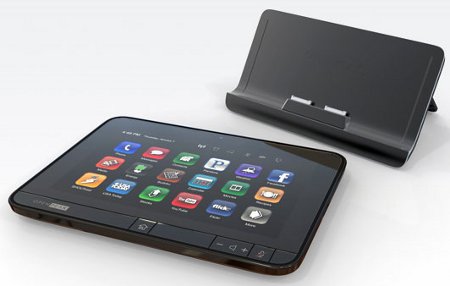 OpenTablet 7 detached
(Click to enlarge)
The OpenTablet 7 offers a "high-resolution" 7-inch multi-touch TFT LCD screen with LED backlighting, says OpenPeak. Measuring 9.0 x 5.0 x 0.6 inches, the device weighs just under 1.15 pounds, says the company.
Communications features are said to include 802.11b/g/n WiFi, Bluetooth 2.1, and cellular connectivity. The OpenTablet 7 also supplies a USB port, microSD slot, HDMI output, and dual cameras for capturing both high-definition video and still images, says OpenPeak.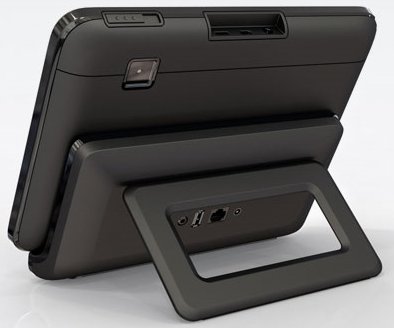 OpenTablet 7, rear view
The OpenTablet 7 is said to be available with a desktop docking and charging station, which enables it to be used as a fixed DPF (digital photo frame) or IP phone, or to be removed as a battery-operated tablet. A handset docking station option is also said to be available.
Built-in speakers and a microphone are said to allow the device to serve as a fully functioning telephone and multimedia platform. The OpenTablet 7 can also integrate home security systems and energy consumption monitoring applications, says OpenPeak.
Like OpenPeak's other products, the OpenTablet 7 is aimed primarily at service providers and energy utilities, offering an "end-to-end solution for deployment of hardware, software, applications, and device management," says the company. The device can also be used by hospitality providers for listing in-room dining options, information about spa services, nearby attractions, and airlines and travel services, the company adds.
OpenPeak's software framework enables designers and developers to create interactive applications using Adobe Flash CS4, says OpenPeak. The company's integrated device management services are said to allow providers to remotely provision, monitor, and update customer devices on demand over broadband networks. A "white-label" application store provides revenue sharing models and content availability controls, adds the company.

At CES last month, OpenPeak announced a prototype of its Intel Atom- and Moblin Linux-based Home Energy Manager (HEM) energy monitoring device, based on its OpenFrame 7 device, a close cousin to the OpenTablet 7. OpenPeak also announced partnerships related to the device with Direct Energy and GE.
Although OpenPeak does not disclose detailed specs on its devices, the OpenFrame 7 appears to be similar in design to the OpenTablet 7, but is instead based on the Intel Atom. The original OpenFrame device, which has since been upgraded to the OpenFrame 7, came to market a year ago as the Verizon Hub. However, Verizon Wireless discontinued the product in September.
Stated Dan Gittleman, CEO of OpenPeak, "The OpenTablet is the ultimate control panel, delivering the most commonly accessed multi-media services right to your fingertips anywhere. The all-in-one device allows you to sync schedules, check movie times, listen to music, watch videos, get weather updates, and even monitor energy usage and home security, all from a single, easy-to-use device."
Stated Pankaj Kedia, director of global ecosystem programs in Intel Corporation's Ultra Mobility Group, "Based on this next generation Intel platform, the OpenTablet represents a powerful, user friendly and innovative design in the emerging tablet market segment."
Will LiMo join MeeGo?
While not entirely unexpected, the Nokia/Intel MeeGo announcement of a merger between the open source Linux Moblin and Maemo projects changes the landscape in mobile devices — and all the way from smartphones to netbooks. Whereas Google is splitting its bets between Chrome OS on the larger scale devices, such as netbooks, and Android for everything smaller, Intel and Nokia appear to believe that a single OS can span the continuum.
The MeeGo partnership also raises the question of whether it could integrate the other major smartphone-oriented open source Linux platform: the LiMo (Linux Mobile) spec of the LiMo Foundation. LiMo has made slow but steady progress, this week garnering support from Adobe, but it has only a few high-end smartphone design wins to date.
At Mobile World Congress, PCMag's Sascha Segan asked LiMo executive director Morgan Gillis if there was a possibility of joining forces with MeeGo, and he was said to have answered, "That could be very logical and beneficial for the market."
Gillis noted, however, that MeeGo's governance model, and especially its tight links to two monster technology firms, could prevent LiMo from joining. According to Segan, Gillis said LiMo might join "if the governance model is properly open, if the decision making rules are published and if the decision making outcomes are published." Another problem, noted Segan: MeeGo uses Nokia's Qt cross-platform development framework, while LiMo uses the GTK tool-chain.
Availability
The OpenTablet 7 will ship in the second half of the year, says OpenPeak. More information may be found here.
The PCMag story on LiMo and MeeGo should be here.
---
This article was originally published on LinuxDevices.com and has been donated to the open source community by QuinStreet Inc. Please visit LinuxToday.com for up-to-date news and articles about Linux and open source.