Feb 11, 2008 — by Eric Brown — from the LinuxDevices Archive — 14 views

Eighteen mobile handsets that support the LiMo (Linux Mobile) Foundation platform have been announced by Aplix, LG Electronics, Motorola, NEC, Panasonic Mobile Communications, Purple Labs, and Samsung. The LiMO Foundation also announced the addition of nine new members, including Access, Orange, and AMD.
Launched only a year ago, the LiMo Foundation recently announced that its Linux-based open handset platform is on schedule for release in March. The R1 release will include public availability of the application programming interface (API) specifications, says the organization, enabling software vendors to port applications to the GTK-based stack. (LiMo tools partners Wind River and Azingo are expected to offer a special toolset for ISVs). The common mobile phone middleware platform is licensed within the membership under "fair and nondiscriminatory" license terms, says the group.
The 18 new LiMo-compliant handsets include many models already available in the market, as well as several new commercial and reference designs. Among the new commercial models, there's the Motorola U9, boasting a rounded, contemporary flip-phone form factor highlighted by an OLED external display. There's also a new Motorola Z6w model that adds WiFi to the existing MotoRokr Z6 (MotoRizr Z6 in Asia) design. Additionally, Motorola's Rokr Z6, RAZR2 V8, and haptics-enabled Rokr E8 also comply with LiMo specifications, Motorola said.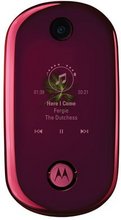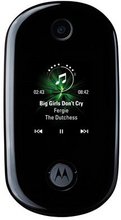 Motorola U9 gallery
(Click any view to enlarge)
New LiMo compliant commercial phones are available from other LiMo founding companies as follows:
NEC/NTT DoCoMo — FOMA N905i, FOMA N905mu (the "mu" is actually the Greek sign mu, which symbolizes "micro"), FOMA N705i and FOMA N705″mu"
Panasonic/NTT DoCoMo — FOMA P905i, FOMA P905iTV, FOMA P705i and FOMA P705″mu"
Samsung SGH-i800




NEC's (l-r) N705i, N705i micro, and N905i
(Click any phone to enlarge)





Panasonic's (l-r) P705i, P705i micro, P905iTV, and P905i
(Click any phone to enlarge)


Purple Magic
(Click for details)
The prototype and reference LiMo handsets that were announced are:
LG — LiMo Phone from LG Electronics
Aplix — Opal
Purple Labs – Purple Magic (pictured at right
New members bring total to 32
The nine new LiMo members include Linux mobile software firm Access and British wireless provider Orange, two firms that have been instrumental in pushing a more formal Linux Phone Standards (LiPS) specification for mobile phones since 2005. The LiPS Forum released its first specification in December, despite having been eclipsed somewhat recently by the momentum of LiMo, as well as that of higher-level mobile middleware platforms such as Google Android. LiPS Executive Director Bill Weinberg commented, "With the exception of Trolltech, members have stated their intention to remain in LiPS."
Orange is joining as a Founder member, joining existing Founder members Motorola, NEC, NTT DoCoMo, Panasonic Mobile, Samsung, and Vodafone. Access joins as a Core member.
The full list of new LiMo members, which brings the total to 32 members, is as follows:
Stated Morgan Gillis, executive director of the LiMo Foundation, "The breadth of the initial wave of LiMo handsets — 18 models from 7 vendors — consolidates LiMo's role as the unifying force within Mobile Linux. We believe our rapid progress is propelled by LiMo's inclusive and transparent governance model — with shared leadership and shared decision making — and pragmatic, code-centric approach to open-source innovation."
Stated LiMo chairperson Kiyohito Nagata, of NTT DoCoMo, "The mobile industry is embracing Linux and openness as the key enablers of lower device development costs, increased flexibility, and quicker time to market for innovative services of all kinds."
LiMo's technology is being showcased in Booth 8b135, Hall 8 at the Mobile World Congress, going on now in Barcelona.
---

This article was originally published on LinuxDevices.com and has been donated to the open source community by QuinStreet Inc. Please visit LinuxToday.com for up-to-date news and articles about Linux and open source.