Oct 22, 2010 — by Eric Brown — from the LinuxDevices Archive — 16 views
LiquidWare announced an open source hardware development platform for Android-based tablet or HMI devices. Designed for rapid prototyping, the DIY Android Modular Gadget Platform is based on modular hardware, including a 720MHz TI OMAP3530-based BeagleBoard, a 4.3-inch OLED touchscreen, and a "BeagleJuice" battery pack.
DIY Android development typically consists of using an open source software toolchain to build applications, while the hardware itself is typically a closed source, physically enclosed device, says LiquidWare. The DIY Android Modular Gadget Platform removes this limitation, while keeping the final device portable and modular, says the company.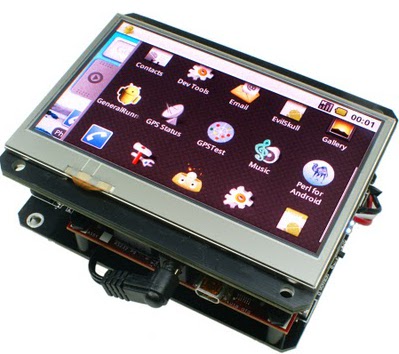 LiquidWare's DIY Android Modular Gadget Platform
As is typical with engineering-driven open source hardware companies, LiquidWare is rather fast and loose with its product names. The DIY Android Modular Gadget Platform, for example, is also referred to as the Android Modular Gadget, and appears to be the same as a product listed as the Android DIY Starter Kit. Meanwhile, there is also a more fully featured version called the Android Hardware Development Kit.
By whatever name, the kit is an Android version of the Linux-based Beagle Embedded Starter Kit that LiquidWare announced in June, and which is apparently now called the Beagleboard Embedded Gadget Pack. The kit combines a Liquidware BeagleTouch OLED touchscreen with a BeagleBoard to construct a Linux-based mobile or HMI device.
As with the earlier Linux product, the Android kit is built around BeagleBoard.org's prototype-oriented BeagleBoard Rev C4, board. Like the BeagleBoard Rev E version, the $150 C4 development board moves up to the 720MHz version of the ARM Cortex-A8-based Texas Instruments OMAP3530 SoC. (This summer, BeagleBoard.org and its distributor Digi-Key announced a new BeagleBoard-xM version based on TI's new 1GHz DM3730 SoC, a video-enhanced variant of TI's new AM3715 SoC.)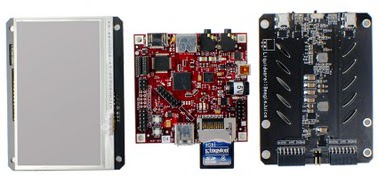 Major kit components (left to right): BeagleTouch, BeagleBoard C4, and BeagleJuice

The kit combines the hacker-friendly BeagleBoard with a a 4500 mAh "BeagleJuice" lithium-ion battery module and the "BeagleTouch," Liquidware's OLED touchscreen. Previously, this was listed as being 4.4-inches, but is now said to be 4.3 inches.
The BeagleTouch offers 480 × 272 resolution, as well as OLED technology for richer colors and better contrast, says LiquidWare. It further incorporates a 20mm speaker, plus a type B-mini interface to RS232 serial, says Liquidware.
The BeagleTouch is designed to mount directly on the BeagleBoard, via a serial link, brought out via a Type B-mini USB port, says the company. This is said to avoid the need for FTDI, null modem, and IDC cables.
With the previous Linux version of the kit, LiquidWare offered detailed instructions for connecting all the components, as summarized in our previous coverage. At the time, Liquidware said that it could optionally sell users BeagleBoards with the BeagleTouch headers soldered on. It is unclear whether soldering is required for the Android kit.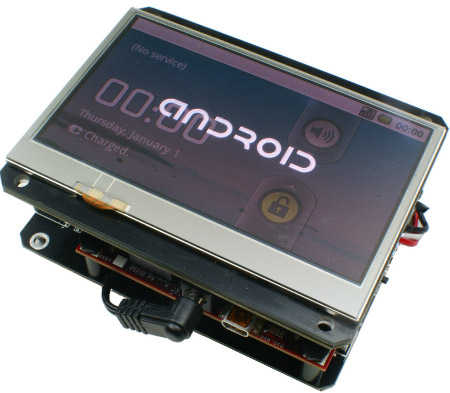 DIY Android Modular Gadget Platform
(Click to enlarge)
The DIY Android kit also comes with a custom-tailored bootable Android SD card, with drivers and kernels specially designed to run Android applications on the system, says LiquidWare. The Android version was not listed, but the kit is said to run any and all APK Android app files.
The system also comes preloaded with SL4A — a scripting language that lets programmers write GUIs in Perl, Python, and some other scripting languages, says the company.
Android Hardware Development Kit
For $200 more, LiquidWare offers an Android Hardware Development Kit, which builds on the base DIY Android kit with various cables and other accessories. This more comprehensive development kit is said to be designed for "enterprise embedded developers looking for a single, all-inclusive solution for a variety of prototyping needs."
The Android Hardware Development Kit includes a laptop-style, 5V power adapter, a powered, four-port USB hub, as well as an 802.11b/g Wi-Fi card. Among other cables and accessories, the kit includes a FTDI-DB9 cable, a null modem adapter, and a DB9 to IDC-10 ribbon cable, says LiquidWare. Options are said to include Liquidware's Android Integrated Development Environment and Liquidware Custom Engineering package.
Stated LiquidWare lead developer Justin Huynh, "The current Android devices on the market are designed for software-only applications. They're not designed to integrate into third party sensors, industrial control and automation systems, or medical devices. We built the Android Modular Gadget Platform to cater to rapid prototyping engineers and developers looking for the absolute fastest way to get a product proof-of-concept functional."
Availability
The product, which is listed as the Android DIY Starter Kit on the LiquidWare site, is available for $547.37, and the more comprehensive Android Hardware Development Kit is available for $747.39. The LiquidWare page for the Android DIY Starter Kit may be found here, and the page for the more advanced Android Hardware Development Kit may be found here.
The announcement of the DIY Android Modular Gadget Platform on the Antipasto Hardware Blog hobbyist site, which is devoted to demonstrating designs created with components from the Liquidware and Modern Device open source electronics companies, may be found here.
---
This article was originally published on LinuxDevices.com and has been donated to the open source community by QuinStreet Inc. Please visit LinuxToday.com for up-to-date news and articles about Linux and open source.