Jan 27, 2012 — by Eric Brown — from the LinuxDevices Archive — views
Some 37 million Apple iPhones shipped worldwide in the fourth quarter, besting Samsung's 33 million shipments and reducing Android's share to 47 percent, says ABI Research, echoed by Kantar Worldpanel ComTech and Good Technology. Meanwhile, Android tablets surged to 39 percent share worldwide in Q4 2011, but still trail Apple's 58 percent iPad share, says Strategy Analytics.
Despite some observers' disappointment that it was not a larger-screen iPhone 5, the iPhone 4S led Apple to its first lead in worldwide smartphone shipments, both for the fourth quarter and for the year, according to ABI Research. As a result, total worldwide shipments of smartphones running Android dropped from a third quarter high of 52.5 percent to 47.0 percent in Q4 — said to be Android's first decline since ABI began the study.
While ABI doesn't fill in all the blanks, and primarily focuses on vendor share, this figure would suggest that Android is still the leading smartphone OS.
The 150 million smartphones that shipped in Q4 — a record high 36 percent of the 409 million handsets shipments — included some 37 million iPhones, giving Apple a sequential growth rate of 117 percent or 128 percent quarter to quarter, says ABI. Apple was said to be the leading smartphone OEM not only for the quarter, but also for the year.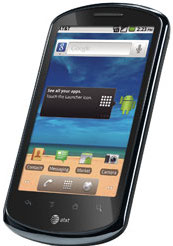 Second place in world smartphone shipments was awarded to Samsung, with its 33 million units, the vast majority of which run Android. The greatest Android smartphone success, however, came at the low-end, according to the research firm.
Chinese handset OEMs Huawei and ZTE are said to have surged, respectively shipping 6.6 and 4.5 million units. In the U.S. Huawei has had success with budget phones such as its Impulse 4G (pictured), which went on sale at AT&T last fall for $30.
Huawei and ZTE are pressuring mainstream vendors, forcing them to "innovate or die," according to ABI. "As Android approaches its fifth year as a platform, often considered middle-age in the mobile world, its midsection is sagging as Motorola, LG and Sony Ericsson struggle with profitability," stated the research firm.
Referring to Samsung's ongoing legal defense against Apple over Android-related patents, Kevin Burden, ABI's VP Mobile Devices, stated, "The mid-tier Android OEMs showed weakness in Q4 and Samsung was not able to maintain Android's growth on the one hand and fight Apple with the other."
The global smartphone market enjoyed 28.6 percent sequential growth, 48.6 percent quarter over quarter, and 57.4 percent year over year, totaling 473 million shipments for the quarter, estimates ABI. The entire handset market, including feature phones, increased 5.4 percent sequentially and 11.4 percent for 2011, reaching 1.54 billion shipments, according to the study. With smartphones subtracted, however, the handset market showed a year-over-year shipment decline of 1.6 percent.
In the total handset market, Nokia and Samsung retained the top positions for both the quarter and the year, while LG fell to fourth place, says the study. Surprisingly, the troubled Research in Motion (RIM) was said to have moved up from ninth place to seventh in overall 4Q handset shipments.
The findings are part of ABI Research's "Mobile Device Market Share Tracker".
Earnings reports show Apple, Samsung up, Motorola down
Both Apple and Samsung released stellar Q4 earnings reports this week, although Motorola Mobility continues to struggle. On Jan. 24, Apple released an earnings report for the calendar-year fourth quarter (Apple's fiscal 2012 first quarter), showing record quarterly revenue of $46.33 billion and record quarterly net profit of $13.06 billion. Apple sold 37 million iPhones and 15.4 million iPads in the quarter, says the company.
Samsung, meanwhile, released its own fourth quarter earnings report on Jan. 27, reporting revenues of 47.3 trillion Korean won (about $42 billion U.S.) on a consolidated basis — a 13-percent increase year-on-year. Samsung also reported net income of four trillion won, or $3.6 billion for the quarter, up from 3.42 trillion won a year earlier. Samsung was said to have sold a record 300 million handsets in 2011, besting Apple's total.
The story was different over at Motorola Mobility, which released its own fourth quarter report on Jan. 27, as reported by eWEEK. Motorola showed a net loss of $80 million for the quarter on 27 cents earnings per share (EPS), compared to a profit of $80 million for Q4 2010. Revenues totaled $3.4 billion for the quarter, and $13.1 billion for the full year, up 14 percent compared to 2010.
While Motorola shipped 5.3 million Android smartphones, up from 4.9 million from Q4 2010, the company sold only 200,000 Xoom tablets. For the full year, Motorola sold 18.7 million smartphones, and only 1 million tablets.
Kantar Worldpanel: iPhone 4S was hot in 4Q
Earlier this week, Kantar Worldpanel ComTech released a study that showed smartphone trends similar to those revealed in the ABI study. Looking at U.S. smartphone sales in the fourth quarter, the study found that Apple's iPhone 4S helped iOS rise to 44.9 percent share compared to 44.8 percent for Android.
In the U.K., meanwhile, iOS was said to have moved from 22.0 percent share a year ago to 34.0 percent in 4Q 2011. Also in the U.K., smartphones made up 70.7 percent of sales in the fourth quarter, says Kantar Worldpanel. Some 48.9 percent of the British population now owns a smartphone, says the research firm. Kantar Worldpanel estimates that RIM's BlackBerry was the most gifted U.K. phone in the quarter, with 55 percent of the recipients under the age of 16.
Despite the hype over the Windows Phone based Nokia Lumia smartphone, the phone failed to make the top 10 smartphone list in the U.K., and Microsoft's Windows Phone has yet to break past a two percent share "in any country" it surveyed, says the company.
The survey also took a look at Latin America, where things are looking up for Android despite the operating system's having taken only a 28 percent smartphone share in Brazil and 20 percent in Mexico. Here, low-cost phones from Huawei and ZTE are expected to send Android to a much higher total share of a potentially huge untapped market.
Good: iPhone, iPad strong in enterprise
Good Technology, which regularly reports on smartphone and tablet activations among its enterprise mobile device services customers, concurred that the iPhone 4S led the way in the fourth quarter. On Jan. 25, the company released a report claiming that among the top 10 enterprise activations by device type, the iPhone 4S clinched the top spot in 4Q 2011, followed by the iPhone 4 at #2 and the iPad 2 tablet at #3.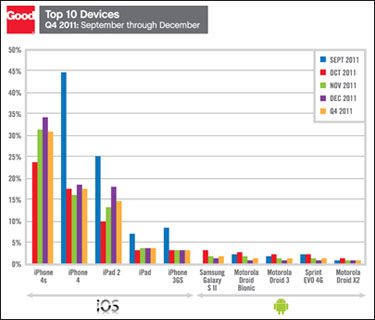 Top 10 devices activated among Good Technology enterprise customers in Q4 2011
Source: Good Technology
Android was said to have held steady at 35 percent of smartphone activations. The
Samsung Galaxy S II
was the top Android device at #6 overall, followed by the Motorola Droid Bionic, Motorola Droid 3, Sprint's HTC Evo 4G, and the Motorola Droid X2, says Good Technology.
Android represented only 6 percent of tablet activations, says the company. Here, the Samsung Galaxy Tab was said to have remained the leader, although it's unclear which of the Galaxy Tab models Good may be referring to.
Strategy Analytics shows Q4 Android tablet growth
Android climbed to 39 percent of tablet computers shipped worldwide in the fourth quarter, according to Strategy Analytics. As reported by our sister publication eWEEK, the study estimates that 15.4 million Apple iPads were sold in the fourth quarter. However, Apple's overall share dropped from 68 percent a year ago down to 58 percent. Microsoft was a distant third with 1.5 percent share, and the "others," including RIM's declining PlayBook and the dying surge of the HP TouchPad, totaled 1.9 percent, says the study.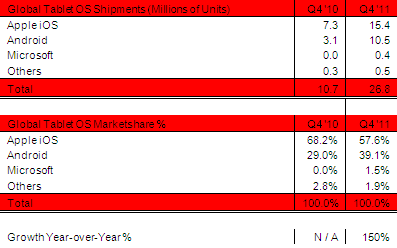 Global tablet market share by OS, Q4 2011 and 2010
Source: Strategy Analytics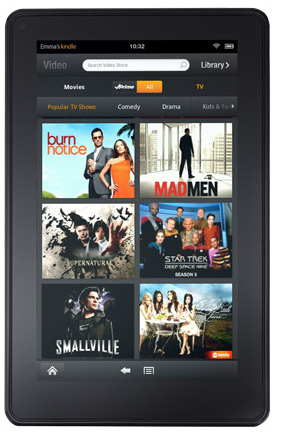 Last July,
Strategy Analytics reported
that Android tablets had risen to take a 30 percent share of global tablet shipments in the second quarter, compared to 61 percent for Apple. This was said to be up from 22 percent global tablet market share in the fourth quarter of 2010, and under five percent the previous quarter.
In the third quarter of 2011, Android's total dipped to 27 percent compared to the iPad's 67 percent tablet share, but has since rebounded in a big way to 39 percent in the final quarter. Not surprisingly, the research firm noted that the Amazon Kindle Fire (pictured) was the leading Android tablet sold in the quarter.
Global tablet shipments reached an all-time high of 26.8 million units in Q4 2011, up 150 percent from 10.7 million units in Q4 2010, according to Strategy Analytics. Worldwide tablet shipments were said to have topped 66.9 million units in 2011, surging 260 percent from 18.6 million in 2010.
It also bears noting that as usual with Strategy Analytics, Apple's reported iPad shipment numbers are for units sold, while the aggregate of Android tablet makers simply count units shipped to retailers. Taking returns and unpurchased inventory in mind, this would almost certainly tip the actual percentage total of units sold toward Apple, although by how much is unclear.
Even still, the study would seem to suggest that recent reports on the demise of the Android tablet are premature, to say the least.
Eric Brown can be reached at [email protected].
---
This article was originally published on LinuxDevices.com and has been donated to the open source community by QuinStreet Inc. Please visit LinuxToday.com for up-to-date news and articles about Linux and open source.