Nov 12, 2010 — by Eric Brown — from the LinuxDevices Archive — views
Android soared in Gartner's 3Q smartphone report to a 25.5 percent, second-place-worldwide share, up from 17.2 percent last quarter. Meanwhile, Android phones came out tops in Consumer Reports' latest quality rankings, and also held their own with the iPhone and BlackBerry phones in a SquareTrade study on smartphone reliability.
Contrary to rumors, Google did not release Android 2.3 this week, but the Linux-based operating system (OS) managed to grab headlines nonetheless. Once again, Gartner's worldwide smartphone report showed Android moving up fast among smartphone operating systems.
According to separate reports from our sister publications eWEEK and WindowsForDevices, Android showed the greatest momentum in global smartphone sales in the third quarter compared to other OSes.
Company

3Q10

Units

3Q10 Market Share (%)

3Q09

Units

3Q09 Market Share (%)

Symbian

29,480.1

36.6

18,314.8

44.6

Android

20,500.0

25.5

1,424.5

3.5

iOS

13,484.4

16.7

7,040.4

17.1

Research In Motion

11,908.3

14.8

8,522.7

20.7

Microsoft Windows Mobile

2,247.9

2.8

3,259.9

7.9

Linux

1,697.1

2.1

1,918.5

4.7

Other OS

1,214.8

1.5

612.5

1.5

Total

80,532.6

100.0

41,093.3

100.0
Worldwide smartphone sales to end users by operating system in 3Q10 (thousands of units)
Source: Gartner
Over the last year, Android has seen its worldwide smartphone market share rise from 3.5 percent to 25.5 percent, taking second place behind Nokia's Symbian, which fell to 36.6 percent. Only
last quarter
, Android was at 17.2 percent, behind RIM at 18.2 percent, says Gartner.
Like Symbian, Apple's iOS and Research in Motion (RIM) both lost share over the last year, but thanks to strong iPhone 4 sales Apple showed solid quarter-to-quarter growth, moving into third place with 16.7 percent, ahead of BlackBerry-maker RIM at 14.8 percent, reports Gartner.
Windows Mobile, meanwhile, dropped to 2.8 percent just ahead of Linux, at 2.1 percent. (Windows Phone 7 won't show up until next quarter's report.)
Overall, Gartner's most recent analysis suggests tha

t quarterly smartphone sales grew 96 percent year-over-year, and accounted for 19.3 percent of overall mobile phone sales. The Gartner report follows other 3Q 2010 smartphone studies showing strong gains for Android, including reports from Canalys and the NPD Group. The latter noted that the Motorola Droid X (pictured) was the fourth best selling smartphone in the U.S., followed by the HTC Evo 4G.
IDC's global third quarter smartphone report, meanwhile, estimates that Samsung and HTC are showing the fastest growth among vendors, based largely on their Android phones.
Consumer Reports goes all out for Android — and the Galaxy S
Consumer Reports' latest Smartphone ratings showed Android phones beating the competition on quality at all major U.S. carriers, reports Fortune. "Frankly, it is an Android bloodbath," writes Fortune writer Seth Weintraub. "Across the board Androids ran the table with only the iPhone 3GS tied for second on AT&T and HTC's HD2 which runs Windows Mobile coming in third on T-Mobile."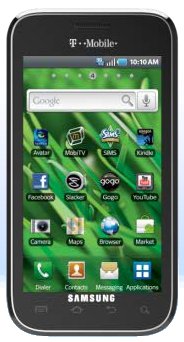 The Consumer Reports tests were based on voice quality, camera quality, ease of use, battery, and many other criteria, says the story.
Consumer Reports was said to have singled out two variations of Samsung's Galaxy S Android phones as sharing the top rating of 76: AT&T's Samsung Captivate and T-Mobile's Samsung Vibrant (pictured at left). The report particularly praised the phones for their high-quality Super AMOLED displays as well as the quality of video playback, says the story.

These were followed closely by Motorola's top-selling Android phones — Verizon's Droid X and Droid 2 — with 75 points, says the story. The two Droids were also said to be the highest rated phones available on Verizon.
The Android-based HTC Evo 4G was said to be Sprint's best phone.
Apple's iPhone 3GS was the highest ranked non-Android phone, tying the HTC Aria for second on AT&T's network with a 74, says the story.
However, the publication still doesn't recommend the iPhone 4 due to its antenna problems.
Smartphone quality improving, says SquareTrade
A new study of smartphone reliability by SquareTrade found that failure rates have much improved over two years ago, reports eWEEK.
There were few differences in failure rate based on operating system, says the study. However, the iPhone 3GS had the fewest failures, and RIM's BlackBerries are best at surviving drops, according to SquareTrade.
"The major Android phone manufacturers and the iPhone 4 all failed at similar rates," states the report, "with 14.5 percent to 15.9 percent projected to fail over 12 months."
Based on vendor, Apple, RIM, Motorola, and HTC handsets fared better than the rest, of which 16.9 percent, on average, failed during the first 12 months, says the story.
"The problems that plagued earlier smartphone technologies have been resolved," states the report. "In fact, iPhone and BlackBerry malfunction rates have dropped over 60 percent in the past two years, and owner accidents, not manufacturer problems, are now the No. 1 reason most smartphones fail."
---
This article was originally published on LinuxDevices.com and has been donated to the open source community by QuinStreet Inc. Please visit LinuxToday.com for up-to-date news and articles about Linux and open source.