Aug 3, 2010 — by Eric Brown — from the LinuxDevices Archive — 6 views
SSV announced a new member of its "DIL/NetPC" computer-on-module (COM) family, offering a web server designed for remote access via smartphones. The Linux-based DIL/NetPC DNP/9265 incorporates an ARM9 Atmel AT91SAM9263 processor with 32MB SDRAM, 32MB flash, Ethernet and other I/O, and is offered with an "SK30" starter kit.
Based on a long line of Linux-ready DIL/NetPC modules, such as the DIL/NetPC DNP/2486 computer-on-module (COM) announced in February 2009, the 2.17 x 0.91-inch DIL/NetPC DNP9265 shares the trademark "DIL" (dual in line) socket of its fellow modules, which enables attachment to custom I/O boards. The new module appears to be an heir to SSV's ADNP/9200, aimed at bridging various wireless networks with Ethernet LANs, which the German company introduced in late 2006,.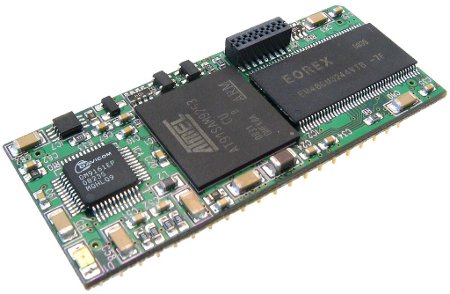 DIL/NetPC DNP/9265


(Click to enlarge)
The DNP/9265 was developed for embedded HTTP(S) client and server gateway applications that need to connect to Ethernet-based TCP/IP networks, says SSV. Its onboard web server is especially designed to offer content to browsers running on smartphones, the company adds.
The DNP/9265 is also said to support SSV/ECC (SSV Embedded Cloud Computing) as an HTTP/HTTPS client. Announced in October in the form of two Linux-based DNP/2486-based development kits, the SSV/ECC stack offers access to Amazon's S3 cloud services, and supports data logging, firmware updates, VPN-based remote access, and remote configuration applications.
As noted, the DNP/9265 module is being promoted with a web server specifically designed to interact with the web browsers on smartphones. Although billed as an "Embedded iPhone Gateway," the bundled app does not use the Apple iPhone SDK (software development kit) or require Apple's App Store, and is based on web standards such as HTML, CSS, JavaScript, and AJAX. Therefore, it can easily be adapted to work with Android phones and other devices, SSV says.
DNP/9265 hardware
The DNP/9265 module incorporates Atmel's ARM9-based AT91SAM9263 processor. Introduced in 2006, the AT91SAM9263 is typically clocked at 200MHz, and offers a 100MHz system bus.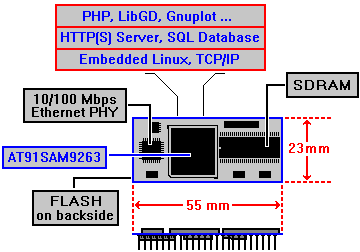 DNP/9265 block diagram
SSV's latest COM is equipped with 32MB of SDRAM, as well as 32MB of NOR flash for holding the U-Boot boot-loader and Linux 2.6.24, says the company. I/O is passed through the aforementioned 40-pin DIL socket, and includes three UARTs for COM functions, as well as 20-bit GPIO.
The module supplies one interface each for USB 2.0 Host, SD card, I2C, SPI, and CAN (ISO/11898A 2.0B), says the company. A 10/100Mbps Ethernet port is also said to be supplied. Additional features include a watchdog timer, power supervisor for VCC control, and in-system programming features, says SSV.
Measuring 2.17 x 0.91 inches (55 x 23mm), the module runs on a 3.3 Volt power supply, with supply current running at a typical 300mA, with a maximum of 500mA, says the company. The module is said to support temperatures ranging from 32 to 158 deg. F (0 to 70 deg. C).
The DNP/9265 runs embedded Linux 2.6.24 based on the OpenEmbedded framework, with numerous in-house extensions, says the company. The module ships with embedded networking software components including HTTP Client/Server, PHP, SQL Database, LibGD, and Gnuplot. There's also a Twitter API, as well as HTTP/HTTPS client support for SSV/ECC.
DNP/9265 SK30 Starter Kit
The DNP/9265 is being offered with a SK30 Starter Kit that is available either as a carrier board on or DIN-rail housing. The SK30 OEM integration kit is equipped with the DNP/9265 module, various real-world I/O including Ethernet and serial ports, as well as a Linux software development kit with various tools and documentation, says SSV.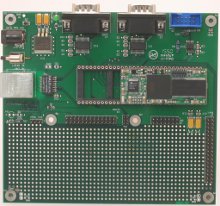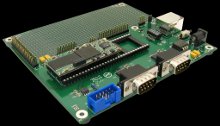 Top and side views of SK30 Starter Kit carrier board


(Click on either to enlarge)
The kit also offers a 2.4GHz Wi-Fi access point for communication with a smartphone. The example smartphone gateway application is also pre-loaded. Designed for the iPhone, the app visualizes system resources and lets users play with configuration data, says the company.
Availability
SSV offered no pricing or availability information on the DIL/NetPC DNP/9265 and SK30 Starter Kit, but they appear to be available for order now. More information on the DNP/9265 module, including a datasheet, may be found here, and more on the SK30 should be here.
---
This article was originally published on LinuxDevices.com and has been donated to the open source community by QuinStreet Inc. Please visit LinuxToday.com for up-to-date news and articles about Linux and open source.