Aug 31, 2010 — by LinuxDevices Staff — from the LinuxDevices Archive — 3 views
Hitachi Displays Ltd. has reportedly developed a projected capacitive touchscreen that responds either to fingers, a stylus, or gloved hands. To be shown at an October trade show in Japan, the device can respond to insulating materials including leather, wool, and artificial fibers, according to a Nikkei Electronics article.
Projected capacitive touchscreens — popularized by Apple's iPhone and iPad, and now available on most new high-end smartphones — respond nicely to fingers, but not to styluses, gloved fingers, or other insulating materials. As a result, such screens are not suitable for handwriting recognition applications, and designers have to ensure that all elements in a user interface are large enough to be touched by a fingertip.

HTC's magnetic stylus for capacitive touchscreens

To get around this problem, HTC applied for a patent on, and later began selling, a magnetic stylus (above) that can be used with capacitive touchscreens. Other styluses targeting the same market — such as the conductive cloth-tipped "iFaraday" pictured at right — are widely available on eBay.
In May, meanwhile, Atmel announced a "maxTouch" microcontroller it said would support capacitive touchscreens up to 15.6 inches, respond to as many as 16 simultaneous touches, and permit operation via gloved hands or styluses. The company, which did not say how soon displays using its controller would go on the market, added that the technology would provide built-in handwriting and shape recognition.
Now, Hitachi Displays Ltd. plans to offer a projected capacitive touchscreen display that delivers similar versatility with a "normal controller chip," according to Nikkei Electronics writer Tadashi Nezu. In an article posted yesterday, Nezu says Hitachi will use the October Ceatec Japan 2010 show to demonstrate a touch panel (below) that converts input information to capacitance.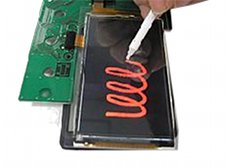 Hitachi's capacitive screen may be used with a pen (left) or fingers (right)
Source: Nikkei Electronics
According to Nezu, the Hitachi screen will be operable with an ordinary plastic pen or with gloved fingers. The panel can detect the presence of insulating materials such as natural leather, artificial leather, wool, and artificial fibers, the story adds.
Background
Capacitive touchscreens, of which Apple's iPhone sports the most famous example, employ glass coated with a transparent conductor such as indium tin oxide. This type of sensor is basically a capacitor, in which the plates are the overlapping areas between the horizontal and vertical axes.
Touching the surface of the sensor affects the electric field and causes a measurable change in the capacitance of the device. But, since capacitive screens only respond to the proximity of a conductive medium such as a finger, they will not work with gloved hands or with styluses.
Resistive touchscreens, on the other hand, are composed of several layers. Two electrically conductive layers are separated by a narrow gap, but become connected when a finger, stylus, or other object presses down on the surface of the display.
While resistive screens offer greater potential for accuracy, they also provide a "squishy" feel when touched with a finger, require a firmer touch, and are not well suited to multitouch operations.
The two technologies have had a major effect on mobile operating system design. Windows Mobile and its antecedent, Windows CE, for example, were designed to support resistive touchscreens, and as a result sport miniaturized design elements that are hard to target with a finger. Apple's iPhone OS, and later, Android, were designed with a capacitive screen from the start, and employ generally larger icons and buttons, as will Microsoft's Windows Phone 7.
Further information
Tadashi Nezu's story for Nikkei Electronics may be found on the Tech On website, here. More information on Hitachi Display Systems products may be found here.
---
This article was originally published on LinuxDevices.com and has been donated to the open source community by QuinStreet Inc. Please visit LinuxToday.com for up-to-date news and articles about Linux and open source.