May 24, 2010 — by LinuxDevices Staff — from the LinuxDevices Archive — 2 views
Atmel announced a microcontroller for capacitive touchscreens that allows operation via gloved hands or styluses, supporting screens up to 15.6 inches. The maXTouch technology uses under 1.8mW in a "touch-ready" state and performs "three times better" than competitive products, the company says.
Atmel says it has built on its previously available maXTouch capacitive touchscreen technology, scaling it up to as much as 15.6 inches. As a result, potential applications move beyond mobile phones and PDAs to embrace tablets, smartbooks, MIDs (mobile internet devices), netbooks, notebooks, and a range of industrial applications, the company says.
The enhanced maXTouch technology appears to be ready for use either by aliens, or by several people at once, since it can support multiple simultaneous touches by as many as 16 fingers, according to Atmel.
Functionality is said to include:
rejection of unintended touches
stretch/pinch and rotate gestures
grip suppression and palm rejection
plus face detection on webcam-equipped mobile phones
Intriguingly, Atmel claims its microcontroller — unnamed, but apparently an enhancement of the existing mXT224 — allows capacitive touchscreens to be used with a stylus or even while a user is wearing gloves. It's further claimed the technology provides handwriting and shape recognition, both unavailable in earlier capacitive implementations.
Atmel also touts industry-leading performance, including a 250Hz "report rate" and the ability to measure, classify, and track a finger touch every 4ms if required. First-touch response and signal-to-noise ratio are both said to be "three times better than competitive products."
As suggested earlier, Atmel has not yet provided full details of enhancements to its existing mXT224 controller, nor said whether the larger-screen version will carry a new model number. The mXT224, first released last year, was said to support up to 4.3-inch screen sizes with 10mm "pinch" separation, or screens up to 10.1 inches with a correspondingly wider pinch.
According to Atmel, the mXT224 integrates a single-cycle RISC core with 32 registers and two on-chip DSP engines that process the X and Y positions on the touchscreen. An event system and peripheral DMA controller offload all inter-peripheral communications and data transfer operations from a device's CPU, freeing it up for post-processing of the sensor image, the company adds.
For the mXT224, Atmel cites idle power consumption under 1.8mW, and active one-touch power consumption of 3.9mW. The chip is said to measure 5 x 5 x 0.6mm in a 49-ball UFBGA (ultra fine pitch ball grid array) configuration, 5 x 5 x 1mm in a VFBGA (very fine pitch ball grid array) configuration, and 6 x 6 x 0.6mm in a 48-pin QFN (quad flat no leads) configuration.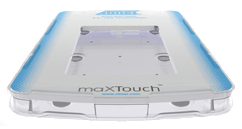 To appraise the controller's performance, OEMs can order the EVK-mXT224A evaluation kit pictured at right, which includes a 4.3-inch touchscreen and may be connected to a PC via USB. The kit includes software that allows evaluating the full range of configuration options for the mXT224 and shows off its multitouch and gesture capabilities, Atmel says.

maXTtouch technology
Source: Atmel
(click to play)

Availability
Atmel did not provide information about pricing or operating system requirements for its revised maXTouch technology or the mXT224. More information on these products and on the EVK-mXT224A evaluation kit may be found on the company's website here, here, and here.
---
This article was originally published on LinuxDevices.com and has been donated to the open source community by QuinStreet Inc. Please visit LinuxToday.com for up-to-date news and articles about Linux and open source.