Jul 28, 2010 — by LinuxDevices Staff — from the LinuxDevices Archive — 1 views
Synaptics announced a range of capacitive touchscreens that will range up to 10.1 inches in size and support 10 simultaneous finger touches. Meanwhile, Digitimes predicted that demand for glass-based capacitive panels will grow steadily, at the expense of resistive touchscreens.
Synaptics says its new "ClearPad 7200" range of glass-based capacitive touchscreens will target tablets/slates, clamshell notebooks, and "fourth screen" devices such as digital photo frames and e-readers. Unlike the company's previous ClearPad 3000 range, which topped out at eight inches diagonally, the ClearPad 7200 devices will be sized up to 10.1 inches, the company adds.
According to Synaptics, the ClearPad 7200 Series utilizes a "high performance multi-ASIC based architecture" and will be capable of recognizing up to ten simultaneous finger touches. The screens will also support complex multi-finger gestures (such as pinch and rotate) with "fine accuracy, low latency, high report rate, and precise finger disambiguation," the company claims.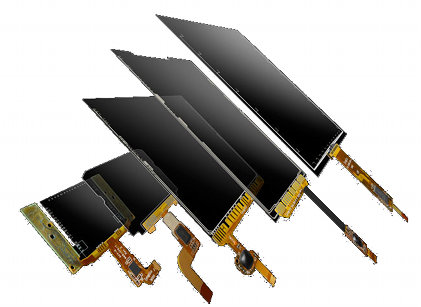 The ClearPad 7200 displays from Synaptics
It's said the ClearPad 7200 devices will support both I2C and USB interfaces, and they'll operate both with Android and Microsoft's Windows 7. In addition, the screens will be fully compliant with the Microsoft Windows 7 Touch API for large touchscreens by being fully tested and certified in the Windows Hardware Quality Labs (WHQL), Synaptics adds.
Mark Vena, senior vice president and general manager of Synaptics' PC division, stated, "The ClearPad 7200 Series will allow Synaptics to address the tremendous opportunity in the large touchscreen space, as users increasingly embrace consumer electronic devices with finger-based touch requirements."
Are resistive screens on their way out?
Synaptics' new devices appear to represent an expansion of the capacitive touchscreen market, moving the technology from phones and other small devices on to mainstream portable computers. In two separate reports this week, Digitimes writers Susie Pan and Yvonne Yu concur, noting that glass-based capacitive screens in sizes up to 12 inches will be launched by the "early fourth quarter of 2010."
Pan and Yu quote capacitive touchscreen manufacturers Giantplus, TPK Technology, and Wintek as saying supplies are already tight, while demand is growing for screens sized from seven to twelve inches. In the handset market, capacitive screens will continue gaining share at the expensive of resistive touch panels, while "global demand for small- to medium-size glass-based capacitive touch panels is expected to increase rapidly in 2011," they add.
Capacitive touchscreens have been on a roll ever since Apple's iPhone first popularized stylus-free operation. However, supporters of the older resistive technology note that it permits screens to respond to varying degrees of pressure, also allowing for input via gloved fingers or standard pens.
Resistive touchscreens are additionally touted for their ability to provide accurate handwriting input, and for the fact they can respond to touches even when they're wet.
Earlier this week, Fujitsu announced restive multitouch screens that will target public facilities such as POS systems, kiosks, and ATMs. The devices will range from 5.6 to 12.1 inches in size and react to two simultaneous touches, the company says.
In January, meanwhile, French company Stantum announced resistive multitouch screens that, like Synaptics' new ClearPad devices, can respond to as many as ten simultaneous finger touches. The PMatrix technology requires no DSP (digital signal processor, supports Windows 7 natively, and will ship next year, Stantum said at the time.

A demo of Synaptics' touchscreen technology on the earlier ClearPad 3000
(click to play)
Further information
Background on Synaptics' ClearPad displays may be found on the company's website, here, though information on the 7200 series does not yet appear to be present. According to the company, the displays are now sampling to "OEMs and ecosystem partners," and devices incorporating them should ship in late 2010.
The DigiTimes articles mentioned regarding the progress of capacitive touchscreen technology may be found here and here.
---
This article was originally published on LinuxDevices.com and has been donated to the open source community by QuinStreet Inc. Please visit LinuxToday.com for up-to-date news and articles about Linux and open source.