May 28, 2008 — by LinuxDevices Staff — from the LinuxDevices Archive — 5 views

STMicroelectronics (STM) has announced an ARM9-based SoC (system-on-chip) that comes with a Linux development board, and targets printers, scanners, and digital picture frames. The "SPEAr Basic" has an ARM926EJ-S core, a 300Kgate customizable logic array, and 10/100 Ethernet, USB, serial, IrDA interfaces, the company says.
STM says this new SoC is the first in its SPEAr (structured processor enhanced architecture) family of products to use 65nm processor technology, giving it "increased density, performance and power-reduction." The device includes an ARM926EJ-S processor core, clocked at 333MHz, with two 16K memory caches. Added to this is a customizable logic array that offers 72KB of configurable internal memory, 102 I/O lines, and up to 300,000 ASIC-equivalent gates.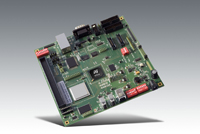 Plus600 development board
The SPEAr Basic's customizable logic block is touted as allowing high performance, quick development, and a "full custom design approach." With the Linux-based SPEAr Plus600 hardware/software development kit (pictured at right) which includes an external FPGA that mirrors the SoC's internal configurable logic block, designers can proceed with software and hardware development without waiting for final validation. Once the customer's SoC passes the functional qualification, full production can typically ramp up in eight to ten weeks' time from the final RTL availability, the company says.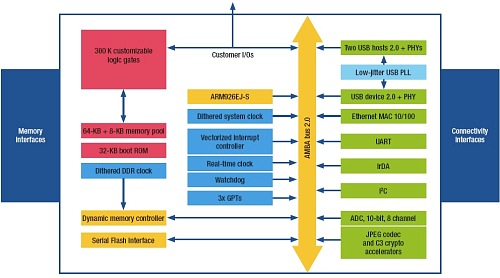 A block diagram of the SPEAr Basic
(Click to enlarge)
The SPEAr Basic comes in a 15 x 15 x 0.8mm LFBGA (low profile fine pitch ball grid array) package, and has an operating temperature from -40 to 85 deg. C. Its core features, as shown on the block diagram above, include the following:
Multilayer AMBA 2.0 compliant bus

32Kb boot ROM

1 x USB 2.0 device with integrated PHY

2x USB 2.0 host with integrated PHY

High-performance 8-channel DMA

Ethernet 10/100 MAC with MII interface to external PHY

External DRAM memory interface:

8/16 bits (LP-DDR @ 166 MHz)

8/16 bits (DDR2 @ 333 MHz)

Flash interface — SPI serial (up to 50Mbit/s)

SPI master/slave up to 50Mbit/s

I2C master/slave mode — high, fast and slow speed

UART up to 460.8Kbps

IrDA (FIR/MIR/SIR) from 9.6Kbps to 4Mbps

10-bit ADC

JPEG codec accelerator

Real-time clock

Watchdog timer

System controller

JTAG and ETM (embedded trace macrocell for debug operations)

C3 crypto accelerator (DES/3DES/AES/SHA1)
Additional functionality is implemented as default customizations of the 300Kgate logic block. As listed by STM, it includes:
LCD controller, supporting TFT/STN displays and resolution up to 1024 x 768 pixels

9 x 9 keyboard controller

Flexible static memory controller, supporting NAND/NOR parallel flash or SRAM

SDIO/MMC card interface

ITU-601 camera interface supporting external and embedded sync

TDM master/slave:

1024 TDM channels with switching capability

Up to 16 channels bufferized (30ms) for VoIP

I2S compliant

Glueless management of up to 8 SLICs/codecs

Up to 8 I2C/SPI extensions

1-bit DAC (order 2 noise shaper)

Up to 18 GPIOs, 8 with interrupt capability
The SPEAr Plus600 development board includes the SPEAr Basic plus a Xilinx Virtex 4 LX60 FPGA, 128MB DDR2 (@333MHz), and 8MB flash, says the company. Interfaces include two USB 2.0 Host ports, one USB 2.0 Device port, and a 10/100/1000 Ethernet connector. Additional interfaces include a DB9 connector, ten GPIOs, eight ADC-channel pins, three SPI I/F, an IrDA connector, and an LCD expansion connector. The board also includes two JTAGs and two ETM I/Fs. The CD-ROM is said to include a Linux software development kit (SDK) with full source code for kernel drivers and boot loaders, plus Xilinx development tools.
Although the SPEAr Plus600 kit is Linux-only, the SPEAr Basic itself also runs Windows CE, VXWorks, and ThreadX. The SoC is sampling now and will be available in quantity during the third quarter. The price is $6, in quantities above 20K.
---

This article was originally published on LinuxDevices.com and has been donated to the open source community by QuinStreet Inc. Please visit LinuxToday.com for up-to-date news and articles about Linux and open source.