Sep 14, 2010 — by Eric Brown — from the LinuxDevices Archive — views
ARM joined China-based Nufront to announce the availability of a 40nm system-on-chip with dual ARM Cortex-A9 cores clocked from 1.6GHz to 2GHz. Apparently based on ARM's "Osprey" design, the NuSmart 2816 can run on as little as two Watts, offers 3D and 1080p processor engines, and targets not only netbooks and tablets, but also all-in-one desktops, says Nufront.
The NuSmart 2816 Computer System Chip, as it is officially dubbed, is claimed to be the world's first 2GHz ARM SoC and the first ARM system-on-chip (SoC) developed with a 40nm manufacturing process. Although the announcement does not mention it, the SoC appears to be the first commercial implementation of ARM's 40nm "Osprey" design announced a year ago this week, which is claimed to clock from 800MHz to over 2GHz.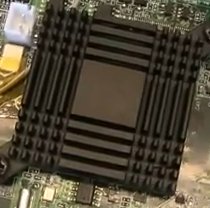 The NuSmart 2816 (pictured) is equipped with dual-core ARM Cortex-A9 processors clocked from 1.6GHz to 2GHz for up to 10,000 DMIPS performance, and it runs on two Watts when clocked at the lower speed, says NuFront.
A multi-core ARM Mali-400 MP 2D/3D graphics processor and a 1080p multi-format video engine are also supplied, says the company. These do not appear to be part of the basic Osprey design, although the Mali-400 and Mali-VE video engine were available on the dual-Osprey test chip that ARM showcased a year ago.
The Mali-400 offers up to 800M pixel/S and 45M triangle/S performance, says Nufront. The video decoder chip, meanwhile, delivers 1080p video at 30Hz, supporting H.264, H.263, MPEG-2/4, RMVB, and other formats, says the company. The NuSmart 2816's 24-bit display interface is said to support up to 1440 x 900 resolutions.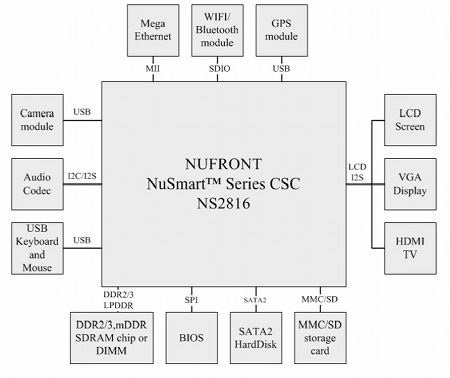 A block diagram of the NuSmart 2816
(Click to enlarge)
The 64bit DDR2/3-1066 memory controller, which is joined by an LPDDR (mDDR) interface, supports up to 2GB of RAM, says Nufront. Storage interfaces include a SATA2 controller, as well as an SD/MMC/SDIO interface that supports SD 2.0, SDIO 1.1, and MMC 4.2.
I/O includes four USB 2.0 interfaces, a "Mega-Ethernet" 10/100 interface, as well as I2C, SPI, UART, I2S, and S/PDIF interfaces. The NuSmart 2816 is further equipped with multi-layer hybrid interconnection technology, as well as multi-level fine-grain power management technology, says Nufront. The SoC is available in a flip-chip BGA package measuring 23 x 23mm.
In a YouTube demonstration of the processor and related net-top reference design (see below), a Nufront executive reveals to NetbookNews that the reference design offers an HDMI port, as well as other basic functions such as audio and VGA video.
In the video, the SoC is said to be aimed primarily at the Chinese market, for which it could enable fanless, $250 all-in-one desktop PCs. Although the official availability is said to be 2011, early devices could even reach market by the end of the year, says the Nufront exec.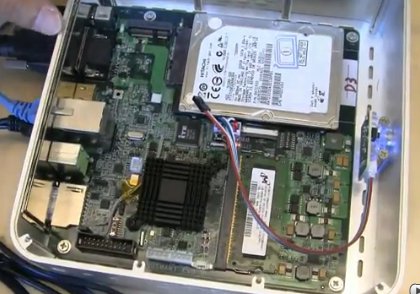 All-in-one nettop reference design for the NuSmart 2816, the big black SoC in the lower middle


Source: NetbookNews
Operating system support includes the Ubuntu and Android Linux derivatives, as well as "Microsoft," says NuFront, likely referring to Windows Embedded Compact 7, the new name for Windows CE.
ARM has been very active over the last week, announcing a multicore Cortex-A15 processor that clocks up to 2.5GHz, as well as a Cortex-A9-based set-top reference design developed in conjunction with Trident Microsystems.
Just as Intel is using its developer forum this week to tout Atoms for the embedded markets traditionally dominated by ARM, ARM and Nufront appear to be staking a claim on Intel's desktop PC turf. The NuSmart 2816 appears to compete both with the Atom and with other Cortex-A9 SoCs (such as the Nvidia Tegra 2, the first major contender to reach the market).

YouTube video of NuSmart 2816 and nettop reference design
Source: NetbookNews
(Click to play)
Founded in 2004, NuFront has so far developed wireless communication, video search, digital image processing systems, says the company.
Stated Vince Zhou, general manager, Nufront System Chip Division, "The innovative NuSmart 2816 Computer System Chip is the first in the world to combine the high performance capability of the traditional PC market and the high power efficiency of the mobile market at a competitive price."
Stated Ian Drew, executive vice president, marketing, ARM, "This product brings together compelling 2D and 3D graphics acceleration with high performance processing capability and leading-edge ARM Physical IP, all within a low power envelope."
Availability
The first products incorporating the Nufront NuSmart 2816 are expected to be shown at CES 2011 in Las Vegas, says the company. Nufront is also planning to deliver several other NuSmart series SoCs in 2011, one of which is under development now.
More information on the NuSmart 2816 may be found at Nufront's site, here.
The NetbookNews story on the SoC should be here.
---
This article was originally published on LinuxDevices.com and has been donated to the open source community by QuinStreet Inc. Please visit LinuxToday.com for up-to-date news and articles about Linux and open source.