Sep 13, 2010 — by Eric Brown — from the LinuxDevices Archive — 1 views
At the Intel Developer Forum (IDF), Intel showed off Atom-based Google TV devices from Sony and Logitech. Meanwhile, Google confirmed Google TV is on schedule, and D-Link switched its Linux-based Boxee Box set-top box (STB) from an Nvidia Tegra 2 to the same Intel Atom CE4100 chipset used by the Google TV devices.
In addition to previewing the second-generation "Sandy Bridge" family of Core processors on the opening day of IDF 2010, Intel CEO Paul Otellini also discussed Intel's entry into the STB and "Smart TV" markets. The chipmaker demonstrated two previously announced Google TV devices from Sony and Logitech that run Google's Android-based Google TV platform, and also tipped Intel-related TV products from Telecom Italia and D-Link.
All the products mentioned above run the Atom CE4100, which Intel announced a year ago. The 1.2GHz CE4100 uses only seven to nine Watts, can decode two simultaneous 1080p video streams, provides seven-channel audio output, and can accelerate Adobe Flash-based content, according to Intel.
No details were offered on the Telecom Italia product, but D-Link offered details on its new CE4100-based version of its Boxee Box, now available for pre-order (see farther below). Other vendors will also soon announce TV-related products based on the CE4100, Intel says.
The Sony and Logitech products are designed to run Google's Android and Chrome browser-based Google TV platform. Google TV intends to use Android not only as a conduit to online media and web access, but as a way to search and sort broadcast content. The devices are said to offer integrated search for content across TV, DVR, and the web.
In March, Google surprised the industry when it came to light that the Atom CE4100 would run the first Google TV products instead of an ARM architecture processor. ARM processors are far more entrenched in the set-top world than are x86 chips. (Other contenders in TV land include MIPS, which has also embraced Android.)
When Google TV was formally announced in May, Google partners Sony and Logitech announced they would offer the first supporting hardware. Demonstrated on stage at IDF 2010, the devices include the Sony Internet TV, which is available as both a standalone TV and a Blu-ray equipped STB, as well as the Logitech Revue STB.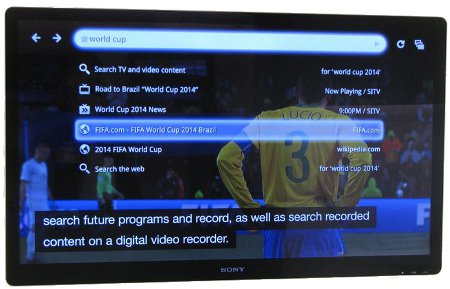 Sony Internet TV prototype showing Google TV
Source: Techon.nikkeibp
Sony showed off a prototype of its Sony Internet TV at the recent IFA show in Berlin, according to
Techon.nikkeibp
, which posted the above photo. The prototype LCD HDTV offers a 1920 x 1080 resolution and a screen size of 40 inches, says the story. Sony is expected to release the TV in the fall of 2010 in the U.S.


Logitech's Google TV-enabled Revue
The Logitech Revue (above) incorporates Logitech's Harmony remote control technology, and includes a controller that combines keyboard and remote control capabilities. In the future, Logitech plans an HDTV camera and video chat technology designed for Google TV, as well as apps to turn an iPhone or Android smartphone into an advanced controller.
All the Google TV devices run on the CE4100, and incorporate Wi-Fi, Ethernet, and HDMI, says Google. In its Google TV partnership role, Intel has also taken the lead on porting Android to the x86 platform.
Google TV on track, says Google
Last week, Google CEO Eric Schmidt told an IFA audience in Berlin that Google TV was on track for a fall release and will launch worldwide in 2011, according to our sister publication, eWEEK.
As noted in the story, as well as a follow-up analysis piece called "Google TV, Apple TV: 10 reasons why they want to control your living room," Google TV will go head to head with the recently announced Apple TV device and service (see links at end of story).
Intel acquisitions boost embedded market push
The TV-related announcements were part of a large thrust by Intel into the embedded market. As Otellini put it in his opening address at the IDF show, "Our vision is to create a continuum of personal computing experiences that provides consistency and interoperability across all Internet-connected devices in the home, car, office or in your pocket."
Intel noted that its recent acquisitions would enhance the company's ability to deliver products designed for consumer electronics and wireless technologies, as well as "more effectively counter the increasingly sophisticated security attacks happening on a broad range of Internet-connected devices."
The acquisitions include last summer's already completed pick-up of Linux embedded distribution and tools vendor Wind River, plus three that are still in process: Infineon's Wireless Solutions Business, Texas Instruments' cable modem business, and security vendor McAfee.
According to Intel, there are now more than 3,800 embedded customer engagements for the Intel Atom processor.
Boxee Box dumps Tegra 2, moves to Atom
Last December, consumer electronics manufacturer D-Link and Internet TV software firm Boxee announced the Boxee Box — the first STB based on Boxee's ITV platform. In conjunction with IDF, the companies announced the device will run an Intel Atom CE4100 instead of the previously planned Nvidia Tegra 2. have announced the launch of pre-orders on Amazon.com and Best Buy for the Linux-based Boxee Box, with shipments due in November.

The Boxee Box (pictured) is touted as the "first media device capable of playing all major media formats and codecs within a home network, along with free and premium TV shows and movies, videos, music, and photos from the Internet, with support for full 1080p high-definition (HD) and 5.1 surround sound."
Measuring roughly 4.7 inches on all sides (120 x 120 x 120mm), the Boxee Box offers Ethernet, Wi-Fi, HDMI, and other A/V connections. No storage is available, but users can hook up storage devices via the dual USB ports and SD card slot. (For more information, see our earlier coverage, here.)
The original Boxee Box prototype ran on the processor that appears to be on just about every announced Android tablet, and soon, smartphones: the dual ARM Cortex-A9 Nvidia Tegra 2.
But Nvidia failed to clinch the deal with D-Link and Boxee, which opted instead for the Atom. Considering the Tegra-fever overtaking the device world these days, this can be considered a major coup for Intel.
Neither D-Link or Boxee mentioned Nvidia today, but according to an Engadget story, also posted today, Boxee founder and CEO Avner Ronen told the publication that the decision to abandon Tegra 2 was strictly about performance.
Specifically, the Tegra 2 has a bitrate problem in supporting high-profile HD playback. "You can do high-profile VC-1 with Tegra 2, but not H.264," Ronen was quoted as saying.
The companies moved to Intel's Atom CE4100 once they had tested it competently decoding streams at up to 90 megabits per second, says the story. The Atom-based Boxee Box is said to be capable of 1080p H.264 playback at 60fps.
Stated Lou Reda, vice president and general manager, Consumer Division, D-Link, "These exciting new capabilities align closely with Intel's commitment to improving how people access and enjoy digital content on their TV."
Availability
More information on Intel's day one IDF activities may be found here.
The Techon.nikkeibp story on Sony's demo of its Sony Internet TV may be found here.
The eWEEK story on Google's confirmation of Google TV availability this year may be found here, and the analysis story on Google TV vs. Apple TV should be here.
The Boxee Box is expected to be available in November at an average street price of $200 in North America, and prices may vary in other regions that should see the device the same month, including the EU and Australia, says D Link.
U.S. customers may place pre-orders at Amazon.com, here. Canadian customers may do the same at Best Buy, here, and at Future Shop, here.
The Engadget story on the Boxee Box switch to the Atom should be here.
---
This article was originally published on LinuxDevices.com and has been donated to the open source community by QuinStreet Inc. Please visit LinuxToday.com for up-to-date news and articles about Linux and open source.