Jan 18, 2011 — by LinuxDevices Staff — from the LinuxDevices Archive — 42 views
The nanoETXexpress Industrial Group has published its "nanoETXexpress 2.0" specification for credit-card-sized COMs (computer on modules). The revision adds a Type 10 pinout compatible with multiple digital displays, a PCI Express Gen 2 expansion bus, and dedicated pins for serial interfaces or CAN bus, according to Kontron.
The design of nanoETXexpress COMs derives from ETXexpress, created by Kontron in 2003 and later adopted as the PICMG (PCI Industrial Computer Manufacturers Group) as the COM Express standard. Illustrated below, the "credit card sized" module format measures 3.3 x 2.16 inches (84 x 55mm).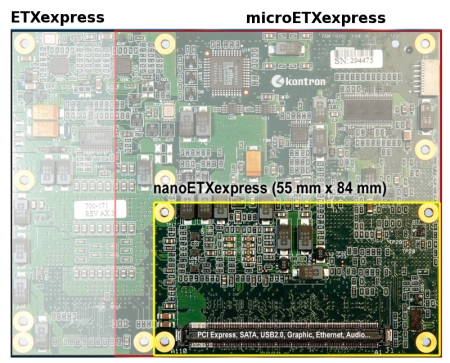 A comparison of COM Express-derived form factors
(Click to enlarge)
In March 2009, Aaeon, Adlink, Advantech, and Kontron submitted nanoETXexpress to the PICMG for standardization under the proposed neutral name COM Express Ultra. At the time, the companies noted that modules would use a pinout and connector location identical to existing COM Express Type 1 devices (below left); at the same time, they could also add a 30-pin Hirose FH12-compatible connector on the side of a module (below right), providing access to SDVO signals.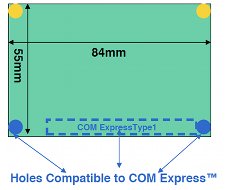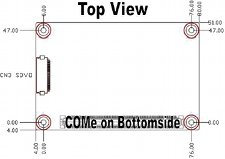 COM Express Ultra (left), aka nanoETXexpress, allows for an add-on SDVO connector (right)
(Click either to enlarge)
It would appear that, despite the release of various products using the form factor, the "COM Express Ultra" moniker remains unofficial (an Adlink announcement today referred to it as "a designation used by many"). Meanwhile, however, the nanoETXexpress Industrial Group — whose members are Aaeon, Adlink/Ampro, Advantech, EEPD, Ibase, Kontron, and Toradex — has announced a tweak to the specification.
According to the consortium, the new nanoETXexpress 2.0 specification "incorporates all the changes" that were adopted by the PICMG last September as part of its COM Express Revision 2.0. Particularly relevant here is the availability of the Type 10 pinout — see later in this story for details — which drops support for VGA but allows support for a variety of digital graphics options as well as dual displays.
Kontron says both the Type 1 and Type 10 pinouts defined by the nanoETXexpress 2.0 specification now include PCI Express Gen 2, as well as the addition of dedicated pins for serial interfaces or CAN bus. In addition, both internal and external boots are now possible via serial peripheral interface (SPI), the company adds.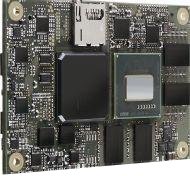 Prior to today's announcement, Kontron had already released nanoETXexpress modules with Type 10 pinouts in the form of the nano-ETXexpressTT (right) and nano-ETXexpressTTc, both among the first devices to use the E6xx Atoms announced by Intel in September. Adlink, meanwhile, announced it will also release such a device in the form of its nanoX-TC module, which we'll cover shortly.
More about pinouts
The COM Express Type 1 pinout features one 220-pin connector — the A-B connector — and supports up to eight USB 2.0 ports, up to four SATA or SAS ports, and up to six PCI Express Gen1/Gen2 lanes. It supports dual 24-bit LVDS, an HD audio interface, gigabit Ethernet, plus eight GPIO pins and SPI.
COM Express Type 2, also a common visitor to LinuxDevices, has all the above functionality, but adds a second 220-pin connector (C-D). This allows a 32-bit PCI interface plus IDE ports to support legacy PATA devices such as PATA HDD and CompactFlash memory cards. There are a total of 22 PCI Express lanes (six on the A-B connector and up to 16 on the C-D connector), 16 lanes on the second connector being intended for PCI Express Graphics (PEG).
Last September, the PCI Industrial Computer Manufacturers Group (PICMG) adopted the COM Express revision 2.0 spec, ratifying the 3.75 x 3.75 inch COM Express Compact Module size and adding Digital Display Interfaces (DDIs). It also approved new Type 6 and Type 10 pinouts.
Type 6 addresses the need for digital display and USB 3.0 interfaces and offers a simple upgrade path for existing Type 2-based designs. The Type 6 pinout can support up to three DDIs, including SDVO, DisplayPort, and HDMI/DVI. It also adds support for USB 3.0 and two additional PCI Express Lanes, for a total of 23.
Type 10, a single-connector pinout similar to Type 1, retains a 220-pin connector but no longer reserves pins for SATA 2 and SATA 3. These pins can now be used for new technologies such as USB 3.0.
Similarly, Type 10 no longer reserves pins for PCI Express lanes 4 and 5. In addition, according to Kontron, it uses the second LVDS channel, previously employed for VGA, to support SDVO, DisplayPort, or HDMI/DVI.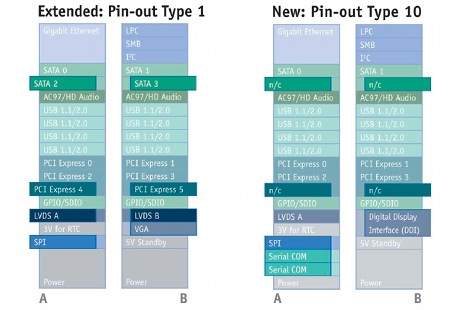 A table summarizing the differences between COM Express Type 1 (left) and Type 10 (right)
Source: Kontron (Click to enlarge)
An informative white paper providing more information about the Type 6 and Type 10 pinouts is available in PDF format from the Kontron website,
here
.
---
This article was originally published on LinuxDevices.com and has been donated to the open source community by QuinStreet Inc. Please visit LinuxToday.com for up-to-date news and articles about Linux and open source.