Nov 16, 2010 — by LinuxDevices Staff — from the LinuxDevices Archive — 8 views
Kontron announced a COM Express module that features a Type 10 pinout and a choice of Intel Atom E6xx processors. The nanoETXexpress-TTc includes soldered-on memory plus a microSD slot, and will be available with an onboard flash drive in the future, the company says.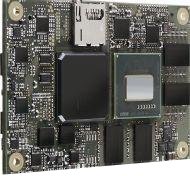 Kontron's nanoETXexpress-TT (right) was among the first devices to use the E6xx Atoms announced by Intel in September. In addition, it adopts the COM Express Type 10 pinout that was adopted by the PICMG as part of the COM Express Revision 2.0 spec at the beginning of the month. (See later in this story for details of the Type 10 pinout.)
According to Kontron, its newly announced nanoETXexpress-TTc is almost identical to the nanoETXexpress-TT, but instead of the earlier module's -40 to 185 deg F (-40 to 85 deg. C) operating range, it has a commercial temperature range of 32 to 140 deg. F (0 to 60 deg. C). As a consequence, it "brings the same system functions along with a more cost-effective price point," the company says.
The nanoETXexpressTTc is available with all four new E6xx Atoms, in the standard-temperature versions. The choices are as follows:
E620, clocked at 600MHz, with a 2.7-Watt TDP
E640, clocked at 1.0GHz, with a 3.3-Watt TDP
E660, clocked at 1.3GHz, with a 3.3-Watt TDP
E680, clocked at 1.6GHz, with a 3.9-Watt TDP
Kontron says all versions of the nanoETXexpress-TTc come with 512MB of soldered-on DDR2 memory, except for the 1.6GHz version, which comes with 1GB. For persistent storage, the module has a microSD slot and can support two external SATA devices, while a version with an onboard SSD (solid state disk) will be available in the future, the company says.
According to Kontron, the nanoETXexpress-TTc offers four PCI Express x1 lanes, one for the onboard EG20 I/O controller hub. Also said to be featured are six USB 2.0 ports and one USB client, two serial ports, a gigabit Ethernet port, and an SDIO interface.
COM Express Type 10 modules are not designed to support VGA, as we explain later. However, the nanoETXexpress-TTc can use up to 352MB of system memory as a video buffer, and supports LVDS displays up to 1280 x 768 pixels and SDVO displays up to 1920 x 1080. (Whether dual displays are possible was not mentioned.)
Kontron says the nanoETXexpress-TTc runs on power ranging from 4.75 to 14 Volts and uses under three Watts when idling. Supported operating systems include Linux, Windows XP, Windows Embedded Standard 7, and Windows CE.
Features and specifications listed by Kontron for the nanoETXexpress-TTc include:
Processor:

Intel Atom E620, clocked at 600MHz, with a 2.7-Watt TDP
Intel Atom E640, clocked at 1.0GHz, with a 3.3-Watt TDP
Intel Atom E660, clocked at 1.3GHz, with a 3.3-Watt TDP
Intel Atom E680, clocked at 1.6GHz, with a 3.9-Watt TDP

Chipset — EG20
Memory — 512MB of DDR2 RAM or 1GB (E680T model)
Expansion:

microSD slot
4 x PCI Express x1 (1 for EG20)

Networking — gigabit Ethernet
Other I/O:

2 x SATA
LVDS
SDVO
SDIO
6 x USB 2.0
1 x USB client
2 x TTL
HD audio

Power — 4.75V to 14V; idles at 3 Watts
Operating temperature — 32 to 140 deg F (0 to 60 deg. C)
Dimensions — 3.3 x 2.2 inches (84 x 55mm)
Background
The COM Express Type 1 pinout features one 220-pin connector — the A-B connector — and supports up to eight USB 2.0 ports, up to four SATA or SAS ports, and up to six PCI Express Gen1/Gen2 lanes. It supports dual 24-bit LVDS, an HD audio interface, gigabyte Ethernet, plus eight GPIO pins, and SPI was added via COM Express Revision 2.0, according to Kontron.
COM Express Type 2 has all the above functionality, but adds a second 220-pin connector (C-D). This allows a 32-bit PCI interface plus IDE ports to support legacy PATA devices such as PATA HDD and CompactFlash memory cards. There are a total of 22 PCI Express lanes (six on the A-B connector and up to 16 on the C-D connector), 16 lanes on the second connector being intended for PCI Express Graphics (PEG), Kontron adds.
Type 10, meanwhile, is described in a Kontron whitepaper as a "new twin brother" of Type 1. It employs the same, single 220-pin connector, but no longer reserves pins for SATA 2 and SATA 3. These pins can now be used for new technologies such as USB 3.0, the company says.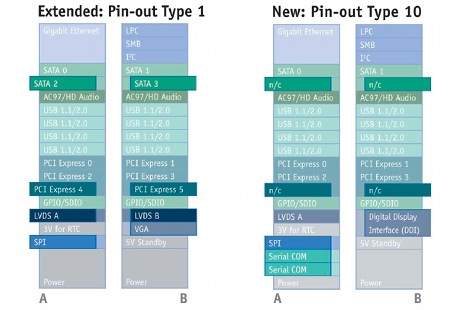 A table summarizing the differences between COM Express Type 1 (left) and Type 10 (right)
Source: Kontron (Click to enlarge)
Similarly Type 10 no longer reserves pins for PCI Express lanes 4 and 5. In addition, according to Kontron, it uses the second LVDS channel, previously employed for VGA, to support SDVO, DisplayPort, or HDMI/DVI.
When it made its debut in 2008, Kontron's original nanoETXexpress-SP was one of the very first Intel Atom-powered devices, sporting either the 1.1GHz Z510 or 1.6GHz Z530. The module employed the 3.3 x 2.2-inch form factor that was originally introduced by Kontron as nanoETXexpress, and was subsequently submitted to the PICMG (PCI Industrial Computer Manufacturers Group) under the proposed neutral name, COM Express Ultra.
Further information
Kontron did not cite availability for the nanoETXexpress-TTc, but it previously said that the extended-temperature nanoETXexpress-TT would begin sampling this month. A product page for both devices can be found here.
A Kontron whitepaper on COM Express Type 10 (and the also-new Type 6) may be found in PDF format, here.
---
This article was originally published on LinuxDevices.com and has been donated to the open source community by QuinStreet Inc. Please visit LinuxToday.com for up-to-date news and articles about Linux and open source.