Mar 19, 2010 — by Eric Brown — from the LinuxDevices Archive — views
The release of Android 2.1 on the Motorola Droid is delayed once again, say industry reports. Meanwhile, Sprint says it will offer Google's Nexus One, HTC vows to fight back against Apple's patents, and Palm's weak 3Q financials are ramping up takeover gossip and even speculation Palm may need to switch to Android, says eWEEK
Owners of the Motorola Droid (pictured below, at right) have vented their anger across the web after Verizon Wireless once again delayed the promised OTA upgrade to Android 2.1, says AndroidandMe. The update was first expected to arrive in February, and then at various times over the last week. While some suggest the upgrade may occur as early as this weekend, AndroidandMe quotes an undisclosed source who suggests it might be longer.

The story first quotes a Verizon Wireless announcement yesterday said to have been posted on the company's internal web site that read, "The 3/18 OTA software update will not happen as planned. A new date will be communicated as soon as possible." When the news got out, the outrage from Droid users erupted in various forums around the web, says the site.
Later in the day, AndroidandMe quoted an anonymous tipster saying that "the need to 'ramp up' the distribution application and the network infrastructure that hosts it won't just happen overnight." The source goes on to say that Bitfone, the company that manages the actual distribution of the update for Motorola and Verizon Wireless, was struggling with "capacity issues," and that the change is "going to take some time."According to several reports, Verizon has stated that the upgrade did gone out to a small number of Droid users sometime this week. (Sadly, not us, however.)
Android 2.1 was made available with the launch of Google's Nexus One back in January, and although a recent industry report said that the release will soon be offered on all U.S. Androind phones, Google's phone is still the only one to offer it. Android 2.1 adds multiple Gmail accounts, universal inbox and Exchange support, aggregate phone book contacts from multiple sources, including Facebook, and a "Quick Contacts" feature.
The release also offers several cutting-edge proprietary features developed by Google. These are said to include Google Maps Navigation (already available on the Droid), and improved voice technologies, including voice to text, and the ability to use a voice-enabled keyboard for all text fields.
Nexus One heading to Sprint
Shortly after Google announced a new Nexus One model this week, said to be compatible with AT&T and Rogers Wireless networks, Sprint announced it would soon offer the phone

, says our sister publication, eWEEK. On Mar. 17, the company confirmed it will soon offer Google's Nexus One (pictured at right), but did not say when it will begin offering the device or at what cost, says the Clint Boulton story. Neither AT&T nor Rogers Wireless is formally offering the device.
Sprint is the third U.S. carrier to pledge support for the HTC-manufactured, Google-branded Nexus One, which researcher Flurry said has had disappointing sales of only 135,000 units to date. The Nexus One will join the Samsung Moment and HTC Hero in Sprint's lineup of Android devices.
HTC vows to fight back against Apple
The Nexus One figures in Apple's recent lawsuit against HTC over numerous alleged violations of Apple patents in its Android-based phones. Now, the Taiwanese manufacturer says it will defend itself fully against Apple's suit, and claims that it designed the first color touchscreen smartphone in 2002, among other industry firsts, says an eWEEK story by Michelle Maisto yesterday.
Additional mobile "firsts" claimed by HTC are said to include the first Windows PDA, in 1998, the first Windows phone, in June 2002, the first gesture-based smartphone, in June 2007, the first Google Android smartphone, in October 2008, and the first 4G WiMax smartphone, in November 2008. In a statement, HTC CEO Peter Chou said, "HTC disagrees with Apple's actions and will fully defend itself."
Palm's dismal 3Q numbers invite speculation
As Palm projected in its revised guidance several weeks ago, its third quarter financial report showed significantly greater losses than anticipated, says another eWEEK story. Palm also announced this week that fourth-quarter revenue will be less than $150 million, far below expectations.
The company, which had briefly begun to reverse its sagging fortunes with last June's arrival of the Palm Pre and its Linux-based WebOS mobile operating system, reported a net loss attributable to common stockholders of $22 million, or 13 cents a share, in the fiscal third quarter, says the story.
Excluding items, the company's loss was 61 cents a share, a bigger loss than the average analyst estimate of a loss of 42 cents a share. A year ago, the 3Q loss was $98 million, or 89 cents a share, but analysts had expected a much rosier financial picture, says eWEEK.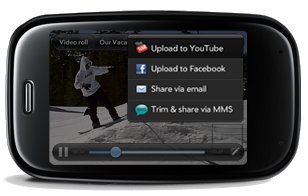 Video sharing on WebOS 1.4 running on the Palm Pre
In another
eWEEK
story, Michelle Maisto reports that Palm's stock price was hammered today, dropping as much as 18 percent. She quotes Neil Mawston, an analyst with Strategy Analytics, as suggesting that the situation may be dire enough that the company might consider offering Android on the Palm Pre.
"Tough times call for radical thinking and perhaps Palm should examine the possibility of working with Android in 2011," Mawston is quoted as saying. "This would give Palm access to an off-the-shelf suite of software and services with good momentum and high brand awareness."
On the other hand, most evaluations of the Palm Pre, the scaled-down Palm Pixi version, and the WebOS platform offer higher marks for the operating system than for the phones. This has led other observers to suggest this week that Google might want to acquire Palm to make use of some WebOS code and/or development talent.
Earlier in the year, some had suggested that Microsoft acquire the company to boost its flagging Windows Mobile platform, but Microsoft has since inspired more confidence with its own Windows Phone 7 prototype. Nokia had also been bandied about as a potential suitor, but the Finnish phone giant seems to have its smartphone strategy solidified around a newly open source Symbian, and an Intel partnership on the Linux-based MeeGo.
Today, Tony Bradley at PCWorld suggests that there is only one likely suitor left for Palm: Research in Motion. Writes Bradley, "RIM could benefit from purchasing Palm and incorporating the innovations from the WebOS platform to create a more compelling version of the BlackBerry. Without some sort of shift for both companies, Palm may soon be extinct, and RIM is in danger of stagnating and watching its market share get slowly chipped away by Apple, Microsoft, and Google."
Availability
The AndroidandMe story on Verizon Wireless' latest delay on bringing Android 2.1 to the Motorola Droid may be found here. An eWEEK story posted earlier this week about Verizon's plans to upgrade the Droid with Android 2.1 should be here.
The eWEEK report about Sprint offering the Nexus One should be here, and recent a story about the AT&T-ready version of the Nexus One potentially boosting sales may be found here.
The eWEEK story on HTC fighting Apple's lawsuit may be found here. Also in eWEEK this week is Don Reisinger's "10 Reason Why the Apple Lawsuit with HTC Could Set Back the Mobile Industry," here, and "10 Ways Google Can Defend Its Android Turf Against Apple iPhone," which may be found here.
The eWEEK story on Palm's latest losses may be found here, and today's speculation about a shift to Android should be here. Finally, the PCWorld speculation about RIM buying Palm should be here.
---
This article was originally published on LinuxDevices.com and has been donated to the open source community by QuinStreet Inc. Please visit LinuxToday.com for up-to-date news and articles about Linux and open source.