Feb 3, 2005 — by LinuxDevices Staff — from the LinuxDevices Archive — 19 views
Lucid Signs has used embedded Linux to build several electronic signs that function like printers. Users create their message using any application, and simply print to the sign as to any network printer. The LCD-based signs target corporate campuses, hotels, restaurants, and museums. An adapter for external displays is also available, while a multimedia-enabled sign is under development.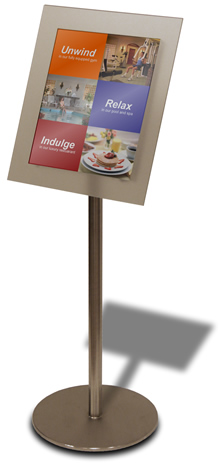 Lucid's signs can be configured through a Web interface, for example to present a slideshow of a number of messages in their print queue. The interface also provides document management capabilities, enabling messages to be stored for reuse. The devices come with 256MB of Flash — enough to store about 50 messages.
Lucid's line of signs includes three designs based on a Cirrus EP9312 ARM processor. These products run a 2.4.21-series Linux kernel, the most recent version that supports the chip.
PrintSign (pictured) features a 17-inch 1280 x 1024 LCD screen, convertible between portrait and landscape mode.
RoomSign (image) has a 6-inch LCD, and is designed to work with electronic booking systems as an on-door display for office conference rooms
LobbySign features a 17-inch LCD, and is designed to work with electronic booking systems as a wall-mounted hallway direction sign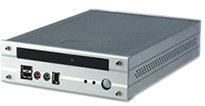 Lucid also offers SignAdapter (pictured at left), a black-box that works with external display devices, including projectors, LCDs, and plasma screens, at 1280×1024, 1280×768, or 1024×768. SignAdapter includes a 20GB hard drive, along with 512MB of Flash, and in addition to working as a network message printer, can display HTML and Flash content. SignAdapter is based on an embedded version of Via's C3 processor, along with Via's CLE266 northbridge. It runs a 2.4.28 Linux kernel.
Lucid is also using a Via C3 and CLE266 chipset to develop a video-capable sign, MediaSign, that will have a 30-inch LCD display. The CLE266, though not Via's newest northbridge, does include hardware MPEG2 acceleration.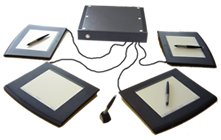 The Lucid signs were developed by Appliance Studio, which also created the Quorum group whiteboard collaboration tool, before spinning out Quorum Tools Ltd. as a separate company. In similar fashion, Appliance Studio has also spun out Lucid Signs, according to Simon Poole, senior software engineer at Appliance Studio.
SignOS Linux firmware
According to Poole, the Lucid signs run Linux-based firmware dubbed "SignOS" that Appliance Studio developed and maintains in-house. Poole explains, "SignOS represents a build system as much as a firmware distribution. Our investment in the build system allows us to completely customize what goes in and what stays out. We can rapidly produce turnkey embedded Linux firmware for clients, and provide expertise from kernel level right up to application development."
According to Poole, SignOS was originally developed during the development of Steelcase's RoomWizard product — hence the "SignOS" name. However, SignOS can be adapted to "all types of devices," Poole says, even those without displays.
According to Poole, busybox is central to SignOS. For example, the Lucid sign products use the webserver built into the newest version.
Depending on how SignOS is configured during build-time, it might leverage a number of other important open source software packages. Poole explains, "PrintSign, for example, uses packages such as glibc, bootsplash, freetype, shellcat, libpng, and libcgi, as well as patches from the Linux ARM project. MediaSign adds Xorg, GTK, Unichrome, ALSA, and embedded versions of Xine and Mozilla."
According to Poole, Appliance Studio is continuing to develop technology and projects around embedded Linux. The company is currently focusing on its work with the Mobile Bristol project, which it cofounded along with HP and the University of Bristol. That project aims to produce an "experimental test-bed for technology and user value research in pervasive mobile media."
"As well as participating in the research work [with Mobile Bristol], the Appliance Studio is able to license the work to third parties and assist in implementing real-world systems," notes Poole, adding, "Exciting times ahead…"
---

This article was originally published on LinuxDevices.com and has been donated to the open source community by QuinStreet Inc. Please visit LinuxToday.com for up-to-date news and articles about Linux and open source.