Jul 25, 2001 — by Rick Lehrbaum — from the LinuxDevices Archive — 3 views
Total Impact recently introduced a tiny Power-PC based Linux system, called the "briQ", that has the same dimensions as a standard 5.25-inch CD-ROM drive. With its built-in Ethernet LAN interface and front-mounted 2 x 24 character display and control pushbuttons, the briQ implements a completely self-contained Linux… system in the space of a disk drive. Just add the desired Linux applications — and power!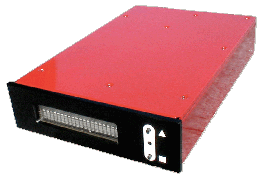 The briQ was designed to accept a choice of Motorola and IBM PowerPC processors, including ones with AltiVec vector processing instruction set extensions, and can be deployed in either single-processor (one briQ) or multi-processor (many briQ) configurations.
Total Impact plans to target the tiny Linux-based system at a wide range of markets and applications, including: telecommunications, government/military, industrial, embedded, graphics/rendering, network appliances, webservers, firewalls, and high performance computing. In particular, the AltiVec instruction set option might make the device an interesting choice in cases where there is a need to process images, network protocols, streaming media, Voice over IP (VOIP), encryption, or digital signal processing (DSP) data.
Anatomy of a briQ
The briQ's case is constructed of heavy duty steel and aluminum. The dimensions match those of a 5.25-inch disk drive — 5.74 in. (width) x 1.63 in. (height) x 8.90 in. (depth) — which allows the tiny Linux system to be mounted directly within most standard CD-ROM drive bays. The rugged design and sealed casing should also make the device suitable for many environments where conventional PCs are not considered appropriate. In addition, the front-mounted 2 x 20 character Vacuum Fluorescent Display (VFD) provides a bright, sunlight-readable display.
Inside the briQ is a small, PowerPC-based single-board computer (SBC) that uses Linux as its operating system. The board incorporates an upgradeable ("interposer") PowerPC approach, which lets it take advantage of a choice of IBM and Motorola processors, including ones with AltiVec (vector processing) instruction set extensions. Processor speeds of up to 500 MHz are currently supported. A pair of DIMM memory slots support up to 512MB of memory, and within the briQ enclosure there is room for a multi-gigabyte hard drive.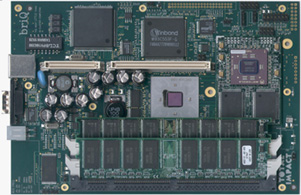 the briQ's internal single-board computer
In its standard configuration, the briQ does not provide PC-like keyboard, mouse, or video interfaces. Instead, it makes use of an RS232 serial port for the console I/O function. Additionally, the front panel VFD display and pushbuttons can be used to implement a simple, menu-based operator interface.
One unique feature of the briQ is its dual PCI bus architecture. The first, a 32-bit 33MHz PCI bus, supports the built-in 100Mb Ethernet LAN interface which is accessable via a board-mounted RJ-45 connector on rear of the briQ. The second, a 64-bit 66MHz PCI bus, is used for internal expansion; this is accomplished by plugging custom modules (which can have up to 8 PCI loads or functions) onto a board-mounted connector. Two of these PCI expansion modules are available: one implements a second 100Mb/s Ethernet port; the other provides a standard PCI connector/slot, making it possible to use a "PC compatible" PCI card with the briQ. Future internal PCI expansion modules may implement functions such as USB, FireWire, and SCSI.
The soft side of the briQ
The briQ's internal SBC is equipped with "open firmware", allowing the boot process to be fully customized by application developers. As normally supplied, the briQ first attempts to boot from its internal hard disk. If no acceptable kernel is found on the hard disk, or if the operator overrides disk booting using the front panel buttons, the built-in firmware then attempts to boot remotely over the network interface.
According to the company's Vice President of Technology, Karsten Jeppesen, the briQ's Linux operating system is based on a modified version of Linux kernel 2.2.19 as of this writing, and a port to Linux kernel 2.4.x will be available soon. The briQ's Linux port was done by Total Impact, starting with sources downloaded from kernel.org. Once finalized, Total Impact's Linux kernel patch files will be submitted for possible inclusion in a future standard Linux kernel, says Jeppesen.
---

This article was originally published on LinuxDevices.com and has been donated to the open source community by QuinStreet Inc. Please visit LinuxToday.com for up-to-date news and articles about Linux and open source.