Mar 25, 2003 — by LinuxDevices Staff — from the LinuxDevices Archive — 15 views
Zultys Technologies has begun shipping a new IP phone that the company says is built 100 percent on open technologies, including "a highly stable real-time Linux operating system." The device, called the "ZIP 4×4", is said to be compatible with any IP telephony system using SIP (Session Initiation Protocol), with support for advanced features such as line-rate Ethernet switching, voice encryption, and… five-way conferencing.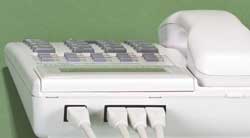 Zultys says "4×4" in the product's name refers to the fact that the device supports four simultaneous incoming or outgoing calls, plus it has a built-in four port Ethernet switch. The company claims that the ZIP 4×4 is the only IP phone available today with a built-in switch for more than two Ethernet ports.
According to Zoltys, key specs and features of the ZIP 4X4 include . . .
Voice stream encryption for secure conversations, using secure RTP

Speech quality ensured by QoS at the Ethernet and IP layers

"Here I am" feature allows multiple guests to share a phone by logging in to receive calls to their extensions

Support for power over Ethernet according to the IEEE 802.3af standard

Full duplex speaker phone with acoustic echo cancellation

Five-way conferencing of inbound or outbound calls in which parties can be easily added or removed

Dial by URL or by phone number

Standard 2.5 mm headset jack

Ergonomic design with the look and feel of a business phone

Buttons for all commonly used functions

Multiple LEDs (including message waiting indicator) instantly indicate phone status

High contrast LCD with the ability to tilt to suit the viewing angle

Access to the last 32 incoming and 32 outgoing calls

Address book capable of storing up to 100 entries

Built in calculator provides convenient computations either during a call or when the phone is idle

Four call appearances for support of four simultaneous calls

Four 10/100 Base-T Ethernet circuits capable of switching traffic at wire speed
Linux inside
The ZIP 4×4 contains an embedded operating system based on the 2.4.19 Linux kernel, said Zultys vice president of technology Vladimir Movshovich. "We rely heavily on all the system services incorporated into Linux," he added.
Why Linux?
"In my previous company, we used a traditional, standard real-time operating system," Movshovich recalled. "The [vendor] was arrogant and difficult to work with then, and they were equally bad when we invited them in here a year ago. Our president became annoyed and insisted that we look at other alternatives."
"The folks at MontaVista were very accommodating to our requirements so we [decided] to use Linux from them, rather than another 'traditional' OS," continued Movshovich.
Zultys began its software development project at a time when MontaVista's Linux lacked support for the required processor, and when MontaVista was just introducing their real-time preemptive kernel support. "Fortunately we have many here who understand Linux, especially one exceptionally skilled software engineer who understands
it very well," noted Movshovich. "Consequently, we were able to assist MontaVista and thus had the world's first port of this version of Linux running on a product."
"We are very glad we chose Linux," Movshovich added, citing the following reasons . . .
"We have ported large applications into our product and a traditional real-time OS would probably not have been able to survive."
"We were able to rapidly develop the product without specialized software debugging tools."
"We were able to emulate our applications on a PC running Linux."
"We can supply our field sales force with demonstration simulators on a laptop running Linux."
"There is significant market acceptance for Linux and our sales force receives much more interest as a result."
"Linux is not for the faint hearted," added Movshovich. "You need to fully understand the OS, and you need skilled developers, skilled build engineers, and skilled managers. Having said that, if you assemble that talent your project can proceed much faster and with fewer problems than if you use a 'traditional' real-time OS."
What is Movshovich's expectation for the future of Linux in the embedded market?
"Linux provides a highly stable platform and can provide the reliability that customers demand for voice applications. Who would have thought that we would use Linux in a desktop phone a few years ago? You would have been taken off by the men in white coats just for suggesting it!"
"However, it gave us tremendous advantages, including rapid time to market. With the price of Flash memory being very low, you can now store the entire OS for just $3. As processors fall in price, you will see Linux embedded in many more devices," Movshovich said.
Availability and price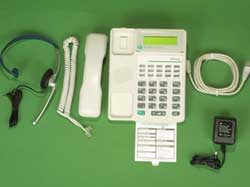 The ZIP 4×4 is priced at $400 (USD), which includes the software, AC adapter, headset, and Ethernet cable. It comes in either white or black.
---

This article was originally published on LinuxDevices.com and has been donated to the open source community by QuinStreet Inc. Please visit LinuxToday.com for up-to-date news and articles about Linux and open source.