Mar 1, 2010 — by LinuxDevices Staff — from the LinuxDevices Archive — views
Intel announced the fastest in its "Pineview" series of Atoms, the 1.83GHz N470. Intended for use in high-end netbooks, the CPU has already been adopted in HP's Linux-ready Mini 5102/2102 netbooks.
Intel's new N470 is not the chipmaker's fastest Atom processor: That honor goes to the 2.0GHz Z550, which was launched last year and uses the SCH US15W combination northbridge/southbridge. However, the N470 is the fastest in the company's "Pineview" range, which saves power and circuit board real estate by providing graphics integrated onto the CPU. (See later in this story for background.)
According to Intel, the N470 runs at 1.83GHz. Like the 1.66GHz N450 — launched in December and already featured in many netbooks — the new CPU is said to have 512K of second-level cache and to support 667MHz DDR2 memory.
In a statement, Intel said "Major OEMs are expected to introduce systems based on this processor … to further differentiate their netbook offerings with a higher frequency to deliver additional responsiveness for online and basic computing tasks." The company didn't add what effect the faster clock speed might have on battery life, but the N470 reportedly has a 6.5 Watt TDP — 1 Watt higher than that of the N450.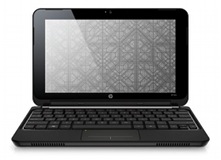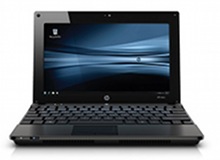 HP's Mini 2102 (left) and Mini 5102 (right)
(Click either image to enlarge)
HP will upgrade several existing N450 netbooks, the Linux-ready Mini 5102 and Mini 2102 (above), by providing N470 models, according to the Register Hardware website. As with the Lenovo netbook, the configurations receiving the 1.83GHz processors are likely to get 250GB or 320GB hard disks instead of the standard 160GB items.
Background
According to Intel, its overall Pine Trail platform — or "kit," as the chipmaker referred to it in a December announcement — shrinks the number of chips required to develop an Atom-based device down to two: the "Pineview" CPU package, plus the NM10 I/O controller.
Of the three Pineviews announced last year, all clocked at 1.66GHz, the N450 is designed to replace Intel's N270 — the "chip that launched a thousand netbooks." The D410 and D510, meanwhile, are designed to replace the Atom 230 and Atom 330, respectively. The latter two parts are now described as targeting "entry-level desktop PCs," Intel having given up on its awkward "nettop" moniker.

The N470 and N450 (right) retain the N270's 45nm manufacturing process and BGA (ball grid array) size of 22 x 22mm. But, instead of requiring a separate northbridge and southbridge, they need only the NM10 I/O controller, for a substantial savings in both board real estate and power consumption.
A northbridge is no longer necessary because the N4xx chips, along with the D410 and D510, bring their memory controllers and graphics cores (the GMA3150) on-die, as pictured below. Calling this "a first in the industry on x86 chips," Intel said in December that the total chipset footprint for netbooks has decreased in size by approximately 60 percent, while entry-level desktop PCs get a nearly 70 percent reduction in footprint.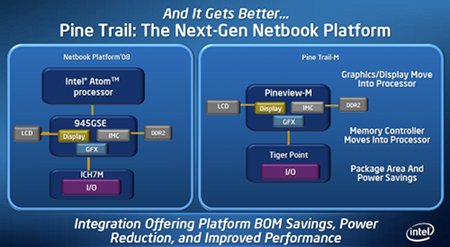 Intel's Pine Trail chipset
Source: Intel
(Click to enlarge)
Intel says the N450 has a 5.5 Watt TDP, as noted earlier in this story, while the D410 and D510 have TDPs of 10 and 13 Watts, respectively. While these figures initially sound unimpressive, it's worth remembering that because no northbridge is required, the only additional power draw comes from the NM10, which consumes under two Watts. The chipmaker claims its total kit for netbooks now uses 20 percent less power than before, while the entire package for entry-level desktop PCs now requires 50 percent less.
While Intel made no mention of the fact today, it has promised another Atom platform known as "Moorestown." Expected to ship later this year, Moorestown will include a SoC (system on chip) codenamed "Lincroft" and an I/O hub codenamed "Langwell," and will offer a tenfold reduction in idle power consumption, the company has claimed.
Availability
Intel did not announce pricing for the N470, but said the chip is now available to OEMs.
For the Register Hardware item reporting on Atom N470 versions of HP's Mini 5102 and 2102 netbooks, go here.
---
This article was originally published on LinuxDevices.com and has been donated to the open source community by QuinStreet Inc. Please visit LinuxToday.com for up-to-date news and articles about Linux and open source.