Aug 18, 2010 — by Eric Brown — from the LinuxDevices Archive — views
HTC is building a Chrome OS tablet for Google, set for a Verizon launch on Nov. 26, an industry report claims. Meanwhile, Pandigital released its second seven-inch Android-based e-reader tablet, with more memory than before plus a smaller, lighter design.
According to a report by DownloadSquad's Lee Mathews, Google's Chrome OS tablet will be as to tablets what the short-lived, HTC-manufactured Nexus One was to Android smartphones. This would suggest another foray into Google branding, as opposed to sharing the glory with HTC or Verizon. The story is based on an unnamed source, and no image of the device was supplied.
The tablet will likely incorporate an Nvidia Tegra 2 processor, which includes dual ARM Cortex-A9 cores clocked to 1GHz, says the story. The screen size was not listed, but Mathews says that the tablet will offer a 1280 x 720 multitouch display, which would suggest a device that is at least as large as the 9.7-inch Apple iPad.
The tablet is expected to offer 2GB of RAM, and 32GB of SSD storage at a minimum, with the possibility of a multi-card reader. Other "likely" features include Wi-Fi, Bluetooth, 3G, GPS, and a webcam, says DownloadSquad.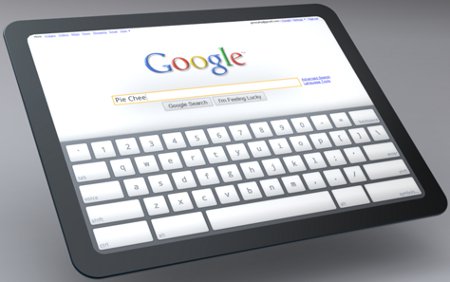 Google's earlier Chrome OS tablet concept with straightforward QWERTY
Back in February,
Google posted
several prototype renders of some potential interfaces for a Chrome OS tablet (see images above and below). Google's tablet tease was somewhat surprising, considering that the company had repeatedly stated its open source Linux-based
Chrome OS
would initially be focused only on netbooks or entry-level desktops.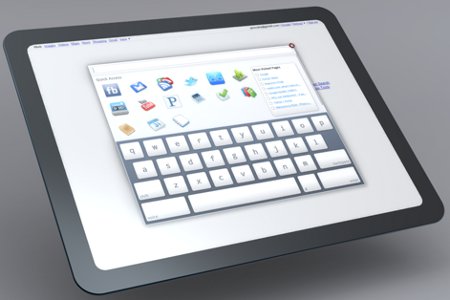 Chrome OS tablet prototype with simplified keyboard
By April, there were
more rumors
about a Google tablet, but the device was said to run Android, not Chrome OS. Later that month, additional
speculation
arose that Google had shifted its tablet strategy back to Android, and would shelve its Chrome OS tablet.
In early May, Adobe demonstrated a prototype Nvidia Tegra 2-based Android tablet said to be from Google. Since then, comments made by Google executives have suggested that Android is Google's preferred tablet platform, not Chrome OS.
This view has certainly been reflected in the market, which has seen an explosion of Android tablet announcements in recent months. Few of them have actually shipped, however.
Meanwhile, aside from the keyboard on the former and touchscreen on the latter, there is often very little difference between a netbook and a tablet, and a tablet might arguably be even better suited to Chrome OS' cloud-based approach to computing.
Pandigital spins new Android tablet model
Less than three months after announcing its $200 Pandigital Novel 7-inch Color Multimedia eReader the company announced a new slimmed-down version of the e-reader focused tablet with a black finish and twice the standard memory.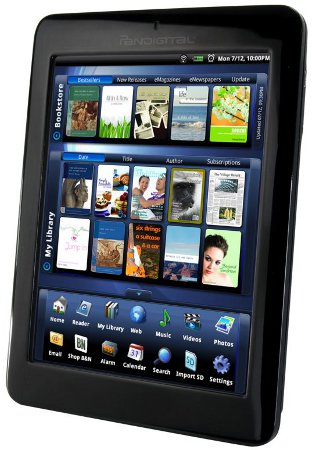 Lighter new black version of the Pandigital Novel


(Click to enlarge)
The new black version of the Pandigital Novel appears to offer almost the same features as the original white model. This would include an ARM11 processor, a seven-inch, 800 x 600 touchscreen, as well as 802.11n and SD expansion up to 32GB. Other features include a mini-USB 2.0 port, accelerometers, and a six-hour battery.
One key difference aside from the color is the 2GB of flash memory — twice the allotment of the white unit. In addition, the black tablet measures 5.2 x 7.2 x 0.5 inches, compared to the 5.5 x 7.5 x 0.5-inch dimensions of the white model (pictured at left), and it weighs only 11.8 ounces instead of 16 ounces, says Pandigital. The dimensions appear to have been reduced by trimming the size of the high-gloss black bezel around the display.
As with the original Novel, and the Barnes & Noble Nook, the black Novel is notable for offering integrated access to Barnes & Noble's eBookstore, says Pandigital.
Availability
Google's HTC-manufactured Chrome OS tablet will appear on Verizon on Nov. 26, says DownloadSquad, whose report may be found here.
The new black version of the Pandigital Novel (model PRD07T20WBL1) will appear next month for the same $200 price as the original white model, says Pandigital. More information may be found here.
---
This article was originally published on LinuxDevices.com and has been donated to the open source community by QuinStreet Inc. Please visit LinuxToday.com for up-to-date news and articles about Linux and open source.