Jun 21, 2010 — by Eric Brown — from the LinuxDevices Archive — views
Barnes & Noble is shipping a cheaper version of its Android-based Nook e-reader without a 3G modem. Except for broadband, the $149 Nook Wi-Fi offers all the features of the original Nook, now reduced in price to $199 and called the "Nook 3G," and both versions now have free access to AT&T's nationwide Wi-Fi network.
Earlier this year, Barnes & Noble introduced its Android-based Nook e-reader, and despite some rough edges, the product has become a hot seller. Last month, the company anointed Pandigital's Android-based Novel tablet as the first third-party device offering integrated functions that support Barnes & Noble's eBookstore.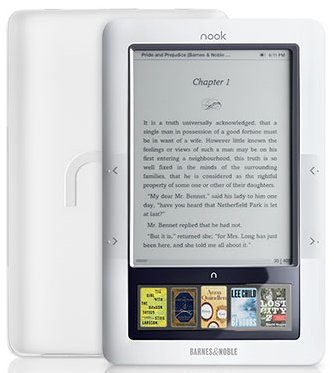 Nook Wi-Fi
Reduced from the original $260 pricetag, the Nook 3G is now the first under-$200 dedicated full-featured e-book reader that offers both free 3G wireless and Wi-Fi connectivity, claims Barnes & Noble. Aside from the lack of a 3G modem, the Nook Wi-Fi appears to be identical except for having shed a half an ounce to weigh in at 11.6 ounces (329 grams).

In addition, it offers a white back-panel to easily differentiate it from the to easily differentiate it from the gray-paneled Nook 3G (right), says Barnes & Noble. Four other back-panel colors are said to be optional.
Announced by book retail giant Barnes & Noble (B&N) in October, the Nook is the first of several e-readers combining a standard monochrome E Ink e-reader display with a secondary Android screen. In the case of the Nook, however, the Android interface is dedicated solely to communicating with the B&N online book store.
Both the Nook Wi-Fi and Nook 3G share the original model's six-inch E Ink Vizplex monochrome display with 16-level grayscale, as well as its secondary 3.5-inch color TFT touchscreen. The 7.7 by 4.9 by 0.5 inch tablets offer a microSD slot, MP3 player, mono speaker, and a 3.5mm stereo headphone jack, says the company.
The e-readers support ePUB, eReader, and PDF formats, in addition to offering integrated access to B&N's over one million titles, including over 500,000 free eBooks. (For more information, please see our earlier coverage, here.)
Software upgraded with free AT&T WiFi
A version1.4 update is now available for all the Nook devices, offering complimentary access to AT&T's nationwide Wi-Fi network, says the company. Other new 1.4 features are said to include a Go To Page feature, enabling customers to jump to a specific page number in an open e-book. In addition, performance enhancements have been made, and the company has added an "extra extra" large font.
The Nook Wi-Fi offers all the software features of Nook 3G, including LendMe technology, enabling customers to share e-books with friends for up to 14 days, says the company. Other common features include Read In Store, which enable users to browse complete ebooks in Barnes & Noble stores at no cost, as well as More In Store, which is said to offers free, exclusive content and special promotions.
Stated Tony Astarita, VP, Digital Products, Barnes & Noble.com, "This expanded choice offers best-in-class, best-priced dedicated eBook Readers featuring eBook sharing, access to our vast eBookstore, great free and exclusive content and much more."
Availability
The Nook Wi-Fi is available now online for $149, and the Nook 3G is available for $199. More information and links to online sales may be found here. The Nook Wi-Fi will be stocked in select Barnes & Noble and Best Buy stores later this month, and will roll out to all stores later this summer, says B&N.
Version 1.4 of the Nook software is available for download here. Nook devices connected to Wi-Fi will receive an automatic Nook v1.4 update upon syncing over the next week, says the company.
---
This article was originally published on LinuxDevices.com and has been donated to the open source community by QuinStreet Inc. Please visit LinuxToday.com for up-to-date news and articles about Linux and open source.