May 5, 2010 — by Eric Brown — from the LinuxDevices Archive — 16 views
Kontron announced an entry-level MicroTCA system that can hold up to six mid-size AMC cards and one full-size MCH (MicroTCA Carrier Hub). The Kontron MicroTCA platform OM6060 supports multiple PCI Express, gigabit Ethernet, and SRIO configurations, says the company.
The Kontron MicroTCA platform OM6060 is aimed at test equipment prototyping, packet processing, and industrial applications, says Kontron. It appears to be the heir to the OM6040 MicroTCA box introduced in December 2007.
As with many other Kontron AMC (AdvancedMC), MicroTCA, and ATCA systems over the years, the system complies with the MicroTCA and ATCA (AdvancedTCA or "Advanced Telecommunications Computer Architecture") standards. A subset of ATCA dealing with more compact, lower-end systems, MicroTCA is typically designed for networking and telecommunications applications that use commercial, off-the-shelf components.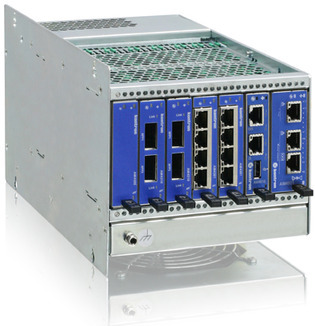 Kontron OM6060
The OM6060 can accommodate up to six mid-size AMCs, plus one full-size MicroTCA Carrier Hub (MCH) or MCMC controller card. Measuring 9.84 inches deep by 6.14 inches wide by 5.9 inches (3U) high (250 x 156 x 150mm), the OM6060 chassis is equipped with a 100VAC to 240VAC AC power supply capable of supplying 250 Watts. The chassis provides dual axial fans with airflow positioned below the AMC slots, says the company.
The Kontron OM6060 supports multiple CPUs and I/O-boards over PCI Express (PCIe), so systems do not need to add an extra PCIe fabric switch, thereby reducing system costs, says Kontron. PCIe fabric clocks are said to be generated on the Kontron OM6060 backplane (see backplane topology diagram below). In addition, two of the three default configurations provide Ethernet connectivity to all AMCs, offering an Ethernet switch located on the MCH.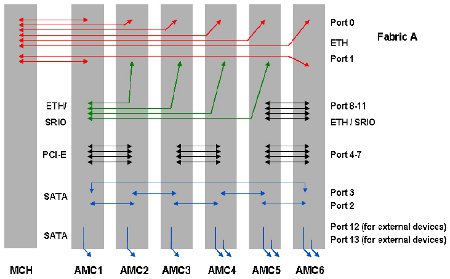 OM6060 backplane topology
(Click to enlarge)
The OM6060 can be purchased in three configurations. First, there's an "AM2901" low-cost MicroTCA Carrier Management Controller (MCMC) version designed for applications that don't require Ethernet connections. For packet processing, customers can choose a system equipped with one of two MicroTCA Carrier Hubs (MCHs): the "AM4901", which provides a low-cost, unmanaged option, or the fully featured "AM4904" MCH, which offers carrier grade switching and management features, says the company.
The two packet processing MCH modules are designed for functions such as Ethernet switching, as well as system management chores like IPMI controlled power management, electronic keying, and hot-swap of AMCs. The Kontron OM6060 provides extra direct Ethernet links between AMC slot 1 and four adjacent AMC slots, which can be used by an AMC packet processor board, such as the Kontron AM4204 or AM4210. As a result, 10GbE (10 gigabit Ethernet) fabrics and switches are not required, thereby reducing system complexity and board count, the company claims.

MCMC/MCH options for the OM6060 (left to right): AM2901, AM4901, and AM4904


(Click to enlarge)
More details on each of the three configurations are below:
AM2901 — For testing or industrial applications that don't require Ethernet, this MicroTCA Carrier Management Controller (MCMC) configuration offers the lowest-cost MicroTCA management backplane solution, says Kontron. The system uses the AM2901 MCMC management module, supporting Red Hat or Wind River Linux, VxWorks, or Windows operating systems.

Any standard compliant AMC may be used, but the system is said to be available with processor boards including the Kontron AM4010 (Intel Core 2 Duo) with Wind River Linux, or the AM4100 (Freescale dual-core PowerPC M8641D) with VxWorks. The system supports I/O AMCs including SATA storage boards or PCIe and SRIO interface boards, says the company.

AM4901 — The AM4901 version of the OM6060 supports the aforementioned AM4010 and AM4100 AMC processing boards, as well as a Linux-based AM4210 board incorporating a Cavium Octeon 12-core packet processor. In addition to the SATA, PCIe, and SRIO I/O support provided by the AM2901, the system supports DSP and I/O boards for GbE telecommunications.

The AM4901 MCH module itself contains an unmanaged Broadcom BCM5396 Ethernet switch, resulting in lower cost components, with no need to integrate a switch controller and related software, says Kontron. The AM4901 provides one GbE uplink on the front (see block diagram farther below). On the edge connector, it supplies 12 GbE ports for AMCs (Fabric [A]) plus one GbE port for the MCH update channel.

Other AM4901 features are said to include an RJ45 connector for a single management interface, as well as a serial interface to access the integrated NXP LPC2368 MCMC processor module. The MCH is said to include Kontron's own software that supports IPMB-L links to up to 12 AMCs, as well as I2C and I2C to the SEEPROM on the backplane. In addition, it is said to support IPMB-0 [A:B] links for power management.

AM4904 — This high-end version of the OM6060, based on the integrated AM4904 MCH module, builds upon the AM4901 version with managed-switch features. This configuration supports the same Intel, Freescale, and Cavium-based processing boards used by the AM4901, as well as the same types of I/O boards.

The AM4904 MCH is a managed switch that comes in several versions. The OM6060 supports the AM4904-BASE, which is described as a pure gigabit Ethernet switching MCH. Other versions add SRIO and PCIe switching, as well as other advanced features.

The module incorporates an MCMC based on a Freescale PowerPC 405EX processor, clocked at 600MHz. Designed to support fully-managed Layer 2 switching capabilities, the AM4904 supports Quality of Service features like traffic prioritization, access control, and multi-cast. Layer 3 management capabilities are said to be available on request.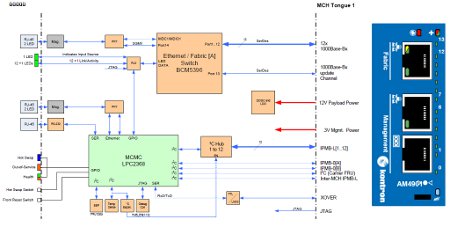 AM4901 MCH block diagram


(Click to enlarge)
Customer specific backplanes for OEM series production are also available on request, says Kontron. Alternatively, the Kontron OM6060 can be used with high-speed SRIO links in point-to-point configurations between adjacent AMCs, says the company
.
Availability
Kontron did not provide pricing or availability information on the MicroTCA platform OM6060. More information may be found here. More information on the Kontron MCH AM4901 may be found here, and more on the AM4904 should be here.
---
This article was originally published on LinuxDevices.com and has been donated to the open source community by QuinStreet Inc. Please visit LinuxToday.com for up-to-date news and articles about Linux and open source.