Jan 12, 2011 — by LinuxDevices Staff — from the LinuxDevices Archive — 2 views
Avalue announced an EPIC form-factor SBC (single board computer) employing Intel's embedded-specific "Sandy Bridge" Core CPUs. The EPI-QM67 includes up to 8GB of RAM, two gigabit Ethernet ports, multiple video outputs, and an optional touchscreen interface, according to the company.
Avalue quickly followed up Intel's January 2010 release of embedded-specific Core processors with an EPIC SBC (single board computer), the 6.5 x 4.5-inch EPI-QM57. Now that Intel has updated the Cores with a so-called second generation, "Sandy Bridge," Avalue has updated its EPIC SBC too in the form of the EPI-QM67.
Our Jan. 3 coverage (and Intel's two-days-later press release) listed 15 new mobile offerings and 14 new desktop CPUs in the Sandy Bridge range. Subsequently two more Sandy Bridge CPUs came to light: the Core i7-2715QE (where the "QE" stands for "quad-core embedded") and the Core i5-2515E ("E" is for "embedded").
Avalue's EPI-QM67 now highlights two more Sandy Bridge Cores that Intel didn't announce last week. According to a PDF document listing all four embedded offerings that has belatedly appeared on the chipmaker's website, details are as follows:
the Core i5-2510E has a 2.1GHz clock speed and 3.1GHz TurboBoost frequency, two cores, 3MB of cache, and a 35-Watt TDP
the Core i7-2710QE has a 2.5GHz clock speed and 3.0GHz TurboBoost frequency, four cores, 6MB of cache, and a 45-Watt TDP
On Avalue's new EPIC module, either of these processors is accompanied by Intel's QM67 Express chipset, plus up to 8GB of DDR3 RAM housed in a 204-pin DIMM slot. The SBC caters for connection of hard disk drives via two SATA ports, and also accepts SSD (solid state disk) storage via one of its two Mini PCI Express slots, the company says.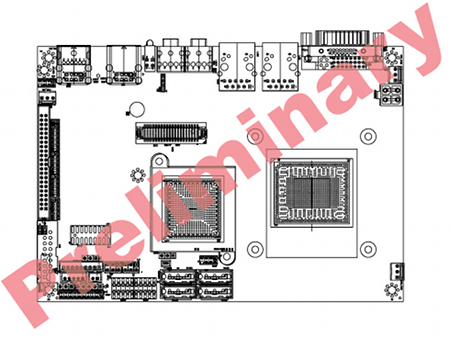 Avalue's EPI-QM67
So far Avalue has provided only the above diagram of the EPI-QM67, so we can't say which of its listed interfaces are treated to real-world ports on the device's coastline. (The coastline on the earlier EPI-QM57 included a DVI port, two gigabit Ethernet ports, audio, and four USB 2.0 ports, so we'd expect to see a similar complement here.)
According to Avalue, the EPI-QM67 offers ten USB 2.0 ports in all, two serial ports (one RS232 and one RS232/422/485), and 16-bit GPIO. The device also provides dual-channel LVDS video as well as two DVI interfaces, the company says.
Like the EPI-QM57 before it, the EPI-QM67 is also available with an optional PenMount 6000 touchscreen interface, supporting four-, five-, or eight-wire devices, according to Avalue. The SBC supports Intel's Active Management Technology 7.0, the manufacturer adds.
Avalue touts the EPI-QM67 as being suitable for a range of applications, including medical instruments, point-of-sale/kiosk machines, digital signage, surveillance devices, automation controllers and military systems. Operating systems supported weren't listed, but the previous EPI-QM57 was said to be compatible with Linux, Windows 7, Windows XP, Windows XP Embedded, Windows Vista, and Windows Embedded for Point of Sale Systems.
Specifications listed by Avalue for the EPI-QM67 include the following:
Processor:

Intel Core i5-2510E, with 2.1GHz clock speed, 3.1GHz TurboBoost frequency, two cores, 3MB of cache, and 35-Watt TDP
Intel Core i7-2710QE, with 2.5GHz clock speed, 3.0GHz TurboBoost frequency, four cores, 6MB of cache, and 45-Watt TDP

Chipset — Intel QM67 Express
Memory — Up to 8GB of DDR3 RAM via 204-pin DIMM slot
Expansion — 2 x Mini PCI Express slots
Networking — 2 x gigabit Ethernet
Other I/O:

2 x DVI
dual-channel LVDS
audio (mic/line in, line out)
10 x USB 2.0
2 x serial (1 x RS232, 1 x RS232/422/485)
16-bit GPIO
LVDS
touchscreen interface (optional)

Power — +12V ATX support; consumption n/s
Operating temperature — 32 to 140 deg. F (0 to 60 deg. C)
Dimensions — 6.5 x 4.5 inches (165 x 115mm)
Weight — 0.4 pounds (0.18kg)
Background
Intel's Sandy Bridge Cores include a new microarchitecture, a 256-bit instruction set known as AVX (advanced vector extensions), enhanced GPUs (graphics processing units), and dedicated silicon for tasks such as transcoding video from one format to another, according to Intel. We've already covered Sandy Bridge COM Express modules from Eurotech, Kontron, and RadiSys, as well as a Mini-ITX board from Ibase and a network appliance from Lanner.
Processor
Cores
/threads
Base
frequency (Ghz)
1 core turbo (Ghz)
2 core turbo (Ghz)
Last-level
cache (MB)
TDP (W)
ECC
Core i7-2710QE
4/8
2.1
3.0
2.9
6
45
no
Core i7-2715QE
4/8
2.1
3.0
2.9
6
45
yes
Core i5-2510E
2/4
2.5
3.1
3.0
3
35
no
Core i5-2515E
2/4
2.5
3.1
3.0
3
35
yes
Intel's embedded-specific Sandy Bridge CPUs
Listed above, the embedded-specific Sandy Bridge devices are designed to work with Intel's QM67 Express chipset (below) or HM65 Express chipset. The QM67 permits devices to offer up to fourteen USB 2.0 ports, two 6Gbps SATA ports, and four 3Gbps SATA ports, according to the chipmaker.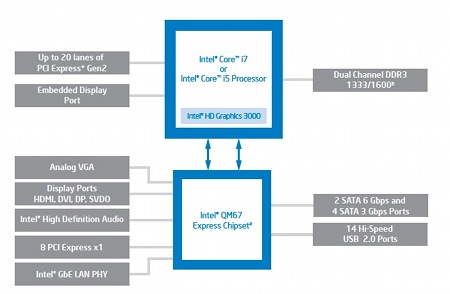 Intel's QM67 Express chipset
(Click to enlarge)
Further information
Avalue did not cite pricing or availability information for the EPI-QM67. More information on the device may be found on the device's product page.
---
This article was originally published on LinuxDevices.com and has been donated to the open source community by QuinStreet Inc. Please visit LinuxToday.com for up-to-date news and articles about Linux and open source.