Dec 13, 2011 — by LinuxDevices Staff — from the LinuxDevices Archive — 6 views
Android Market, Facebook, and several Google applications are among the most popular apps accessed via Android smartphones, according to Nielsen. The research showed remarkable consistency among three age groups ranging from 18 to 44, although Pandora and YouTube did better among the younger users and Angry Birds was more popular among the oldies.
Google's Android Market was the most frequently used Android app, but it was Facebook that took second place in a Nielsen survey of U.S. smartphone users. Google applications such as Search, Gmail, and the recently updated Google Maps followed as the most popular smartphone applications for the Android platform, according to the Dec. 12 Nielsen report.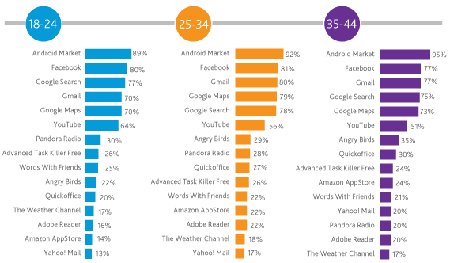 Mobile Android app reach by age, U.S. smartphone users age 18-44, Sept. 2011


Source: Nielsen
(Click to enlarge)
Nielsen analyzed data from the smartphones of thousands of participating consumer panelists in the study, which was conducted in September. The research firm ranked the mobile apps by active reach, defined as the percentage of Android owners who used the app within the past 30 days.
The market researcher then broke down app use among three age segments, and found remarkable consistency. Android Market and Facebook consistently ranked among the top two apps used across all age segments. Some 89 percent of Android users 18 to 24 were said to have used Android Market, with 92 percent in the 25 to 34 age range and 95 percent in the 35 to 44 age range said to be using the program.
According to Nielsen, 81 percent of users in the 18-24 segment used Facebook for Android, with 81 percent using the software in the 25-34 range and only 77 percent in the 35-44 category. After those leading apps, a mixed bag of Google apps are the most popular among the three age demographics, including Google Search, Gmail, and Google Maps. Google's new Facebook rival Google+, meanwhile, has yet to break into the top 15 apps among any of the age groups, and Twitter is nowhere to be seen, either.
YouTube, Pandora score high among the young
Google's YouTube shows one of the largest differentiations by age. The app received heavy usage from the youngest Android smartphone owners, with 64 percent using it in the last 30 days, compared to 56 percent and 51 percent for the middle and oldest ranges, respectively. In addition, the Pandora music app was used by a significant 30 percent of the youngest group and 28 percent of the 25-34 crowd, but only 20 percent of the older users, says Nielsen. Interestingly, Angry Bird use seems to rise along with age.
Not surprisingly, there's a strong correlation between the installed base and frequency of use. Google Search has about 1 billion users while Facebook has more than 800 million, and apps like Gmail, Google Maps, and YouTube all have hundreds of millions of users. Unless some new apps come along to blow those out of the water, the popularity positions are unlikely to change.
Nielsen's report comes less than a week after Google announced it had notched its 10 billionth app download for the Android Market, which has been vastly improved since its launch in October 2008. Android app downloads are helped by the fact the more than 200 million Android devices have been activated all over the world, with 550,000 activated each day, according to Google.
At the end of November, Nielsen released its third quarter U.S. smartphone market share numbers, and found that Android accounted for 43 percent share while Apple's iOS came in second to nab 28 percent. Research in Motion won 17.8 percent share while Microsoft lagged at 7.3 percent for Windows Phone and Windows Mobile combined, according to Nielsen.
Among Android vendors, HTC had 15 percent of Android phone share, followed by Motorola and Samsung at over 10 percent apiece, according to the study.
Why iOS gets the cool apps first
Also on Dec. 12, tech blogger Robert Scoble explored another part of the Android app story via a blog post exploring why the so-called "coolest apps" come out on iOS first, before being ported to Android. The reasons were said to include the fact that more mobile tech "influencers" use iPhones, and developers find it more difficult to develop on Android. Other contributing factors included the well-known finding that Android users are more likely to download free apps than paid ones, making it harder for developers to make a profit.
Clint Boulton is a writer for eWEEK.
---
This article was originally published on LinuxDevices.com and has been donated to the open source community by QuinStreet Inc. Please visit LinuxToday.com for up-to-date news and articles about Linux and open source.