Feb 25, 2010 — by Eric Brown — from the LinuxDevices Archive — 21 views
Broadcom demonstrated an Android-ready tablet design that offers video-conferencing and DLNA streaming to IP set-top boxes and HDTVs. The Persona Tablet is equipped with a BCM11211 VoIP processor, coprocessors including one or two BCM11181 chips, and can process simultaneous 720p video streams, says the company.
Prior to last week's Mobile World Congress (MWC) in Barcelona, Broadcom briefly announced that it would be showing Android support in a consumer multimedia tablet device based on its new Persona BCM11211 VoIP processor. The tablet also incorporates the BCM11181 multimedia processor, the BCM4329 Bluetooth/WiFi co-processor, and the BCM4750 GPS chip, says Broadcom.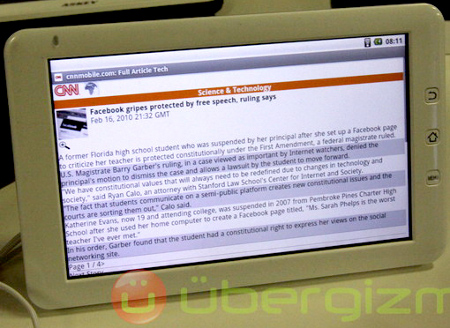 Broadcom Persona Tablet at MWC


(Source: UberGizmo)
According to an
UberGizmo
report, which supplied the photo above, the product that was subsequently demo'd at MWC was referred to as the Persona Tablet. Judging from the
UberGizmo
coverage and a
NetbookNews.de
video posted on
YouTube
(shown farther below), this would appear to be an Android-enabled version of the Persona IP Communications Platform that Broadcom announced with Linux support in December.
The Persona IP Communications Platform was described by Broadcom in a manner suggesting an IP-phone kitchen computer/digital photo frame (DPF), and did not use the word "tablet." However, the December announcement linked to an image gallery showing the "Broadcom Tablet PC" render below.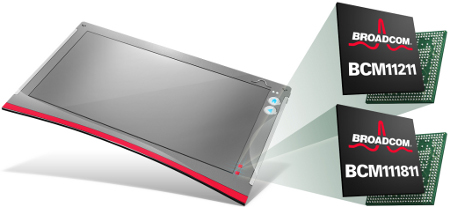 Broadcom Tablet


(Source: Broadcom)
(Click to enlarge)

The Linux-ready Broadcom Persona IP Communications Platform design provides multimedia and 3D graphics to offer an "always connected" convergent device, says Broadcom. The device is said to support IP telephony and video-conferencing, as well as multimedia playback and digital picture frame (DPF) features.
The device is also said to integrate with home energy/automation control, digital video recording (DVR), and set-top box (STB) devices via DLNA network discovery. Equipped with gigabit Ethernet, WiFi, Bluetooth, GPS, and "next generation remote control" capabilities, the Persona device supplies a full web browser with widgets, as well as gaming features, says Broadcom.
The Persona platform runs the Linux-based Broadcom MediaxChange development software, a multimedia version of its PhonexChange software. MediaxChange optionally supports Nokia's Qt applications development framework, as well as Android, says the company. The MediaxChange suite is said to include Broadcom's SmartAudio voice enhancement, acoustic echo cancellation, advanced jitter buffer, high definition voice speech, and packet loss concealment (PLC) technologies.
Android-based Persona Tablet runs simultaneous 720p
The Android version of the Persona Tablet shown at MWC can decode two HD video streams simultaneously from local storage or via a network location, says UberGizmo. The NetbookNews.de video, meanwhile, shows the device playing a video on a wirelessly connected HDTV (presumably with built-in, DLNA-ready STB functionality) while simultaneously running a web browser or programming feed from the STB.
In this way, the tablet can be used to simultaneously explore the web, play a different movie, or act as a less intrusive version of picture-in-picture, letting a user surf through other channels while the TV's display remains uncluttered. Based on the video, it appears that the tablet can use use DLNA network discovery to access content from network-attached storage (NAS) boxes and other devices around the home and stream it to an HDTV as if the tablet was a universal IP remote.


Broadcom Persona Tablet demo, showing video-conferencing on left and 720p video playback on right
(Source: NetbookNews.de YouTube video)
(Click to enlarge)
According to the Broadcom demonstrator in the video, a number of companies are preparing devices based on the Persona design, starting with NCT in Japan, which will offer a device in Japan later this year. The video also shows a second, game-oriented version of the Persona from Askey, which is said to be part of Pegatron. According to
UberGizmo,
meanwhile, service providers are planning to deploy the tablet in Japan, and some are considering selling it for free with a subscription.
Broadcom's Persona processors
The Persona IP platform and Persona Tablet design are built around a new Broadcom BCM11211 communications processor as well as the Broadcom BCM11181 multimedia processor, says Broadcom. The BCM11211 is equipped with unnamed RISC and DSP processor cores, and offers peripheral support, including host SDIO for memory cards, dual USB ports, and "PC connectivity," says the company. The processor provides 10/100 Base-TX Ethernet MAC and PHY "to support automatic power-down green modes," says the company.
The BCM11181 multimedia processor is said to be based on Broadcom's earlier BCM2727 mobile multimedia processor and VideoCore multimedia architecture. A single BCM11181 can support 720p H.264 video playback or video-conferencing at up to WVGA resolutions. Adding an additional BCM11181 enables 720p video-conferencing at 30fps, says Broadcom (see block diagram below).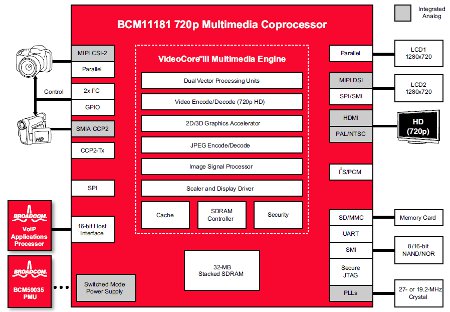 BCM11181 block diagram


Click to enlarge)
The company has used the Persona brand in conjunction with an IP phone processor, the BCM11170, announced last March. Like the new BCM11211, the BCM11170 is intended to work with the BCM11181 multimedia processor, says Broadcom. The Persona IP Communications Platform, including the Android-based Persona Tablet version, also includes the BCM4329 Bluetooth/WiFi co-processor, which appears to be related to the BCM4325 processor. Broadcom recently announced that the
BCM4325
supports Bluetooth 3.0, along with a number of other Broadcom wireless chips.
In addition, the platform includes the new BCM4750 GPS processor. In January, Broadcom announced Android support for a BCM4760 processor, which is said to include a GPS receiver and baseband, an ARM11 processor, a touchscreen controller, and an OpenGL ES 1.1/OpenVG 2.0-compliant graphics processor. Other recently announced Broadcom processors include the ARM11-based, Android-compatible BCM21553 SoC for mid-range smartphones, and the BCM70015 video co-processor designed to work with the new Intel Atom "Pinetrail" processors.
Broadcom Persona Tablet demo


(Source: NetbookNews.de on YouTube)
(Click to play)
Availability
Broadcom's December announcement of the Persona IP Communications Platform may be found here. The UberGizmo story on the Persona Tablet design should be here.
Broadcom's information page on the Persona BCM11211 VoIP processor may be found here, and its page on the BCM11181 multimedia co-processor may be found here.
---
This article was originally published on LinuxDevices.com and has been donated to the open source community by QuinStreet Inc. Please visit LinuxToday.com for up-to-date news and articles about Linux and open source.