Aug 24, 2011 — by Eric Brown — from the LinuxDevices Archive — 1 views
NFC is coming to Android tablets this fall, in two seven-inch, Android 2.3 models announced by Sharp and TazTag respectively. The Sharp RW-T107 is an enterprise-focused tablet that supports the Sony Felica flavor of NFC in Japan, while TazTag's TazTab combines NFC with a biometric fingerprint scanner, plus ZigBee, Wi-Fi, GPS, Bluetooth, and optional 3G.

In separate announcements this week, Sharp Electronics and contactless technology specialist TazTag announced what appear to be the first Android tablets that incorporate near field communication (NFC) technology.
NFC is available in some Japanese smartphones tailored for the Sony Felica version of the short-range wireless technology, but elsewhere, the only mainstream devices featuring it seem to be the Android-based Samsung Nexus S and similar Nexus S 4G smartphones.
The Nexus phones are compatible with the Google Wallet mobile payments initiative, as shown running on a Nexus S 4G and point-of-sale device in the image above. Google Wallet is expected to launch this month in New York City and San Francisco. Other NFC-based plans announced to date include a peer-to-peer service from PayPal and an upcoming Isis mobile payment platform from AT&T, Verizon, and T-Mobile. Isis is notable for being supported by all four major credit card companies: Visa, MasterCard, Discover, and American Express.
Sharp RW-T107
The Sharp RW-T107 announcement in Japan was picked up by SlashGear, which pointed to a translated Sharp web page on the tablet. According to Sharp, the RW-T107 will be released in Japan on Sept. 5, with hoped-for deliveries of about 5,000 units a month.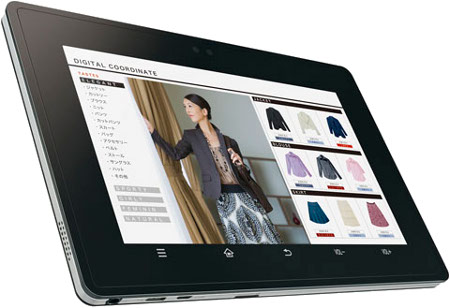 Sharp RW-T107
Initially, the RW-T107 will be compatible only with the well-established Sony Felica version of NFC, widely available on Japanese smart cards and transit systems. It would seem likely, however, that if it chose to do so, Sharp could fairly easily modify it for the mainstream NFC technology in the U.S. being implemented with Google Wallet and other services.
Sharp is aiming its seven-inch tablet at enterprise and vertical applications, including banking, insurance, retail, and electronic support documentation. The company revealed few details on the tablet except that it runs Android 2.3 — the first Android release to support NFC — and features 802.11a/b/g/n Wi-Fi, as well as a 5400mAh battery for eight hours of battery life.
SlashGear, meanwhile, makes some educated "guesses" based on the above image, and detects a headphone jack, speakers, a micro-USB port, a SIM card slot, and an HDMI port. Looks about right to us.
TazTag TazPad
TazTag, a French company that specializes in contactless solutions, announced its TazPad back in March at the CeBIT show in Hanover, Germany. More information has now turned up via a data sheet, as well as a press release issued by Authentec (which developed the TazPad's biometric TCS2 TouchChip fingerprint sensor).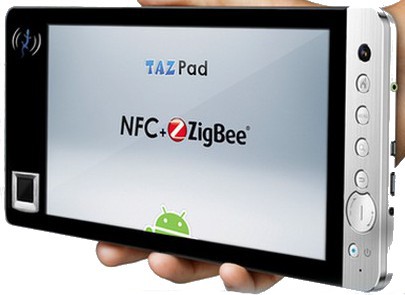 TazPad

According to Authentic, the TazPad, which appears to be available now, or at least soon, is the first tablet computer to offer highly secure fingerprint authentication and ZigBee Pro wireless communications as part of NFC-based mobile payment transactions. Authentic also provided the TazPad's ZigBee radio, as well as online transaction technology.
In addition, the tablet includes Inside Secure's SecureRead, a pre-integrated NFC microprocessor. SecureRead is said to combine a chip, an Infineon Technologies secure element, and a secure Giesecke & Devrient operating system in a single application-ready package.
The TazPad is designed for applications that link customers to a bank, a store, or another institution's back-end system, says TazTag. While the device would appear to be usable as a mobile client device for consumers, its primary mission seems to be that of a vendor-controlled mobile gateway to a point-of-sale system.
A vendor could use the tablet's multifaceted mobile payment system to provide information on products, or read a client's loyalty card via a smartcard or NFC phone, says Authentec. It can also be used to book orders or submit a secure payment, says Authentec.


TazPad port detail
The TazPad is built around a Samsung Cortex-A8 processor clocked to 1GHz, with 512KB L2 cache — apparently
Samsung's Hummingbird
system on chip (SoC). The tablet also supplies 512MB of DDR RAM, 4GB internal flash memory, and a 16GB microSD card that can be swapped for a 32GB card, says TazTag.
The TazPad is equipped with a seven-inch, 800 x 480 capacitive multitouch screen and supports 1080p HD video via the tablet's mini-HDMI output, says the company. The tablet connects wirelessly via 802.11b/g/n, Bluetooth 2.1 + EDR, GPS, NFC, and ZigBee Pro. 3G HSDPA is said to be optional via a SIM slot.
The TazPad offers a front-facing two-megapixel camera which can be optionally configured to face toward the rear, says TazTag. Additional features include the aforementioned biometrics scanner, as well as a 3.5mm headphone jack, speaker, microphone, accelerometer, and a geo-magnetic field sensor.
The tablet's thickness is typical, at 0.51 inches (13mm), and the device weighs in at a hair under one pound (450 grams). No battery life details were offered.
Stated Eric Fouchard, TazTag CEO, "AuthenTec has helped make mobile payment transactions more convenient and secure through fingerprint biometric technology that's integrated in millions of NFC-equipped phones. They have a proven track record in NFC and fingerprint authentication that made their TouchChip offering a perfect fit for this very capable mobile platform."
Other TazTag products include the TazModule, "a small box to let your NFC/Zigbee enable your own equipment," says the company.
Stated Alan Kramer, AuthenTec's Vice President of Government and Access Control, "No other Android tablet combines fingerprint authentication with the NFC transaction capabilities of the TazPad."
Availability
The Sharp RW-T107 will be released in Japan on Sept. 5, says Sharp, which did not appear to reveal pricing. More information may be found in this RW-T107 announcement.
The TazPad appears to be available now, and seems to be aimed primarily at the OEM market. More information may be found at TazTag's TazPad page.
---
This article was originally published on LinuxDevices.com and has been donated to the open source community by QuinStreet Inc. Please visit LinuxToday.com for up-to-date news and articles about Linux and open source.