May 27, 2011 — by LinuxDevices Staff — from the LinuxDevices Archive — 9 views
Hours after announcing its Android-based Google Wallet mobile payment service, Google was accused by eBay's PayPal unit of using the latter's trade secrets. Google Wallet will launch this summer with the support of Citi, MasterCard, and First Data, enabling Samsung Nexus S 4G users to make payments at retailers offering terminals fitted with near field communication (NFC) technology.
eBay's PayPal payment service has sued Google, accusing the search engine of poaching trade secrets it then used to hone its mobile payment service. The suit, filed in Santa Clara County Superior Court just hours after Google unveiled its Google Wallet service, alleges that two key executives who created the Wallet service used company secrets about mobile payments to fashion Google's own service.
Unveiled at a press event in New York, Google Wallet (see farther below) lets consumers pay for products by tapping their Android-based smartphones against a special sale terminal.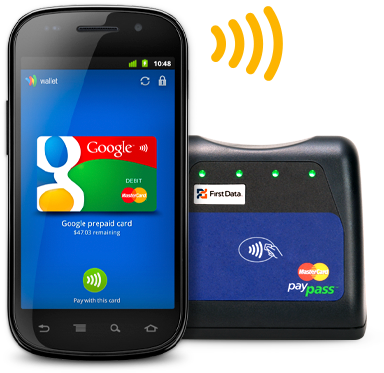 Google Wallet on a Samsung Nexus S 4G (left) with PoS system
Named in the suit are Osama Bedier, vice president of payments, and Stephanie Tilenius, vice president of commerce for the company. Both held similar positions at PayPal before joining Google.
Google hired Tilenius in February 2010. Tilenius is named in the suit because she broke a non-compete agreement with PayPal by persuading Bedier to join Google in January of this year, after which the search engine accelerated its mobile payment plans.
However, it is Bedier who faces the more unsavory charges. PayPal alleges that Google in 2010 had been working on brokering a deal to have the payment provider enable payments on Android phones. Instead, it turned around and hired Bedier, who had been negotiating the deal for PayPal.
The payment provider further alleges Bedier kept records of all of PayPal's future plans for mobile payments on a non-PayPal computer, and used that info to build Google Wallet after joining the company.

It's claimed Bedier used PayPal's trade secrets for mobile payments to pitch many of the same major retailers with whom PayPal was seeking to partner for its own mobile payment service.
Google Wallet partners include Macy's, American Eagle, RadioShack and a dozen other major companies.
"Bedier's comparisons incorporate PayPal trade secrets, including PayPal's schedule for deployment, anticipated features, and back-end approach to mobile payment, point of sale, and the benefits of a wallet in the cloud," according to the lawsuit (PDF).
The suit also alleges that Bedier recruited some of his former colleagues from PayPal to join Google.
"We spend a lot of time and energy creating the things that make PayPal unique and a preferred way to pay for almost 100 million people around the world," wrote Amanda Pires, senior director for PayPal global communications, in a brief note about the suit. "We treat PayPal's 'secrets' seriously, and take it personally when someone else doesn't."
Google, meanwhile, said the company had not yet received a copy of the complaint and would not be able to comment until it has had a chance to review it.
Google Wallet to launch in SF, NYC
A few hours prior to last night's lawsuit filing, Google announced it had teamed with Sprint and several payment providers on its much anticipated Google Wallet mobile-payment service. Slated for a summer release, Google Wallet is a free mobile application that will let owners of Samsung Nexus S 4G smartphones on Sprint's network use their phones as an electronic wallet at some 20 retailers and restaurants.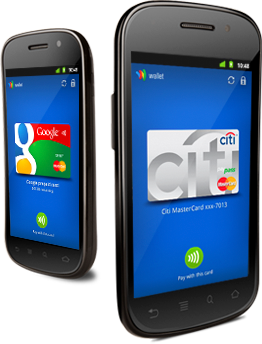 Google Wallet will initially support Google's prepaid card and Citi MasterCard accounts
Users tap their phones to specialized point-of-sale systems at participating retailers and restaurants to pay for goods. The idea is that users needn't carry a wallet stuffed with credit cards, loyalty cards, and gift cards. This is enabled by NFC (near field communication) technology, a short-range wireless technology that allows communications between sensors brought within close proximity.
Citi, MasterCard, and First Data are enabling payment for Google Wallet, which will first be made available in New York City and San Francisco this summer.
The announcement was given by the aforementioned Google VP and former PayPal exec Stephanie Tilenius, at an event at Google's Chelsea office in New York City prior to the lawsuit against Tilenius, Bedier, and Google. Tilenius said that once the Wallet ecosystem is well in place, Google and its partners will rev up marketing programs to lure consumers.

Google Wallet will initially support Citi MasterCard and a Google Prepaid Card, allowing users to tap their Nexus S 4G phone to pay wherever MasterCard's PayPass mobile-payment service is accepted, as promoted in the logo at right.
Google is working with VeriFone, Hypercom, Ingenico, and VivoTech, among other point of sale (PoS) manufacturers to develop the NFC-enabled PoS systems. VivoTech offers several Linux-based PoS systems that offer NFC payments, including the Vivopay 8100.
Google Wallet will work in conjunction with Google Offers, the search-engine giant's new local deals service and Groupon competitor, says Google. Google Wallet will sync with a user's Offers, allowing users to redeem those deals via NFC at participating SingleTap merchants, such as American Eagle, Macy's, and Subway, or by showing the bar code as users check out.
Google is planning to develop APIs that will enable integration with numerous partners. Eventually, the company envisions that boarding passes, tickets, IDs, and keys could be stored in the Google Wallet.
NFC has yet to catch on in the United States, with retailers slow to adopt the required readers and other infrastructure. Google and its partners aim to change that, looking to cash in on the expected 50 percent of NFC-enabled mobile phones they expect to see launched by 2014.
Google expects that, over time, software developers will write mobile applications that take advantage of NFC. Google would then pair ads, as well as local deals and discounts, with these services.
Google CEO Eric Schmidt last November waved around a smartphone he said was fitted with NFC technology. Google in December revealed the device as the new Samsung Nexus S, running the company's Android 2.3 "Gingerbread" operating system in a "pure Google" configuration.
Gingerbread added native support for NFC, which requires a special NXP controller chip to operate. The Nexus S 4G smartphone, launched by Sprint earlier this month, also carries such a chip. Google said it expects additional phones with NFC chips to launch this year.
Availability
Google Wallet will be available as a free service for Sprint customers who own a Samsung Nexus S 4G smartphone, starting this summer at some 20 participating retailers and restaurants in San Francisco and New York City. More information may be found at the Google Wallet site.
Clint Boulton is a writer for eWEEK.
---
This article was originally published on LinuxDevices.com and has been donated to the open source community by QuinStreet Inc. Please visit LinuxToday.com for up-to-date news and articles about Linux and open source.