Sep 6, 2011 — by Eric Brown — from the LinuxDevices Archive — 5 views
Acer subsidiary Gateway has begun shipping a rebranded "A60" version of Acer's 10.1-inch Iconia Tab A500 Honeycomb tablet. Meanwhile Vodafone announced Smart Tab 7 and Smart Tab 10 Android 3.2 tablets, and Medion unveiled both a Lifetab P9514 10.1-inch Honeycomb tablet and an unnamed 4.3-inch Android smartphone.
Android tablets were the star of the show at last week's IFA exhibition in Berlin. Highlights included the Sony Tablet S1 and P1, the HTC Jetstream, the Samsung Galaxy Tab 7.7, and Toshiba AT200, as well as the Lenovo IdeaPad A1 and ViewSonic ViewPad 7x. Here, we'll cap off our IFA coverage with four more that slipped in under the wire: the Gateway A60, Vodafone Smart Tab 7 and Smart Tab 10, and Medion Lifetab P9514.
Gateway A60
Acer subsidiary Gateway has recast its parent company's Iconia Tab A500 Honeycomb tablet as the Gateway A60, as a product listing by Candian retailer FutureShop has revealed. This first-ever Gateway-branded tablet is available now for $400 Canadian (about $404). Since it began shipping in April, the Iconia Tab A500 has been discounted by $50 to a similar $400 pricepoint at stores such as BestBuy.com.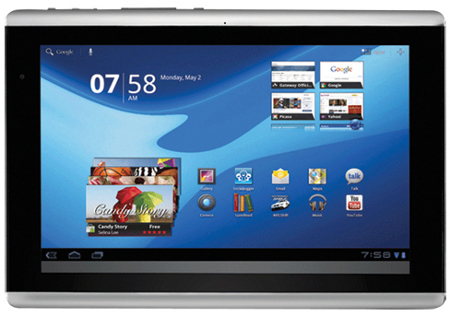 Gateway A60
The only apparent differences between the tablets are cosmetic. The A60 offers a black bezel and back in place of the Iconia Tab's brushed metal silver finish.
Like the Iconia Tab A500, the Gateway A60 features a 10.1-inch multitouch screen, and runs Android 3.1 on a 1GHz Nvidia Tegra 2 dual-core processor. There's also 1GB of RAM and a 16GB microSD card, says Gateway. Both five-megapixel and two-megapixel cameras are supplied, as well as Wi-Fi, GPS, and Bluetooth connectivity. The tablet measures 10.24 x 6.97 x 0.52 inches and weighs 1.69 pounds.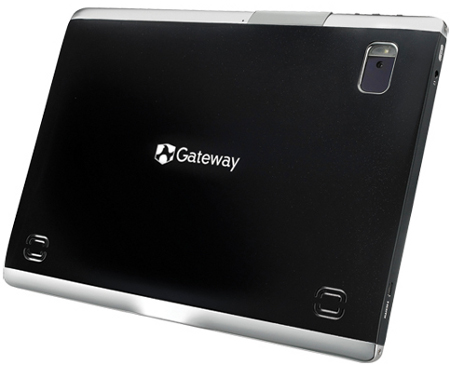 Gateway A60, rear view

The Iconia Tab A500 has received mixed reviews, with Engadget, for example, faulting the device for its limited battery life. However, it does stand out as being about $100 cheaper than most 10.1-inch Honeycomb tablets with 16GB of storage.
Vodafone Smart Tab 7 and Smart Tab 10
Germans may have a hard time finding a Samsung Galaxy Tab after recent injunctions against Samsung by a German court at the request of Apple's legal team. However, two Tabs from a different vendor will soon be available there, sold by Vodafone Germany. The German wing of the European carrier giant used the IFA show to announce its Smart Tab 7 and Smart Tab 10 tablets, both due in German retail outlets at the end of November.
Vodafone Smart Tab 10
Both tablets will run Android 3.2 on a dual-core, 1.2GHz Qualcomm processor, according to Eurodroid, which reprinted an English-language press release. The tablets offer 1GB of RAM, 16GB internal storage, and a 32GB-ready microSD slot, says Vodafone Germany. The devices will be offered with both Wi-Fi and Vodafone's HSDPA 3G service, says the company.
On both the seven-inch Smart Tab 7 and 10-inch Smart Tab 10, WXGA (1280 x 800 pixel) resolution is said to be provided. Other features include rear-facing five-megapixel and front-facing two-megapixel cameras, says Vodafone Europe. The Smart Tab 7 is said to weigh 391 grams (13.8 ounces), and measure 11.4mm (0.45 inches) thick.
Vodafone Germany did not disclose pricing, or the prospect of launches elsewhere in Europe, says the story. This is certainly an OEM-built product, and Eurodroid postulates a possible Huawei or ZTE parentage.
Meanhile, the dual-core Qualcomm processor is a new twist in Honeycomb tablets. It first appeared on Huawei's seven-inch MediaPad, which weighs the same as the Tab 7, but is thinner and offers lower WSVGA (1024 x 600) resolution instead of WXGA.
Medion Lifetab P9514 and mystery smartphone
At the IFA show last week, Medion announced its first Android tablet in the Medion Lifetab P9514, as well as an unnamed Android 2.3 smartphone, according to Pocket-Lint. The tablet is another 10.1-inch, Tegra 2-based Honeycomb tablet, running the latest Android 3.2 release, according the story.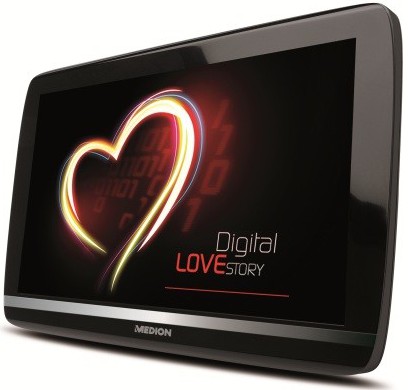 Medion Lifetab P9514
Due in the fourth quarter, the Lifetab P9514 will offer Wi-Fi, UMTS/HSDPA 3G, and either 16GB or 32GB storage, says Pocket-Lint. The device is said to provide USB connectivity, as well as HDMI with DLNA (digital living network alliance) media sharing support, and to weigh a rather hefty 720 grams (25.4 ounces). The only listed software is a preinstalled version of Docs to Go.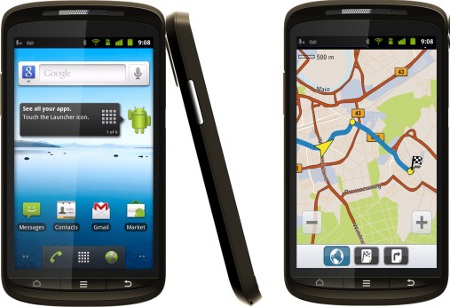 Unnamed 4.3-inch Medion smartphone
Even less is known about the 4.3-inch smartphone (pictured above), also due in the fourth quarter. The nameless "Gingerbread" phone offers a five-megapixel camera and features Medion's GoPal satnav navigation app, according to the story.
It is unclear whether the products are built by third parties, as is Medion's (MSI Wind-based ) Akoya Mini E1210 Netbook PC. The German consumer electronics firm does not appear to have any information on the products on its website.
---
This article was originally published on LinuxDevices.com and has been donated to the open source community by QuinStreet Inc. Please visit LinuxToday.com for up-to-date news and articles about Linux and open source.