Feb 15, 2010 — by Eric Brown — from the LinuxDevices Archive — 1 views
The LiMo Foundation added Adobe, Else Ltd., MobiTV, and SRS Labs as new members to its open source Linux mobile phone consortium. The foundation also announced the "imminent availability" of the new R3 release of the LiMo Platform, adding location-based services (LBS) and contact management features.
The addition of Adobe as a LiMo member was the foundation's major coup of the day. Adobe will enable LiMo application developers and designers to use Adobe Creative Suite and other Adobe authoring tools to create applications that will run on diverse handsets powered by the LiMo Platform, says the foundation. Adobe will also collaborate with other LiMo members to augment the LiMo Platform with the Flash Player porting API, says LiMo.
Other new LiMo members include new LiMo phone provider Else Ltd (see below), and MobiTV, which offers live television to U.S. mobile audiences. MobiTV content is said to be based on partnerships with wireless operators, broadcast networks, and content providers, including Verizon Wireless, CBS, NBC, ESPN, and Disney.
SRS Labs, meanwhile, develops audio enhancement, voice processing, and surround-sound technologies. SRS Labs' technologies are said to be used in audio and voice applications in mono, stereo, and multi-channel settings.
LiMo R3 nears completion
The LiMo Foundation also used the occasion of the opening of the Mobile World Congress show in Barcelona today to announce that its updated R3 platform is approaching "imminent availability." Or in other words, "Upon formal approval of the R3 specification by the LiMo Board of Directors, R3 of LiMo Platform will be available for commercial distribution by LiMo members," says LiMo.
This third-generation LiMo spec will feature improved support for Location Based Services (LBS) and contact management, says the foundation. R3 is also touted for extending existing features, including support for application management, advanced UI and multimedia technologies, and enhanced security and networking.
The LiMo R2 spec was released in June, and was considered to be the first iteration of LiMo that offered advanced multimedia smartphone features. It also introduced support for OMTP's BONDI web-app interoperability spec.
LiMo's tortoise hopes to catch up with Android Hare
Despite the ongoing Android fever — as well as new entries like Palm's Linux-based WebOS, an open source Symbian 3, and the new telephony-enabled MeeGo stack that merges Moblin with Maemo — the LiMo (Linux Mobile) Foundation continues its slow and steady progress. Its goal is to offer a highly customizable, carrier-friendly phone middleware stack that complies with a common open source Linux set of "LiMo" specifications.
Recently announced LiMo-based phones include the Samsung-made SCH-M5

10, which offers a 3.5-inch AMOLED display. Other LiMo phones announced last fall include the Samsung-manufactured Vodafone 360 H1 (pictured at right) and scaled-down 360 M1, as well as the First Else from new LiMo member Else Ltd. (formerly Emblaze Mobile).

Israeli-based Else Ltd. impressed a number of observers when it demonstrated its yet-to-ship First Else phone last November (pictured at left). Scheduled to be made commercially available "during 2010," according to LiMo, the phone builds upon the LiMo specification with Access' Access Linux Platform (ALP) 3.0, one of the principal stacks compatible with LiMo.
The First Else is based on the Texas Instruments (TI) OMAP3430 system-on-chip (SoC), and offers 256MB of RAM and 16GB internal flash. The Else is equipped with a 3.5-inch, 854 x 480 pixel capacitive touchscreen, as well as WiFi, 3G, Bluetooth, GPS, accelerometers, and a five-megapixel camera.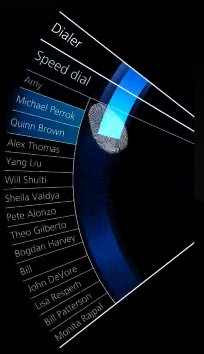 Yet, it is the unique "Edge Intuition" UI stack (pictured at right) and complex software features that have drawn the most attention, while also highlighting the comprehensive feature set and degree of customization available within both ALP 3.0 and the LiMo R2 spec. Edge Intuition enables users to switch between multiple, simultaneously running applications, says Else Ltd. In addition, all data and content, including contacts, appointments, videos, and photos, can be rendered anywhere, not only within a single dedicated application, says Else.
The UI stack offers an "sPlay" interface that immediately stands out with its novel menus, which are arranged like a Japanese fan that rolls and unrolls depending on touch movement and selections.
Stated Morgan Gillis, executive director of LiMo Foundation. "Collaboration and contributions from pedigreed innovators such as Adobe, Else Ltd., MobiTV, and SRS Labs will lead to greater functionality in the LiMo Platform, and a richer mobile experience for consumers around the globe."
Stated David Wadhwani, GM and VP, Flash Platform Business at Adobe, "Following the goals of the Open Screen Project, the openness of Linux and the Flash Platform represent a common vision to enable consumers to engage with rich Internet experiences seamlessly across any device, anywhere."
Stated Amir Kupervas, CEO of Else Ltd., "By joining the LiMo Foundation, we look forward to contributing our efforts to the real unification of mobile Linux and leverage the industry expertise of the mobile leaders within the organization to ensure that our products reflect the industry requirements."
Availability
The LiMo Foundation will showcase its new technologies in its booth 135, Hall 8, at Mobile World Congress in Barcelona this week. More information may be found here.
---
This article was originally published on LinuxDevices.com and has been donated to the open source community by QuinStreet Inc. Please visit LinuxToday.com for up-to-date news and articles about Linux and open source.