Feb 3, 2011 — by Eric Brown — from the LinuxDevices Archive — 1 views
Google showed off Android 3.0 on the Motorola Xoom, while confirming that this new "Honeycomb" release is only for tablets. The company also debuted a new Android Market Webstore, which enables app purchases and downloads via a web browser.

At its the Googleplex in Mountain View, Calif. on Feb. 2, Google demonstrated Android 3.0 on the Motorola Xoom (pictured), expected to be the first device to run the new "Honeycomb" release when it ships later this quarter. Most of Honeycomb's UI and multitasking enhancements had already been announced in great detail with the release of the Android 3.0 software development kit (SDK) last week, as well as a brief Google demo video released at CES.
Yesterday's demo, however, given primarily by Google executive Hugo Barra, was the most complete demonstration to date of Honeycomb treats. (A YouTube video of the Google event is shown farther below.)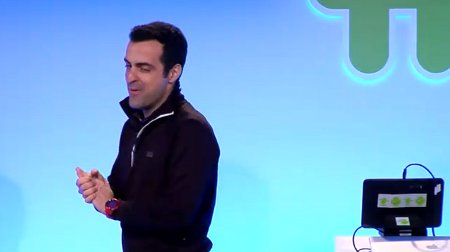 Google's Hugo Barra with Motorola Xoom
(Click to enlarge)
One of the key questions that remained was whether Android 3.0 would effectively fork the Linux-based mobile operating system into separate 2.x smartphone and 3.x tablet versions. The answer appears to be a qualified "yes."
All Things Digital reports that after the Google event, which did not offer a formal Q&A session, Barra was questioned by reporters about the forking issue. Barra was said to have replied, "A lot of the things we have created for Honeycomb will make their way back into phones as well — things like the visual themes, some of the thinking on notifications, for example."
As to whether a future 3.x version would ever appear on phones, Barra was said to have answered, "We really don't know. That's a conversation we are just beginning to have right now internally with the team."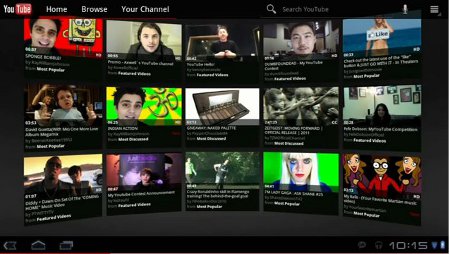 YouTube video wall in Android 3.0, developed using Renderscript 3D engine
(Click to enlarge)
Meanwhile,
PCMag received a more direct answer
from Google spokesperson Andrew Kovacs. When asked whether Android 3.0 would appear on smartphones, he answered no, saying only that "features will arrive on phones over time."
Fragments to cure fragmentation?
During the presentation, Barra himself seemed to suggest a split between the two Androids, while also suggesting ways to ease the burden of app developers who want to support both.
Barra described one of the more intriguing new Honeycomb development features, called "fragments" — modular portions of an app's code that that can be recombined, removed, or added for more interactivity or customization for different devices.
Barra defines fragments as a way to "encapsulate specific applicaiton functionality and then reuse that throughout the application." Honeycomb's new application bar, for example, can be packaged into a reusable fragment.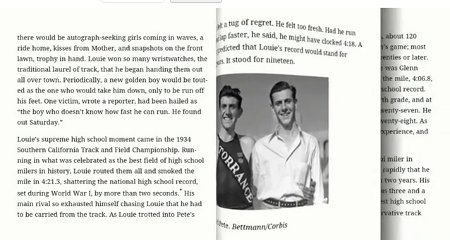 Renderscript-enabled ebook interface


(Click to enlarge)
Barra then made a statement that suggests that fragments will also be introduced in a future Android 2.x release for smartphones. "Eventually, fragments are going to be useful to let you have completely reusable functionality between the phone and the tablet version of your application," said Barra. "That's coming in the future."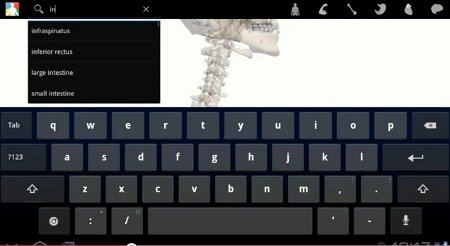 Honeycomb's redesigned keyboard and glimpse of 3D "Google Body" app


(Click to enlarge)
Barra went on to demonstrate a number of Honeycomb's new tricks, including a greatly improved notification system, 3D widgets, 2D and 3D graphics acceleration, and enhanced video chat. He also showed off a new Google Body anatomical app (pictured above), which is optimized for Honeycomb using the new Renderscript 3D graphics engine.
Later, CNN showed off a new app customized for Honeycomb tablets. This eventually segued into Google's Android Market Webstore launch (see farther below).
Google's Honeycomb event on YouTube


Source: Google
(Click to play)
Honeycomb in a nutshell
As we described in our Android 3.0 SDK coverage, Android 3.0 features a revamped "holographic" UI with improved drag-and-drop and 3D effects, improved multitasking, and graphics performance enhancements, among many other changes.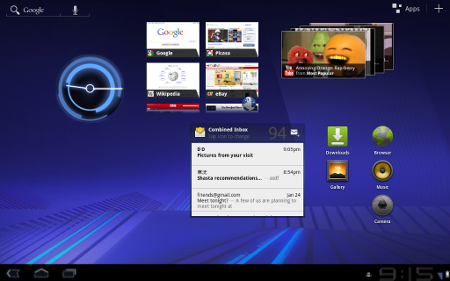 Android 3.0 main screen


(Click to enlarge)
Honeycomb offers a new top-line, app-driven Action Bar and an omnipresent, bottom-line System Bar. In addition, cut and paste has been streamlined, and thumbnails are provided for recently opened apps in order to ease multitasking.
Widgets have been redesigned with a more 3D look and feel, and new widget types have been added, says Google. In addition, a visual layout mode enables users to more easily customize five main home screens. There have also been major upgrades to the browser, camera app, contact, and email apps.
A new property-based animation framework supports the development of advanced visual effects, says Google. Honeycomb also features an integrated GL renderer, as well as a new "Renderscript" 3D graphics engine.
Multimedia improvements are said to include HTTP Live streaming support and a pluggable DRM framework. The new release also offers a variety of new connectivity APIs, many of which focus on more advanced Bluetooth support.
Data encryption feature tipped
One Honeycomb feature that was not explicitly described in the Google presentation was noticed by Engadget, which also posted live blog commentary from the event.
"Diving through the Motorola Xoom's sweet, sweet blend of Android 3.0, we found an interesting perk," writes Engadget's Sean Hollister. "There's an 'Encrypt Tablet' option buried in the settings page, intended to secure all your personal data with a password or PIN."
According to Hollister, a Google rep would not reveal further details, but said the feature was "part of Honeycomb as a whole, not a Motorola exclusive," writes Hollister.
Game developers: Xoom twice as fast as iPad
According to many reports, Motorola worked closely with Google on developing Honeycomb, making the the Xoom a defacto reference design for Android 3.0. Last week, Google confirmed that Honeycomb is optimized for dual-core processors, and yesterday Barra said that it was optimized for dual-core "at the kernel level."
Indeed, the Xoom, and all the other major Honeycomb tablets that have been announced run on Nvidia's dual-core, 1GHz Tegra 2 processor. While, that doesn't quite add up to a 2GHz processor, it would seem to offer a large advantage over most single-core 1GHz or 1.2GHz mobile processors.
At least this appears to be the consensus among the game developers who showed off their wares in a hands-on Xoom demo showcase after the Feb. 2 Google event.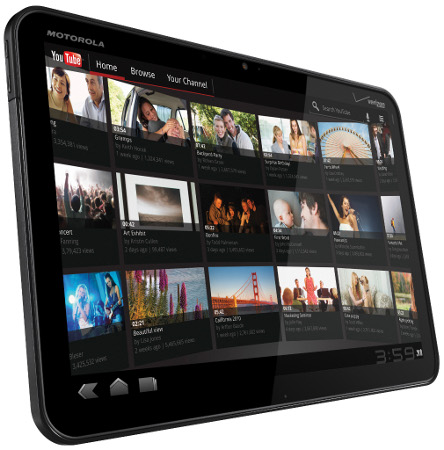 Motorola Xoom
(Click to enlarge)
PCMag interviewed
several of the developers, and found a clear preference for the Honeycomb-on-Xoom experience over the iPad and other Android 2.2. Trendy Entertainment, for example, showed its Honeycomb version of "Dungeon Defenders" on the Xoom. According to the story, CEO Agapitus "Agie" Lye said the Xoom has about "twice" the horsepower of the Apple iPad, and would likely surpass the performance of the rumored "iPad2."
"As you can see it's running 30, 40 frames per second," Lye was quoted as saying. "With Android [and the] iPhone version there's about 20 on-screen enemies at once. With the new operating system, we can put up to 50."
War Drum Studios, which like Trendy, is based in Gainesville, Florida, showed off its "Great Battles: Medieval" game, says the story. Featuring some 300,000 to 400,000 polygons, the game could not run effectively on the iPad, CEO Thomas Williamson was quoted as saying.
"No way, no way," said Williamson."If this ran on the current generation iPad, it would be about two, three frames per second."
Android Market Webstore debuts
On Feb. 2 Google also launched the Android Market Webstore. The new website is dedicated to letting application consumers purchase apps for their Android smartphones and tablets from a standard web browser, reports our sister publication eWEEK.
Android users previously had to purchase Android apps through the Android Market client, which runs on most major Android smartphones and a much smaller number of compliant tablets. This made the rough-around-the edges Android Market experience even more frustrating.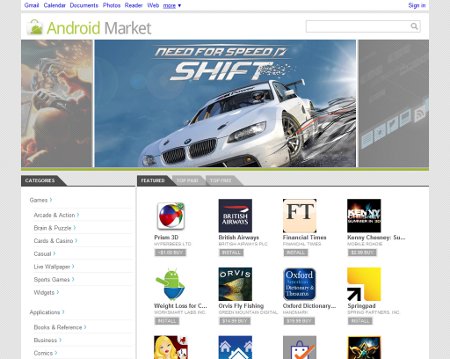 Android Market Webstore


(Click to enlarge)
At the Google event, Chris Yerga, the engineering director for cloud services for Google's Android group, said, "Now you can go to the browser and discover and get apps from the browser and install it to their devices directly from the web."
Once users select an application, it is automatically downloaded to their Android gadget over the air. In addition to offering the advantage of being available on the big screen, Android Market Webstore features a Google search bar atop the page to help users find apps.
Google offers application categories on the left-hand side of the screen, while the middle column is filled with tabs for top, paid, and free apps. Users may also send apps directly to their Android device with a few clicks, something Yerga demonstrated on stage. They can then suggest and share apps with friends through Twitter, as well as post application reviews directly to Android Market from the web or from an Android device.
In addition, users may sign in to the website with their Google account and click My Market Account to see all the apps they've purchased or downloaded.
Yerga then demonstrated "in-application purchasing," a new feature that lets developers sell virtual goods and upgrades in their apps to consumers. Disney Mobile is enabling this perk through its "Tap Tap Revenge" app for Android. This will be launched in stages, but should be live before the end of the quarter, according to Google.
Google says it will host more than 50 developers showing off Android smartphone and tablet apps at Mobile World Congress in Barcelona beginning Feb. 14. This is also when Android 3.0 is expected to be formally released.
---
This article was originally published on LinuxDevices.com and has been donated to the open source community by QuinStreet Inc. Please visit LinuxToday.com for up-to-date news and articles about Linux and open source.