Dec 7, 2010 — by Eric Brown — from the LinuxDevices Archive — 1 views
Google announced more details about its web-centric Chrome OS operating system, including a new 12.1-inch "Cr-48" reference notebook that will be provided to beta testers. The first commercial Chrome OS notebooks will ship in mid-2011 from Acer and Samsung, and will be available with free cellular connectivity provided by Verizon, the company added.
Over a year after Google released the first open source code for Chrome OS, the company has provided details on the progress of its Linux- and Chrome browser-based operating system. It also announced a prototype "Cr-48" notebook, which won't be sold commercially but will be offered via an expanded beta testing program.
Google additionally provided updates on the Chrome browser and launched its previously announced Chrome Web Store. The latter will provide apps that run both on machines using the Chrome OS, and on others equipped with a Chrome browser regardless of their operating system, the company says.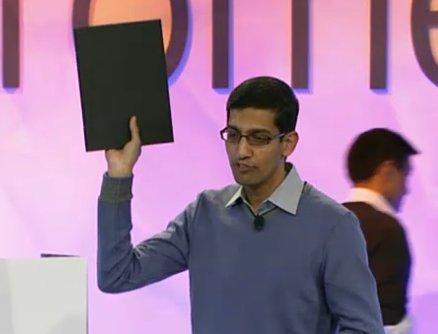 Google's Sundar Pichai showing off Cr-48
The new Cr-48 device will be offered to key customers, as well as to some end users, the latter via various contests and promotions. The CR48 will be followed in mid-2011 by the first two commercial Chrome OS notebooks, from Acer and Samsung, respectively. Other products running the cloud-oriented, minimalist OS will follow from other vendors, says Google.
The company had no more details about the commercial notebooks except that they will be powered by Intel processors. In addition, they will be made available with cellular connectivity provided by Verizon. The special Verizon service will offer seamless connectivity — presumably via Verizon's new 4G network - providing users with 100MB free for every month for two years.
The Verizon service is free for the first two years, assuming a limit of 100MB per month, at which point various pay-as-you-go plans will be available, starting at $10 per day. The plans will be available without a contract, activation fee, or overage or cancellations fees, promised Sundar Pichai, VP of product management at Google at today's press event.
Cr-48 notebook
Google will not sell the unbranded CR48, which it commissioned from an unnamed manufacturer. Instead, it will be offered solely as a reference platform for further beta testing, said Pichai. The beta program will last about six months, says Google.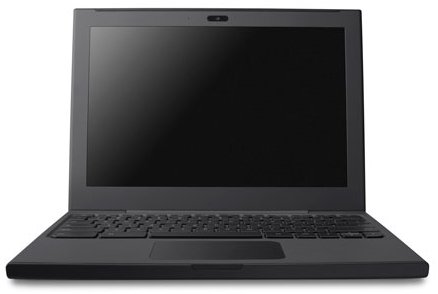 Google's Cr-48 notebook
The beta testing program will greatly expand from the thousands of Google employees currently testing the OS. It will primarily target partner organizations including Kraft, American Airlines, Virgin America, Cardinal Health, Appirio, Logitech, and the U.S. Department of Defense, says Google.
In addition, anyone else can sign up for a chance to join the program at the Chrome OS project site, and potential users are encouraged to upload videos via a special YouTube link, persuading Google that they are right for the job (see links at end of story for details).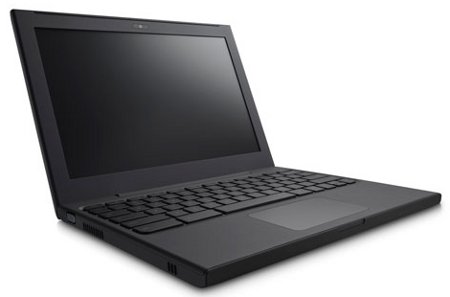 The Cr-48 features an extra-large touchpad.
Registered beta testers will receive the Cr-48 device free of charge. The notebook is built on an Intel processor, which some reports are claiming is an Atom, though Google provided no such detail.
According to Google, the Cr-48 is equipped with a 12.1 inch screen and a large touchpad. The notebook will offer a full-sized keyboard, with some significant changes, such as the fact that the caps-lock key is being replaced by a search key, said Pichai.

Side view of Cr-48
Other features include 802.11n Wi-Fi and 3G, the latter via a Qualcomm modem, says Google. A webcam is said to be available for chat. There is no "spinning disk," says Google, and also no mention of SD or USB storage, although a USB port appears to be visible in the photo above.
The 3.8-pound notebook is said to boot in 10 seconds and resume from sleep instantly, and the battery is claimed to last eight hours, or eight days on standby. In addition, a switch will be included by the battery for developers who want to jailbreak the device and load other software, said Pichai.
Slow, and none too sure?
In November 2009, when it formally launched Chrome OS as an open source project, Google projected that Chrome OS would be shipping on commercially available netbooks by now from partners including Acer, Asus, Hewlett-Packard, Lenovo, and Toshiba. (Samsung was not on the list at the time.)
Development has clearly taken longer than expected. A month ago, Google CEO Eric Schmidt admitted as much, saying the first commercial products would not appear for at least the "next few months." That appears to have been on the optimistic side.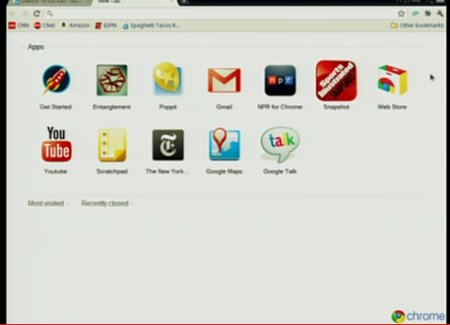 Chrome OS as demonstrated in today's webcast
The company also remains somewhat ambivalent about whether Chrome OS will be heading to tablets to compete with Android. Here, Pichai said only, "We want to start with laptops, but we will scale to smaller screens."
The Chrome OS event demonstrated several key technologies found in Chrome OS, most of which have already been at publicized in some form over the last year. Many key functions are still not ready for prime-time, according to Pichai. These include Google cloud print, which aims to enable local or remote printing without requiring printer drivers. Also still under construction is a method for safely and conveniently handling USB peripherals, said Pichai.
Chrome OS still has numerous bugs, and has yet to be tuned for performance, he added. Another newer feature — the ability to continue working on a document when not connected to the Google cloud via Wi-Fi or 3G - is said to be still under construction, but will appear in an upcoming version of Google Docs, Pichai said.
Pichai also demonstrated a new guest mode that lets users to go online without leaving any browser history traces. Sync, meanwhile, is now available for bookmarks, settings, apps, and themes, and Google is said to be looking at synching passwords and other features, as well.
Security and Citrix virtualization
As he did last year, Pichai once again touted the security features of Chrome OS — a major concern among potential corporate buyers who are wary of the always-on, cloud-oriented nature of the operating system.
Calling Chrome OS "the most secure consumer OS ever," Pichai noted that "all user data is heavily encrypted." He went on to tout the system's previously announced sandboxing feature and verified boot.
In addition, Pichai said that because Google handles all the updates automatically, users do not need to worry about security. User interaction is the key point of weakness of today's PCs, he said, because a wrong choice or a lapse in updating all software components can invite trouble. This also means that Chrome OS software is all tuned to run optimally instead of growing slower over time, he added.
As another salve for corporate IT people, Google and Citrix jointly announced and demonstrated a Chrome OS version of Citrix Receiver. The virtualization client is said to enable easy and secure accessing, launching, and running of apps from an enterprise data center, including multiple apps ranging from Microsoft Excel to CAD software.
Later, Google CEO Schmidt (pictured) came on stage to offe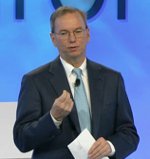 r some historical background, perhaps as a way of explaining why the project is behind schedule.
"This is not a new concept," he said, describing his participation with Sun, Oracle and others in the network computer hype of 1997. "It's exactly what we're talking about today."
According to Schmidt, it was to take over a decade of faster processors, larger, cheaper storage devices, faster, more ubiquitous broadband connections, and key web technologies such as Linux, AJAX, and now, HTML5, to make the network computer dream come true.
All this is finally coming together for Chrome OS, he said. In particular, HTML5 now makes it possible to build "powerful apps on top of a browser platform," he said.
Availability
Sign-up for the Google Chrome OS CR48 pilot program may be found here, and more on the CR48 should be here. The main Chrome OS page may be found here.
The new Chrome Web Store may be found here.
---
This article was originally published on LinuxDevices.com and has been donated to the open source community by QuinStreet Inc. Please visit LinuxToday.com for up-to-date news and articles about Linux and open source.