May 20, 2010 — by Eric Brown — from the LinuxDevices Archive — 3 views
Google announced an Android and Chrome browser-based IPTV platform today that will offer integrated search for content across TV, DVR, and the web. Initially optimized for the Dish Network, Google TV will arrive in set-tops and TVs later this year from Sony and Logitech, based on Intel's Atom-based CE4100 SoC, says Google.
Google unveiled Google TV at the Google I/O developer conference in San Francisco today, directly after its Android 2.2 announcement. While the platform is much as detailed by The New York Times back in March, many new details were provided. The product was also demo'd, albeit with a few glitches attributed to WiFi and Bluetooth connections being overloaded by the 5,000-strong audience.
Google CEO Eric Schmidt indirectly credited Microsoft for pioneering the concept with WebTV a decade ago, despite the fact that it was too early, depending on dial-up connections and limited processing power and web technology.
"We've been waiting a long, long time," Schmidt noted. "It's much harder to marry a 50 year old technology and a new technology than many of us thought.
Google said it will soon release a set of APIs for developing web-based applications for the platform, followed by an early version of a Google TV software development kit (SDK) in the fall. Sony CEO Howard Stringer and Logitech CEO Gerald Quindlen added that initial Google TV products from their companies will be available in time for the holiday season.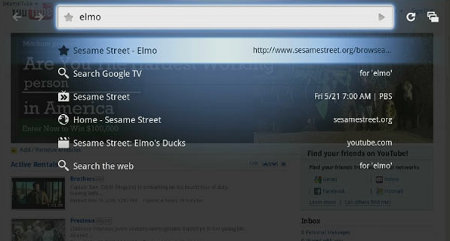 Google TV interface
(Source: Setteb.it)
In early 2011, a completed Google TV SDK will be released, followed by a version of Android Market that will allow users to download and play Android apps on their TVs, says Google. By the summer of 2011, Google plans to open source the code on the Android and Chrome source trees, says the company.
Android and Chrome — together at last
The initial version of Google TV will be based on Android 2.1, with updates to follow soon thereafter, says Google. Like Android 2.2, the TV stack will include Adobe's Flash 10.1 media playback technology. Like Google's upcoming Chrome OS, the software will incorporate the Google Chrome browser, opening up the possibility of a mix of web-based and native Android apps for future versions of Google TV.
Google TV provides a universal search mechanism covering the TV provider's program guide, as well as any connected DVRs and the Internet. The latter will include sources such as Netflix, Amazon Video On Demand, and YouTube, says Google.
Although initially optimized for the Dish Network, Google TV "is designed to work with any TV operator," albeit not with all the advanced features. As had been previously reported, the Dish Network joined Google in a joint trial over a year ago with more than 400 Dish Network and Google beta users.
Sony and Logitech pony up the hardware
Sony says it will introduce a "Sony Internet TV" optimized for Google TV, available as both a standalone TV and a Blu-ray equipped set top box (STB). Logitech, meanwhile, will introduce a "companion box" designed to work with existing HDTV home entertainment systems and STBs. The device will incorporate Logitech's Harmony remote control technology, and will include a controller that combines keyboard and remote control capabilities.
In the future, Logitech plans an HDTV camera and video chat technology designed for Google TV, as well as apps to turn a smartphone into an advanced controller, the company added.
All the Google TV devices will incorporate WiFi, Ethernet, and HDMI, says Google.
Both the Sony and Logitech products will incorporate the Intel Atom CE4100 system-on-chip (SoC), which was announced last September. The 1.2GHz SoC includes a NAND controller, video display controller, graphics processor, dual DSPs (digital signal processors), transport/security processors, and general-purpose I/O, Intel says. (See farther below for more details on the CE4100.)
Picture in picture and personalized channel guides
Google demonstrated an early version of Google TV, showing a home page featuring a search box and a left-column interface with Bookmarks, Apps, Recordings, Netflix, and Stations options. Entering search terms brings up a mix of TV, web, and DVR listings, if desired. Users can then click on any of these to view the videos and save them as thumbnailed channels, which accumulate into a personalized program guide of both TV and web-based content.
Showing how far we still are from the 20-year old dream of interactive TV, there's still no direct interaction with TV content; however, a picture-in-picture function shrinks the video to a corner of the screen while web content displays beside it, providing much of the same effect. Users can also flip back and forth between web- and live TV, something already available with some IPTV set-tops.
Advanced features, which most likely require the Dish Network, include a personalized queue of content users have watched previously, along with suggestions based on that content. Content providers themselves can set up websites where users can set up personalized video picklists. For example, the demo showed a Sesame Street page that showed only video clips featuring Elmo.
As with some other IPTV STBs, Google TV brings non-video content to the TV screen as well. For example, the demo showed how users can set up photo slideshows using Flickr or listen to web-based music sites.
My Droid, the remote
The audience perked up when Google demonstrated Android phones acting as remote controls for the Google TV boxes, although it did not appear this feature would appear in the initial version. Hooking up to the boxes via WiFi, the Android phones can even be used to deliver voice commands such as search entries to Google TV. In fact, two phones can control the Google TV device at same time, says Google.
Even more intriguing, Android phone or tablet users can watch videos on their portable devices and then push the video directly to Google TV to watch it on the big screen. Google says it will publish IP remote control protocol APIs so that developers can build own apps on devices of their own choice. It was unclear whether this would be opened up to non-Android devices.
In a subsequent release, users will be able to bring up Android Market on Google TV, according to Google. This builds upon technology introduced earlier today for Android 2.2 that enables users to view Android Market on desktop PCs and order OTA downloads to a remote Android device. In this case, however, users can actually run the app on the TV, says Google.
Any Android app that does not require phone-specific hardware can work on Google TV out of the box, says the company. However, Google will also release APIs and guidelines to help app developers support TV resolutions.
A few specific services will also target Google TV. These include YouTube Leanback, a premium version of YouTube that converts videos to TV formats, and offers personalized video feeds. A beta will be launched in a few weeks, said a YouTube executive at the webcast.
Intel's Atom-based CE4100 processor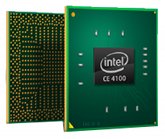 The system-on-chip that powers the first Google TV devices will likely represent one of the first pairings of Android and an x86 processor. According to Intel when it announced the CE4100 last September, the SoC (previously code-named "Sodaville") is a successor to the Pentium M-based CE3100 SoC released in 2008, and is backwards-compatible with that device.
The 45nm-manufactured chip (above, right) measures 27 x 27mm, and includes an Atom processor core clocked at up to 1.2GHz, a NAND controller, video display controller, graphics processor, dual DSPs, transport/security processors, and I/O, Intel says.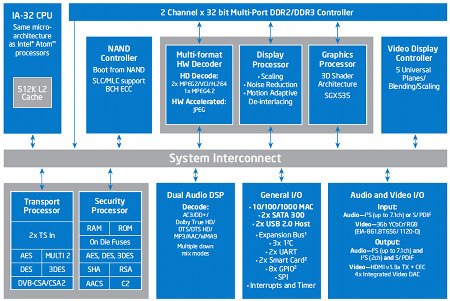 A block diagram of Intel's CE4100
(Click to enlarge)
The CE4100's graphics processor is based on Imagination Technologies' Powervr SGX535, which provides 2D/3D graphics acceleration and makes the SoC compatible with Open GL ES 2.0, says Intel. Compared to the CE3100 — which used the same SGX535 graphics core, but clocked it only at 200MHz — the CE4100 employs either 200MHz or 400MHz versions, and now provides hardware acceleration for both JPEG and MPEG-4.2 decoding, the company adds.
According to Intel, the CE4100 is capable of decoding dual 1080p HD video streams at up to 60 frames per second, or a single 1080p stream at twice that rate, the company says. Intel also noted that it was working with Adobe to adapt Flash Player 10 for the CE4100. At the time, however, the only other potential partner Intel mentioned was Yahoo, with its widgets technology. Google seems to have taken its place, as it has done over the years in so many other ways.
Testimonials
Stated Howard Stringer, Chairman, President and CEO, Sony Corporation, "I am delighted to announce the unique alignment of Google's rapidly growing, open source Android platform with Sony's unparalleled expertise in the field of TV design and technology."
Stated Gerald Quindlen, President and CEO, Logitech, "We committed to Google TV early on because it aligns with our strategy to support open platforms that enable new immersive experiences in the digital living room."
Stated Paul Otellini, Intel President and CEO, "Today marks the next step in the evolution of TV to Smart TV."
Stated Shantanu Narayen, President and CEO, Adobe, "Flash Player 10.1 extends the advantages of full web browsing and consistent, rich experiences to smartphones, tablets, netbooks and Internet-connected TVs. We're thrilled to be part of the Google TV initiative."
Stated Charlie Ergen, Chairman, President and CEO of Dish Network, "Only Dish Network Google TV customers will be able to enjoy a unified search across TV, DVR and web; easily find related content; and manage their entire TV viewing experience."
Availability
More information on Google TV may be found at Google, here, and more on Intel's Smart TV platform may be found here.
---
This article was originally published on LinuxDevices.com and has been donated to the open source community by QuinStreet Inc. Please visit LinuxToday.com for up-to-date news and articles about Linux and open source.