Aug 28, 2008 — by Eric Brown — from the LinuxDevices Archive — views

Tangent announced a fanless, Linux-compatible PC that runs on 24 Watts and tucks neatly behind its 17-inch display. The Evergreen 17 is available with a 1GHz Via Eden, 2GB SDRAM, and either a 160GB hard drive or a 64GB solid-state drive (SSD), says Tangent.
(Click for larger view of the Evergreen 17)
Aimed at helping schools and government organizations achieve Green Energy Reduction Initiatives, the Evergreen 17 is bundled with Windows XP (Pro or Embedded), but is supported by Ubuntu Linux 7.1. The Via Eden is accompanied by up to 2GB DDR2 SDRAM, says Tangent. An S3 Mirage video processor drives the 17-inch flat-panel display, which offers 1280 x 1024 resolution. Touchscreen capability is optional.
The Evergreen 17 ships standard with either a 160GB hard drive or an SSD drive that comes in gigabyte increments of 1, 2, 4, 16, 32, or 64GB. A fanless configuration that uses the SSD drive dramatically reduces the cost of maintenance, claims the company. Tangent also offers a DVD/CD-RW combo, as well as an optional CF drive.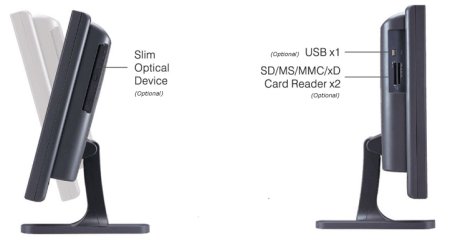 Side views of the Evergreen 17
(Click to enlarge)
Additional features include 10/100/1000 Ethernet and optional WiFi, as well as four USB 2.0 ports, three serial ports, and other I/O. The entire unit is said to weigh only 15.8 pounds, including the stand. It measures 15.5 x 14 x 3.5 inches, with the latter dimension reduced to only 2.25 inches without the stand. VESA mounting is available for mounting the computer on a wall.
Shades of greenwashing?
Tangent does not disclose any real information about how much energy the Evergreen 17 uses, beyond telling us that it has "industry-leading power efficiency at 24 Watts and 72 percent less energy usage than Energy Star 4.0 limits."
Energy Star 4.0 (ES4.0) includes a separate standard for "Integrated Computers." However, the requirements are the same as for "Desktops," "Desktop-Derived Servers," and "Gaming Consoles." To qualify for the rating, all such systems must use less than two Watts when off (standby mode), less than four in "sleep" mode, and, when idle, less than the following:
Category C — multi-core CPU, and a discreet GPU with 128MB or more of RAM: 90 Watts
Category B — multi-core, 1GB of RAM or more: 65 Watts
Category A — "Other": 50 Watts
If 24 Watts represents the device's idle power, and Tangent is comparing their little integrated system to a full-blown Category C desktop, at 24 Watts it consumes only 26.6 percent of the allowed maximum, with headroom of 73.3 percent — close enough to 72 percent to be explained by a rounding error.
It also seems possible that the "24 Watt" figure represents some kind of contrived "typical" usage figure. The "72 percent less" figure may in turn suggest that the device draws 14 Watts when idle, which would leave headroom of 72 percent before hitting the 50 Watt max for Category A Integrated Desktops. If that 14 Watt guess is true, the system may even qualify, just barely, for ES 4.0 laptop requirements, which are:
Standy (off) power under 1 Watt
Sleep power under 1.7 Watts
Category A: 14 Watts
Category B: 22 Watts
It is really a shame that so many companies irresponsibly "greenwash" their products, while not bothering to supply any real hard facts. How are school purchasers and other planners supposed to calculate utility savings? You can not base that kind of thing on breezy marketing hokum.
One more note about power: the computer's 12V DC power supply enables the PC to be hard-wired to cart batteries, says the company, making it useful for point-of-care healthcare applications.
Specs listed for the Evergreen 17 include:
Processor — 1GHz Via Eden (fanless) with Via CN400/Via VT8237R chipset
Memory — Up to 2GB DDR2 SDRAM
Memory expansion — optional media reader supports CF/Micro Drive/MS/MS Pro(Duo)/SM /SD/MMC/XD (includes extra USB port)
Graphics/video — integrated PCIe S3 Mirage
Display — 17-inch SXGA LCD panel, 1280 x 1024 resolution; optional 5-wire resistive touchscreen
Storage — 160GB (upgradable to 250GB) 2.5-inch ATA HDD, or an SSD up to 64GB; optional CF drive
Optical storage — DVD/CD-RW combo drive; optional DVD-RW dual-layer model
Expansion — 1 x mini-PCI
Networking — 1 x 10/100/1000 Ethernet
WiFi — optional 802.11a,b,g
USB — 4 x USB 2.0 (5 x with CF card option)
Serial — 3 x serial ports
A/V ports — VGA, audio out, mic
Input — multifunction keyboard, optical wheel mouse, PS/2
Dimensions — 15.5 x 14 x 3.5 inches (with stand); VESA mountable
Weight — 15.8 lbs (with stand); 12.5 lbs w/o
Power — 12V DC, 60W external power supply; 24W consumption
Operating system — Linux, Windows XP Professional, Windows XP Embedded
Availability
The Evergreen 17 appears to be available now, at a starting price of $1,200. More information may be available here.
---

This article was originally published on LinuxDevices.com and has been donated to the open source community by QuinStreet Inc. Please visit LinuxToday.com for up-to-date news and articles about Linux and open source.