Jan 9, 2012 — by Eric Brown — from the LinuxDevices Archive — 95 views
Always Innovating announced a tiny open source, IP set-top box (STB) that runs Android 4.0 on a Texas Instruments OMAP4 processor clocked as high as 1.8GHz. The HDMI Dongle plugs directly into a TV's HDMI port, and provides up to 1GB of RAM, a microSD slot, Wi-Fi, Bluetooth, and a remote control that offers NFC, accelerometers, and voice control.
Developed by Always Innovating, the company that introduced the Linux-based, open platform Touch Book and Smart Book products (see farther below), the HDMI Dongle is similar in concept to the Roku Streaming Stick announced last week. Like Roku's device, the HDMI Dongle packs IP STB functionality in an HDMI dongle the size of a USB flash stick.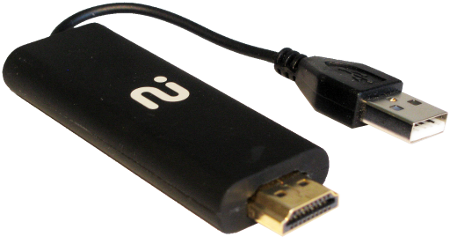 HDMI Dongle, with USB power cable extending to upper right
(Click to enlarge)
There are several key differences, however. While the Roku device supports the company's own video-dedicated Linux stack, the HDMI Dongle provides a full Android 4.0 ("Ice Cream Sandwich") experience, complete with web browsing, video watching, and games, says Always Innovating. In addition, like earlier Always Innovating products, the device is fully open source, and also supports Angstrom and Ubuntu flavors of Linux, says the company. The device is also said to be "technically compatible with Google TV."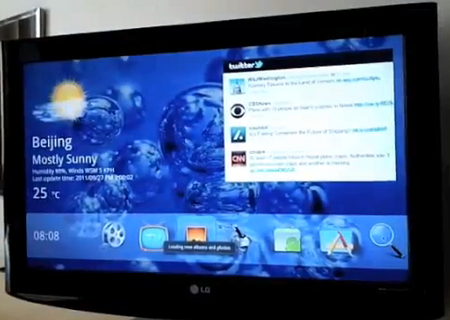 HDMI Dongle, Android 4.0 interface
When Roku's device ships this fall, it will be available as a consumer product, while also being bundled with selected TV sets, starting with a Best Buy Insignia model. The HDMI Dongle design, on the other hand, is being licensed as an OEM product, and is expected to appear starting this summer.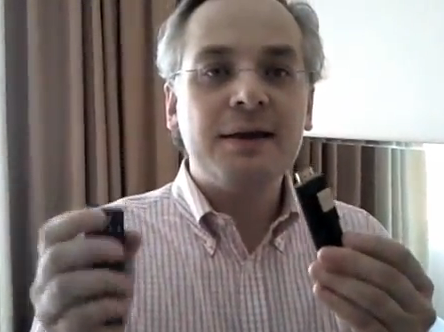 Always Innovating founder Grégoire Gentil with HDMI Dongle in his left hand and remote in his right
Also, the Roku device adopts the new MHL (mobile high-definition link) technology, letting it draw power directly from the HDMI port. The Always Innovating HDMI Dongle is instead powered by connecting a short USB cord into a TV's USB port, if present.
The HDMI Dongle thus has the advantage of being able to plug into any TV or display device with both HDMI and USB ports, as opposed to the more selection of TVs with MHL-compliant HDMI ports. Presumably, a separate power adapter would be made available for plugging into a TV without a USB port.


HDMI Dongle PCB
(Click to enlarge)
Indeed, alternate power supplies and many other options would appear to be possible, as the HDMI Dongle's printed circuit board (pictured above) can be built into a variety of form factors, according to Always Innovating. An expansion header can interface to a camera, as well as to an LVDS screen supporting up to 1920 x 1080 resolution, says the company.
The HDMI Dongle is based on the Texas Instruments Cortex-A9 OMAP 4 processor, clocked from 1GHz to 1.8GHz depending on the configuration, says Always Innovating. This would suggest the device supports the earlier 1GHz OMAP4430 or OMAP4460 (formerly called the OMAP4440), as well as the new 1.8GHz ready OMAP4470.
The HDMI Dongle can stream and decode 1080p H.264 video, and is compatible with services such as Netflix, Hulu, or Amazon video-on-demand, says the company. The device is also said to ship with 256MB to 1GB of RAM.
Whereas the Roku Streaming Stick appears to be limited to Wi-Fi in addition to the HDMI port, the HDMI Dongle offers those features as well as a microSD card and Bluetooth, says Always Innovating. All these features, as well as the available camera interface and "battery management," lend themselves to mobile tablet versions of the device.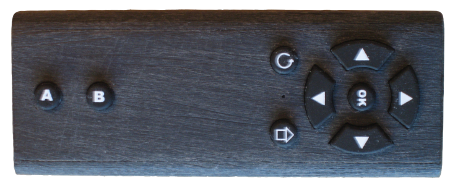 HDMI Dongle remote
When the dongle — or tablet — is plugged into a TV, however, one can use a supplied nine-button remote control that supports voice recognition. The remote control also features near field communication (NFC) connectivity for a "tap-to-share experience," says the company. In addition, the remote is said to provide accelerometers for motion-controlled gaming.
Always Innovating founder Grégoire Gentil, demonstrating HDMI Dongle Android 4.0 interface


Source: Always Innovating
(Click to play)
Plugging the HDMI Dongle into a TV


Source: Always Innovating
(Click to play)
Touch Book and Smart Book
Always Innovating's flagship product was the BeagleBoard-based Touch Book, a Linux-ready, open source device announced in March 2009, with shipments beginning in August of that year. The Touch Book was a tablet that could be converted into a netbook by connecting to a keyboard — an approach to device design that has since become fairly common.

The company in 2010 followed up with a smaller, but somewhat similar, Smart Book mobile device (pictured). Built around a 1GHz Texas Instruments DaVinci DM3730 processor, the highly modular device could be bought as a mobile Internet device (MID) called the Mini Book, or as a tablet computer with the MID embedded in the back of the device, constituting a second, back-facing screen (right). This tablet/MID combination could then can be converted into a netbook by plugging it into a USB- and Bluetooth-enabled keyboard.
Availability
The HDMI Dongle design is available now to OEMs, says Always Innovating. The first HDMI Dongle product is expected to ship this summer, at prices ranging from $49 to $99. More information may be found at the Texas Instruments booth at CES this week in Las Vegas, as well as the Always Innovating website.

---
This article was originally published on LinuxDevices.com and has been donated to the open source community by QuinStreet Inc. Please visit LinuxToday.com for up-to-date news and articles about Linux and open source.