Jul 1, 2010 — by Eric Brown — from the LinuxDevices Archive — 17 views
Cisco announced an Intel Atom-based, tabletop Home Energy Controller (HEC) device based on OpenPeak's Home Energy Manager (HEM) design. Running Ubuntu Linux on a 1.1GHz Intel Atom, the HEC offers a seven-inch screen, networks via cellular, 802.11n, ZigBee, and ERT wireless, and works with back-end services enabling consumers to monitor and control energy use.

Announced yesterday along with Cisco's new enterprise-focused Cius Android tablet, the Home Energy Controller (pictured below) is almost certainly based on the OpenPeak's Intel Atom- and Moblin-based HEM design (pictured at right), which was announced at this January's CES show. Cisco doesn't mention OpenPeak, but the specs and features align, and the devices and interface look almost identical.
OpenPeak's HEM is in turn based on the company's OpenFrame 7 tablet design, which debuted originally as the now-defunct Verizon Hub touchscreen VoIP phone, and was recently revamped as the Intel Moorestown (Atom Z6xx) based OpenTablet 7 consumer tablet design. Demonstrated by Intel CEO Paul Otellini at CES, the tablet is likely to ship later this year with the Moblin- and Maemo-based MeeGo operating system.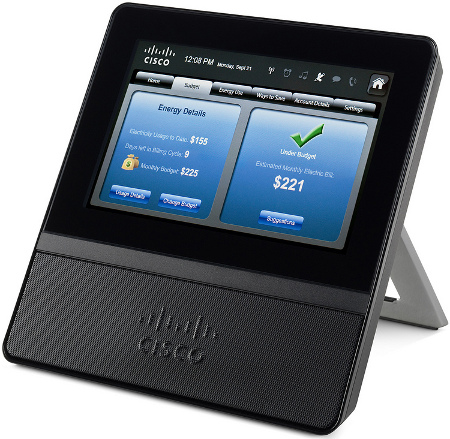 Cisco's Home Energy Controller (HEC)
(Click to enlarge)
Aimed at energy utilities, the Home Energy Controller, also known as the CGH-100, was announced as part of a new Cisco Home Energy Management Solution. The solution includes hosted Energy Management Services that utilities can use to manage data from thousands of homes while integrating with their back-end applications, says the company.
The products were announced along with related "Connected Grid" and "Smart Connected Buildings" portfolio announcements, including a new Cisco Network Building Mediator Manager 6300 appliance (pictured below), which is said to enable centralized management of energy-monitored "smart buildings" across global enterprise operations. Cisco also announced a Cisco Network Building Mediator 3.1 software platform said to link multiple disparate building automation systems. It was unclear whether these products are also based on Linux.


Cisco Network Building Mediator Manager 6300
The Cisco Home Energy Management Solution and the HEC device will first be used by Duke Energy, and is aimed at utilities that want to build upon their Smart Meter deployments, says Cisco. The solution provides homeowners with detailed energy control and management, down to the appliance level, says Cisco.
The HEC device helps consumers make more informed energy choices, as well as set policies and schedules for energy use, says Cisco. Analysis can be based on real-time household, historic, and individual appliance consumption.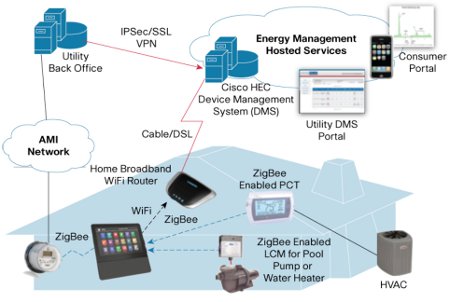 Typical Cisco Home Energy Management Solution deployment
(Click to enlarge)
Consumers can control peripheral devices that communicate with the HEC, such as thermostats, intelligent sockets and, in the future, smart appliances like refrigerators and water heaters, says Cisco. Eventually, utilities will be able to coordinate with customers on new pricing and demand-side management services, says the company.
Similar features and benefits were listed by OpenPeak for its HEM device and related back-end software. The HEM solution is being deployed by energy provider Direct Energy, along with secondary partners Whirlpool Corp., Best Buy, and Lennox International. A somewhat similar energy monitoring product based on the OpenPeak design is being offered by GE, OpenPeak said earlier this year.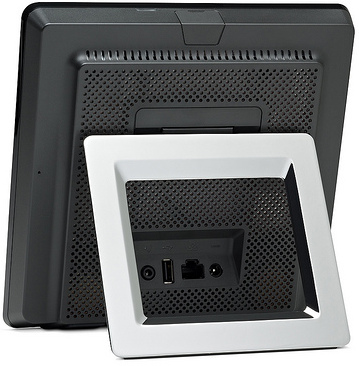 Cisco's HEC (rear view)
Equipped with a 1.1GHz Intel Atom processor, most likely the original
Atom Z510
, the Cisco HEC offers 512MB of DDR2 DRAM, as well as 1GB or 2GB of flash memory. This is said to be expandable to 64GB at the factory, and external flash expansion is available via a USB 2.0 port. It is unclear whether the USB port is available for other peripheral options, as well.
The HEC is equipped with a seven-inch, 800 x 480 capacitive touchscreen, as well as a gigabit Ethernet port, says Cisco. The device is said to be available in a variety of models with different wireless options, but a cellular and 802.11n modems appear to be standard on most.
As with OpenPeak's HEM, support is also offered for the ZigBee short-range wireless technology used to communicate with other ZigBee-ready household appliances or home networking systems. In addition, one model offers an Encoder Receiver Transmitter (ERT) compatible iTron certified radio module, a radio technology that is used on smart meters.
Specifications listed for the Home Energy Controller (HEC) include:
Processor — Intel Atom @ 1.1GHz
Memory:

512MB (533MHz) DDR2 ECC DRAM
1GB to 2GB mNAND flash (factory expandable to 64GB)
External USB 2.0 flash memory slot (via hub fanout)

Display — 7-inch, 800 x 480 capacitive touchscreen with LED backlight
Networking — 1 x gigabit Ethernet port
Wireless communications:

802/11b/g/n (via PCIe)
GSM GPRS/EDGE/HSPA or CDMA EV-DO cellular radio (currently not available in CGH-100-7ZB, CGH-100-7ZBE models)
ZigBee Smart Energy Profile 1.0 Certified with SEP 1.0 (ZigBee module firmware upgradable to SE 2.0 when available)
Encoder Receiver Transmitter (ERT) Compatible iTron certified radio module (CGH-100-7ZBE model only)

Audio — Intel HD Audio (IDT codec); 3.5mm headphone jack
Power — DC Power 5V, 4A
Operating temperature — 32 to 104 deg. F (0 to 40 deg. C)
Operating system — Ubuntu Linux 2.6.29 for Mobile Internet Devices (MID)
Stated Paul Fulton, GM, Cisco Prosumer Business Unit, Cisco Smart Grid, "Utilities around the world are moving toward a more modern, efficient and environmentally friendly energy infrastructure. Cisco's Home Energy Management Solution can be an integral part of that transition by helping utilities empower their customers to make choices about their consumption, understand the trade-offs related to time-of-use pricing, and be in better control of their energy efficiency."
Availability
Cisco expects to eventually go global with its Cisco Home Energy Management Solution and Home Energy Controller, but the company will start with deployments in North America this summer, beginning with Duke Energy. More information on may be found here and here.
More information on OpenPeak's Home Energy Management (HEM) product may be found here.
---
This article was originally published on LinuxDevices.com and has been donated to the open source community by QuinStreet Inc. Please visit LinuxToday.com for up-to-date news and articles about Linux and open source.