Nov 18, 2009 — by LinuxDevices Staff — from the LinuxDevices Archive — 12 views
[Updated: Nov. 20] — HP announced two thin clients that run its Linux-based ThinPro distribution. Using Intel's Atom N280, the t5745 offers 1-2GB of DDR3 RAM, 1-2GB of flash, and eight USB 2.0 ports, while the t5325 incorporates a 1.2GHz Marvell/ARM processor, 512MB each of RAM and flash, and four USB ports.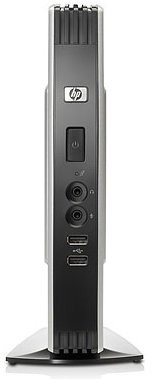 HP's t5745 (right) runs HP ThinPro on Intel's 1.66GHz Atom N280 CPU, said to be teamed with the chipmaker's GL40 northbridge (and, we presume, the related ICH9M southbridge). Offering DirectX 10-compatible video with resolutions of up to 2048 x 1536 pixels, the thin client supports dual displays through its VGA and DisplayPort interfaces, the company says. (The relatively unusual DisplayPort can support VGA and DVI-D connections with external adapters, HP adds.)
According to HP, the t5745 comes with 1GB or 2GB of DDR3 memory, installed in one of the system's two available SODIMM slots. Unlike most Atom-powered devices, this one is said to accept up to 8GB of RAM, which, of course, requires replacing the standard 2GB module and installing two 4GB modules in its stead. Meanwhile, the device's operating system is stored on either 1GB or 2GB of flash storage, HP adds.
HP says the t5745 has eight USB 2.0 ports in all — two in front, two in the rear, and two in a "secure compartment." Other interfaces include a RJ45 connector for gigabit Ethernet, a RS232 port, two PS/2 ports, plus a front-mounted microphone input and headphone/speaker jack, the company says.
The t5745 is also offered with an available integrated 802.11a/b/g/n wireless network adapter. An optional expansion module adds approximately 1.2 inches to the width of the system, while providing a parallel port, second serial port, and a slot that can accept either a 32-bit or PCI Express x4 expansion cards, according to HP.
The system is said to come with Citrix ICA (independent computing architecture ) 11.0, Citrix Desktop Appliance (CDA) mode utility, RDesktop 1.6, XDM / X.11, Sun Java, Iceweasel Web browser with ePDFview (PDF viewer), HP TeemTalk Terminal Emulator 7.1, and Debian Package Manager with simple GUI. However, no mention was made of compatibility with VMware's new PC-over-IP protocol, announced last week.
Features and specifications listed by HP for the t5745 thin client include:
Processor — 1.66GHz Intel Atom N280
Chipset — GL40 northbridge and ICH9M southbridge
Memory — 1GB or 2GB of DDR3 RAM (expandable to 8GB) and 1GB or 2GB or flash storage
Expansion — optional module with 1 x PCI or 1 x PCI Express x4
Networking:

LAN — Gigabit Ethernet
WLAN — 802.11a/b/g/n (optional)

Other I/O:

8 x USB 2.0 (2 front, 4 rear, 2 in secure compartment)
1 x serial (second serial port optional in expansion module)
1 x parallel (with optional expansion module)
2 x PS/2
1 x VGA
1 x DisplayPort
Audio — mic in and headphone/speaker out

Power requirements — DC input from AC adapter (100 to 240VAC); idles at between 11.4 and 12.3 Watts
Operating range — 50 to 104 deg. F (10 to 40 deg. C)
Dimensions:

Without expansion module — 10.4 x 8.7 x 1.7 inches (255 x 222 x 44mm)
With module — 10.4 x 8.7 x 2.9 inches (255 x 222 x 74mm)

Weight:

Without expansion module — 3.5 pounds (1.58kg)
With module — 4.14 pounds (1.88kg)
HP t5325 runs Marvell ARM SoC
The second HP thin client, the HP t5325, eschews the Intel Atom in favor of an unnamed 1.2GHz ARM processor from Marvell. At first we thought his might be the PXA168, which was announced in January, and then renamed last month as one of its Marvell Armada 100 processors. But now Debian hacker and Marvell processor expert Martin Michlmayr has informed us that it is instead the Marvell 88F6000 ("Kirkwood") SoC used in Marvell's SheevaPlug design. Like the Armada, the Kirkwood is clocked to 1.2GHz, and is based on Marvell's Sheeva core, which combines elements of Marvell's Feroceon and XScale architectures.


HP t5325
Like the t5745, the much smaller, 4.7 x 6.3 x 1.2-inch t5325 device runs HP's ThinPro Linux distro. The thin client offers 512MB each of SDRAM and flash, plus four USB 2.0 ports, Ethernet, and a DVI port. Other features available on the 4.7 lbs t5325 are said to include microphone and headphone jacks, speakers, and a 100-240 VAC, 50-60 Hz power supply.
Supported protocols for the t5325 are said to include Citrix ICA 11 and RDesktop 1.6. The thin client also offers the following session allocation managers/session brokers: Citrix XenDesktop via Pnagent, Full-screen Citrix Desktop Appliance (CDA) mode, VMware View Manager 3.1, and Leostream Desktop Connection Broker.
Availability
According to HP, the t5745 is available now, for prices starting at approximately $400, and the ARM-based t5325 should be ready by Dec. 1, at prices starting at $200. More information on the t5745 may be found here, and more on the t5325 should be here. HP also introduced a Windows Embedded Standard-based "t5740" thin client similar to the t5745.
More information on thin client software and hardware announced today by HP may be found in a story by our sister site eWEEK.com, here.
---
This article was originally published on LinuxDevices.com and has been donated to the open source community by QuinStreet Inc. Please visit LinuxToday.com for up-to-date news and articles about Linux and open source.