Dec 21, 2011 — by Eric Brown — from the LinuxDevices Archive — 2 views
Intel has demonstrated smartphone and tablet reference designs equipped with its upcoming, low power "Medfield" Atom processor. Running Android 2.3 and Android 4.0, the prototypes received a positive appraisal from MIT Technology Review, which praised their "Blu-ray quality" video and a camera burst mode that can capture "10 full-size eight-megapixel images at a rate of 15 per second."
At the Intel Developer Forum (IDF) in September, the company briefly demonstrated a prototype smartphone running Android 2.3 on its upcoming, 32-nanometer "Medfield" Atom system on chip (SoC). Intel President/CEO Paul Otellini and Google SVP Andy Rubin also briefly flashed a Medfield-based tablet prototype running Android 3.x ("Honeycomb"), and announced a pact to formally port Android to the x86 platform. (Subsequently, Intel said it had completed an Android 4.0 port to the Atom.)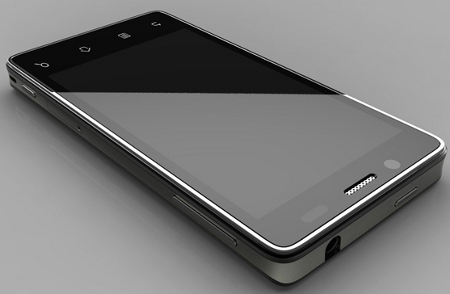 Intel's latest Medfield-based Android smartphone reference design
Source: MIT Technology Review
Now,
MIT Technology Review reports
having received a private demo of both the phone and the tablet. Although the publication did not have time to fully vet the devices, let alone test battery life, writer Tom Simonite came away with positive impressions from the brief encounter.
The Android 2.3 smartphone prototype, which is apparently available to Intel's manufacturing partners as a reference platform, was "powerful and pleasing to use, on a par with the latest iPhone and Android handsets," writes Simonite. "It could play Blu-Ray-quality video and stream it to a TV if desired; Web browsing was smooth and fast."
Simonite appeared to have had less time to test the Android 4.0 tablet design, suggesting that perhaps the tablet is less advanced than the smartphone model. The tablet, which appeared to offer a 10-inch screen, seemed "noticeably nicer to use than older tablets" running Honeycomb," writes Simonite.
The story quotes Stephen Smith, vice president of Intel's architecture group, as saying that products based on the reference platforms are expected to be announced in the first half of 2012. Smith hinted that a number of Medfield-related announcements will be made at next month's CES show in Las Vegas.
Medfield: first fully integrated Atom SoC
The Medfield processor is notable for being the first fully integrated Atom-based SoCs, according to Intel. Medfield continues the power-saving integration that began with the Pineview Atoms, which brought graphic processing onboard.
Whereas the Atom CE4100 used in Google TV devices could already be described as a system on chip, the Medfield SoC is said to be even further integrated, along the lines of modern ARM Cortex SoCs.
"This is our first offering that's truly a single chip," Smith was quoted as saying. Intel has previously said that the 32nm-fabricated Medfield processor is competitive with ARM processors on battery life, and is optimized for multimedia on mobile devices. Simonite quotes Smith as saying that Medfield is also specifically optimized to speed up Android apps and web browsing.
Burst mode draws on Silicon Hive technology
Additional circuitry targets imaging features, says the story. Simonite was particularly impressed with the smarthphone prototype's camera "burst mode," which captures "10 full-size eight-megapixel images at a rate of 15 per second." The trick was aided in part by dedicated software tweaks in addition to the built-in image processing capability, said Smith.
The imaging technology was said to have derived in part from Intel's acquisition of the Dutch parallel-processing company Silicon Hive earlier this year. The technology can also serve augmented reality applications, says the story.
Medfield was accidentally leaked in August 2010, with further details arriving that December. Taking up half the board space of the early Z6xx ("Moorestown") Atom design, Medfield will also offer a significant reduction in power draw, according to Intel. It will reportedly also have twice the graphics performance of Moorestown, which was already claimed to double that of the original Z5xx Atom.

In May 2011, Intel said that the Medfield platform had been delayed, although Intel executive VP Dadi Perlmutter briefly flashed an early smartphone prototype (pictured). The delay was due in part to Intel changing its smartphone focus from MeeGo to Android, after Nokia pulled out of the MeeGo project earlier this year.
The main issues, however, appeared to be technical. It took time to find a way to compress Intel's usual three-chip design into a single SoC, Smith told Technology Review.
"Now we have this in place, we can accelerate," Smith was quoted as saying. "We haven't been able to show a production-grade design before." Medfield offers faster browsing and graphics performance and lower power consumption than the top three smartphone processors, Smith was said to have added.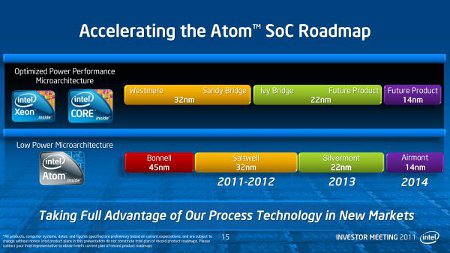 Atom SoC roadmap with Silvermont and Airmont
Source: AnandTech; Intel Corp.
(Click to enlarge)
Simonite also quotes Linley Gwennap, an analyst with the Linley Group, as saying that Medfield "should make Intel more competitive." However, the 32nm Medfield will quickly give way to a 22nm mobile processor, presumably the previously tipped
"Silvermont"
, which in turn will be eventually superseded with a 14nm "Airmont."
"I expect they'll get into a few phones with Medfield, and then it will be the 22-nanometer chip that really makes a difference," Gwennap was quoted as saying.
There was no mention of Intel's rumored plan to make Silvermont, due in 2013, a tablet-only processor. ARM vendors are not expected to move to 22nm technology until 2014, according to Technology Review.
According to IDC, the leading smartphone processor vendors (not necessarily the top processors) are Nvidia, Texas Instruments, and Samsung, based on 2011 revenues. All three manufacture ARM Cortex SoCs.
---
This article was originally published on LinuxDevices.com and has been donated to the open source community by QuinStreet Inc. Please visit LinuxToday.com for up-to-date news and articles about Linux and open source.